Michael Koch's Alpine love story spans the intimate and metaphysical, moving at a glacial pace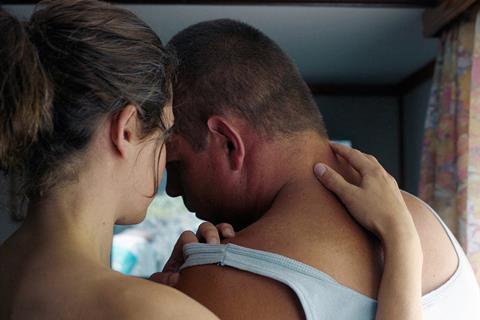 Dir. Michael Koch. Switzerland/Germany. 2022. 136 mins
An ancient rock is nestled high above a vertiginous Swiss valley, the sublime harmonies of a local choir resound. Michael Koch's A Piece Of Sky might seem for a moment to promise a bucolic Alpine idyll – if not for the sight and abrasive sound of a motorbike and other traffic on a road far below. Playing between the registers of nature and culture, tradition and modernity, the intimate and the universal, the worldly and the metaphysical, this second fiction feature from the writer-director of 2016's Marija is a stark, affecting, sometimes enigmatic, superbly executed piece. At 136 minutes, however, it somewhat overstates its case, frustratingly, as one senses that with some trimming, it could yield the imposing achievement that it promises. The length itself might be a problem for export, but nevertheless it promises to travel widely after its Berlin competition slot and will give a boost – along with Ursula Meier's The Line, also screening in competition - to the visibility of current Swiss cinema.
With some trimming, it could yield the imposing achievement that it promises
With dialogue in Swiss German, the film is set in a remote Alpine village. The time is now, but the community is as much rooted in the past as in the present, observing the rural customs that keep this secluded and, in many ways, self-sufficient rural community fully functioning. The central figures in a drama that very rarely uses names – we only hear its heroine's a good 90 minutes in – are Anna (Michèle Brand) and Marco (Simon Wisler). She is a young single mother who works in the local café and as a postal worker, while raising Julia, her young daughter from a previous relationship. He is a farm worker who has lived in the community for a year but is regarded with some suspicion by the other men, because he comes from the lowlands. Nevertheless, he has formed a connection with Anna, who seems to love him despite his hulking, muscular incommunicative nature. What he has in his favour is gentle tenderness and, apparently, a highly charged sexuality – a combination that seems to suit Anna perfectly, leading to their wedding.
The action slowly – one might say, at glacial pace – unravels over the seasons of three years, as suggested by its original title Drii Winter. Life goes on calmly, as Marco works tending cattle, clearing rockslides, and attending to other essential jobs of Alpine life. Meanwhile, Anna serves drinks and delivers mail, including to a local man who seems to be an admirer, possibly a past boyfriend – and who in any case, knows her well enough not to feel any hesitation in pissing right in front of her. Life ticks by uneventfully, but the action, with its fragmentary flow of seemingly insignificant episodes, has an ominous undertow that finally comes to a head when Marco gets some bad medical news. Indeed, there's further trouble ahead, although the film takes its time getting there.
Interspersed throughout are a series of interludes, in which a blue-jacketed local choir lines up in front of the camera to sign hymn-like songs – in one case, a ballad of local natural catastrophe – in rich harmonies that seem to embody the voice of the landscape itself. But the film undercuts any spurious sense of rural timelessness. We witness an elegantly shot wedding sequence in which the camera drifts slowly to the church door, to reveal a traditional Alpine brass band outside, waiting to play – only to cut straight to thumping disco music at the wedding party, incongruously enough, Haddaway's 'What Is Love'.
There are a couple of sequences that, in another film, might suggest the slow-burn deadpan humour so common in European art cinema, although here the tone isn't perceptibly comic: notably, bales of grass crashing out of the sky on a cable. There's also one element that seems so incongruous that it threatens to disrupt the mood: the sudden arrival of an Indian film crew and the subsequent shooting of a Bollywood dance duet. In fact, it's a poignant moment, with Anna impassively watching an image of idealised love entirely at odds with her own experience.
Koch underplays to sharp, teasing effect. A scene that might be a conventional shock reveal in another film is undercut, as the camera drifts past it, accompanying a character entering a house – before that character suddenly turns to walk back and look at what she's just missed. It's a clever piece of visual misdirection, but perfectly integrated with the unsettling drift of the whole.
People don't speak a great deal, including the two leads. Wisler's solemn, introverted Marco gives little away – eventually to the frustration of Anna, who wants to know why he can't at least lose his temper. But she's nearly as taciturn, her solemn but tender gaze offered up to our interpretation. It's the kind of film that gives us presences rather than performances in any demonstrative sense, but it's clear that Wisler and Brand are perfectly cast, as are the people of this community, notably the male farmers, with their lean, leathered faces.
DoP Armin Dierolf provides beautifully composed, crystalline images of the landscape, and the odd virtuoso moment, such as a motorbike ascent along a winding road. Anna's discussions of death and heaven with her daughter bring the film what might seem like a religious dimension, but this is not the romantic Alpine ecstasy of, say, Terrence Malick's A Hidden Life. You might say the film is metaphysical, rather than religious – definitely a musing on life, death and our place in the universe. But it's always connected with work, time, the landscape and the materiality that the film plays on so eloquently, as when those massive, ageless boulders are contrasted, via an elegant cut, with the wispy whiteness of a shop full of wedding dresses.
Production company: Hugofilm features
International sales: New Europe Film Sales, kat@neweuropefilmsales.com
Screenplay: Michael Koch
Producer: Christof Neracher
Cinematography: Armin Dierolf
Editing: Florian Riegel
Production design: Sara Giancane
Music: Toabias Koch, Jannik Giger
Main cast: Michèle Brand, Simon Wisler, Elin Zgraggen, Daniela Barmettler