Dir: Eitan Anner. 2016. Israel. 92 mins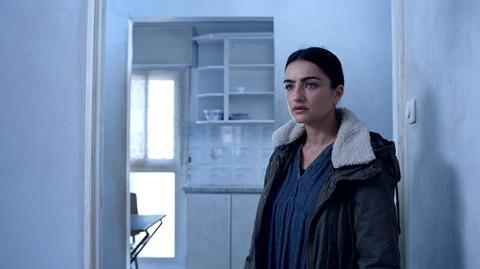 The tensions between Israel's ultra-Orthodox community and its secular one are a tacit presence in much of the country's cinema. However, since the majority of Israel's films unfold in either one community or the other, pictures which deal with the front line, where the rumbling disquiet boils over into actual conflict, are relatively few. This is one of the reasons that Eitan Anner's third feature, which won the top prize at Tallinn's Black Nights film festival, is such an intriguing proposition.
Anner's direction eschews obvious thriller tropes but he still manages to build tension inexorably
A Quiet Heart arrived in Tallinn having already won the award for Best Screenplay at the Haifa Film Festival. The film's awards tally, which also includes the prize for Best Actress for star Ania Bukstein at Tallinn, should translate to further festival interest. The mesmerising, tightly wound central performance from Bukstein, and the talking point subject matter could recommend this subdued but unexpectedly taut drama to arthouse distributors.
Naomi (Bukstein) has been brought up with one religion: music. A classically-trained pianist, groomed for a world-class career, she is suffering from a crisis of faith in her musical vocation. Prompted by a broken relationship and failure to win a prestigious competition, Naomi has fled Tel Aviv for Jerusalem and the opportunity to reassess her life and priorities away from the pressure of professional musicianship. The only apartment she can afford to rent is in a predominantly Orthodox area; the previous tenant, Mrs Gombrovich, having recently passed away.
The sparsely furnished flat still contains the piano that the former tenant left behind. Naomi eyes it warily, skirting around it as if it poses a threat to the peace of mind she seeks.
But it soon becomes clear that her peace of mind is more likely to be assaulted by external pressures such as the open animosity from some of her neighbours, who consider a young secular woman living on her own as a moral sinkhole in their close knit community. "It's a war", says one young woman, an activist who is part of a group which is trying to stop the ultra-religious from taking over the neighbourhood. Naomi is reserved to the point of isolation – the lovely muted blues and grey-greens of the colour palette compliment the chill of Bukstein's austere performance. And the connections she does forge, grudgingly at first, are oiled by a mutual passion for music.
Simcha, an Orthodox boy from a neighbouring family, doesn't speak but expresses himself through music – he covertly climbs through Naomi's window to play her piano. It is Simcha who holds the key to the truth about what happened to the previous tenant. Her other emotional link is with a charismatic Italian monk, Fabrizio (Giorgio Lupano), who agrees to teach her to play the pipe organ. The mutual attraction between the two is played out in intimate duets, shared glances and, just when it means most, a chaste kiss to the hand.
The connection with Fabrizio is a rare moment of harmony in a world which seems increasingly discordant as Naomi finds herself the target of a hate campaign.
For a film which is so consumed with music, the score is sparse but perhaps more powerful for the fact that it is used so subtly. Anner's direction eschews obvious thriller tropes but he still manages to build tension inexorably, as the peeling walls of Naomi's monastic rooms start to close in on her.
Production company: Green Productions
Contact: dist@greenproductions.co.il, maya@greenproductions.co.il
Producer: Gal Greenspan
Screenplay: Eitan Anner
Cinematography: Moshe Mishali
Editor: Yael Hersonski
Score: Jonathan Bar-Giora
Main cast: Ania Bukstein, Uri Gottlieb, Giorgio Lupano, Rona Lee Shimon