Dir/scr: Terence Davies. UK/Belguim 2016, 126 mins.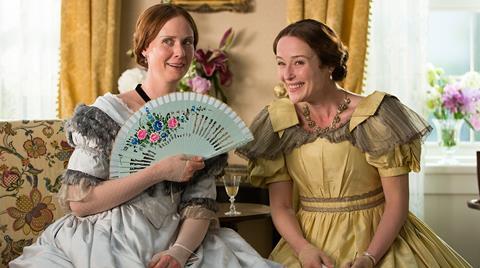 The poems of Emily Dickinson were little published and less read in her lifetime; since her death in 1886 at the age of 55, the reclusive Massachusetts poet's reputation has grown to the point where she is today ranked among the very greatest American writers. In his sometimes stilted but ultimately rather majestic and moving biopic of Dickinson, British auteur Terence Davies takes what is known of the poet's life and turns it into a series of carefully poised dramatic tableaux. If The House of Mirth was a literary adaptation, A Quiet Passion is something else – a deeply literary film.
Dickinson is shown as a woman hungry for praise, and perhaps romantic love, but fiercely protective of her creative and emotional independence.
This is a long, slow trip for viewers, not all of whom will respond warmly. A more challenging watch than Davies' last, 2015's Sunset Song, despite its (initially) lighter feel, this is a title that will need careful nurturing in arthouse markets.
At first the tone is stiff and oddly comic, with a whiff of amateur theatricals: it feels at times like an Oscar Wilde play done by a director who's read too much Brecht. If A Quiet Passion grows in stature as we watch, it's partly thanks to Cynthia Nixon, whose account of a witty, intelligent, rebellious but also reticent and emotionally confused woman takes the edge off Davies' sometimes grating formalism; Jennifer Ehle too aids and abets with a fine supporting turn as Emily's younger sister Lavinia, or Vinnie.
Shot on a Belgian sound stage with exteriors filmed in Dickinson's New England hometown of Amherst, A Quiet Passion covers the period between the poet's departure from a ladies' college aged 17 – due to theological stubbornness, Davies suggests – to her death. The young Emily, played by Emma Bell, soon morphs - literally - into Nixon's older version of the poet.
Embroidering on what is known of Dickinson's life – by presenting her – for example, as a proto-feminist, Davies embeds her in the life of a loving, cultured family that also includes her lawyer father Edward (Keith Carradine), brother Austin (Duff) and, later, the latter's young bride Susan (May), who together with a scandalously unconventional younger friend, Miss Buffan (a sparkling Catherine Bailey) and sister Vinnie, becomes the fourth part of the Dickinson sisterhood.
Fiercely independent, Emily refuses to go to church and writes her short, epigrammatic verses at night. Judged condescendingly by most of the few men she tentatively shows them to, with the exception of a dashing local priest she briefly, platonically falls for, Dickinson is shown as a woman hungry for praise, and perhaps romantic love, but fiercely protective of her creative and emotional independence.
The film's power also derives from the slow reveal that what had seemed wooden and slightly pompous – stiff family gatherings in bourgeois interiors, walks on the lawn and living-room exchanges where we have plenty of time to admire the floral pattern on the sofa – are central to the portrait of a woman whose poems take the everyday and make it cast a metaphysical shadow.
That shadow gradually grows in the course of the film – literally too, its colour palette turning from summer to autumn – as illness and the departure or death of those close to her shake the spirit of a woman whose gradual withdrawal from the world, Davies suggests, took place because she was so emotionally exposed to it. A finely judged and sparely used selection of music, culminating in the elegiac strains of Charles Ives' The Unanswered Question in the film's quietly devastating final movement, supports the film's graceful symphonic structure.
Production companies: Hurricane Films, Potemkino, Scope Pictures production
International sales: Double Dutch International, ron@doubledutchmedia.ca
Producers: Roy Boulter, Sol Papadopoulos
Executive producers: Andrea Gibson, Jason Van Eman, Ross Marroso, Ben McConley, Ron Moring, Jason Moring, Genevieve Lemal, Alain-Gilles Viellevoye, Dominic Ianno, Stuart Pollok
Cinematography: Florian Hoffmeister
Editor: Pia Di Ciaula
Production designer: Merjin Sep
Main cast: Cynthia Nixon, Jennifer Ehle, Keith Carradine, Emma Bell, Duncan Duff, Jodhi May, Catherine Bailey, Joanna Bacon