Mira Nair joins forces with Andrew Davies to televise Vikram Seth's novel set in India of the early 1950s.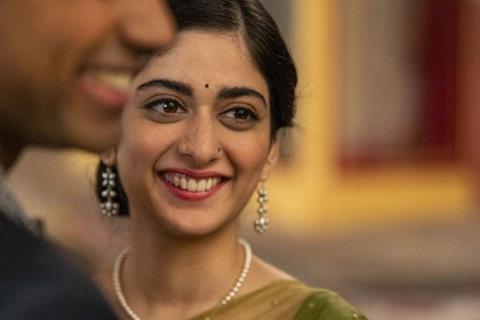 A Suitable Boy is precisely the sum of its parts: no more, and certainly no less. The chunky, door-stop of Vikram Seth's expansive 1993 novel is melded with the liquid sensibilities of director Mira Nair and the veteran Welsh writer Anthony Davies, the man almost singlehandedly responsible for the BBC's lavish output of literary adaptions from 1995's Pride And Prejudice on through to last year's Les Miserables and Sandition. Nair has quipped that it's 'The Crown made brown', which probably gives the best insight as to the money onscreen in this 60x60 minute post-Partition-set drama, which airs on the BBC in August; Netflix holds global rights outside the US, Canada and China, which are still in play.
A Suitable Boy eventually settles into its soapy beauty, but the viewer does need to keep the faith
The first two episodes will close the online Toronto Film Festival in September, and they're the choppiest, where Davies' vast experience and adaptive abilities are most put to the test. Set in 1951, A Suitable Boy is one of the longest novels ever published, travelling the breadth of India and chronicling four extended families over 18 months; political, religious and personal upheavals swirling around the search for a husband for the effervescent young college student Lata Mehra. The strain of condensing all this into six episodes shows, but perhaps the most surprising element is the occasional broadness of Nair's approach, the lurches between a comedic style of acting and urgent political issues, all dressed in gorgeous visuals and adorned with exquisite music. A Suitable Boy eventually settles into its soapy beauty, but the viewer does need to keep the faith.
Much has been made of the fact that this is the BBC's first all-brown cast, although that doesn't make it any more authentic a story about post-Independence India than the BBC's War And Peace (another Davies adaptation) was a documentary about the French invasion of Russia. This is singular entertainment, and once the audience can lock onto that fact, A Suitable Boy delivers its own rewards. Davies and Nair don't have a lot of time here to indulge his love of fast expansive, scene-setting and her flair for drifty, atmosphere-laden sequences: the show starts with a marriage, but theirs is rocky until they find a stride which is dazzling enough to make you wish A Suitable Boy could have stretched to eight, 10, or even 12 episodes.
The varied acting styles can startle, a jarring mix of languages and approaches framed in such a stately, regal BBC manner. Luckily, the production has found an entirely enchanting lead actress in the newcomer Tanya Maniktala as the independent-minded university student and literature lover Lata. The only surprise is how she doesn't have more than three devoted suitors: a forbidden Muslim boyfriend Kabeer Durrani (Danesh Razvi); the Anglo-Indian writer Amit Chatterjee (Mikhail Zen) and the charismatic shoemaker Haresh Khanna (Namit Das).
Less enchanting is some fully-committed character acting from Mahira Kakkar as Lata's flighty and stubborn mother, or Manoj Pahwa as the Raja of Mahr, or even Shahana Goswani as Lata's sly sister-in-law Meenaksh Chatterjee. Her brother-in-law's family, the Kapoors, also have to contend with a member who seems to have arrived from another production, perhaps a teen-focused one. Ishaan Khattar as Maan, the handsome, wayward son of a respected politician, has a lot of plot to carry, and needs all the help his romantic foil, the older, venerated actress Tabu, can give him.
The political and social aspects of Seth's source novel are the elements to suffer most in the film; not because of a lack of respect, but of time, while the romantic and familial strands have an easier route to making an impression. Of the four families, the Khans are the most reduced. As all the characters jostle around onscreen, however, Muslims, Sikhs and Buddhists, young and old, poor and rich, low and high caste, what remains steadfast is India, and A Suitable Boy socks it to the viewer in all its sights and sounds, a veritable Merchant Ivory+ montage of intoxicating locations, sets and dressings. (It moves from the fictional town of Brahmpur to Calcutta, Delhi and Lucknow, amongst others.) Production designer Stephanie Carroll worked with Nair on Monsoon Wedding, while Arjun Bhasin's costumes are a perfect replica of 1950s Anglo-Indian styling.
Production company: Lookout Point Ltd for BBC 1
Worldwide distribution: BBC Studios
Executive producers: Andrew Davies, Lydia Dean Pilcher, Will Johnston, Laura Lankester, Mira Nair, Faith Penhale, Vikram Seth, Mona Qureshi
Screenplay: Andrew Davies, from the book by Vikram Seth
Director: Mira Nair (all six episodes)
Producer: Aradhana Seth
Music: Alex Heffes, Anoushka Shankar
Main cast: Tabu, Tanya Maniktala, Ishaan Khattar, Mahira Kakkar, Danesh Razvi, Mikhail Zen, Namit Das, Shahana Goswani