Ava DuVernay refreshes Disney's live-action, family-film canon with a rousing fantasy adventure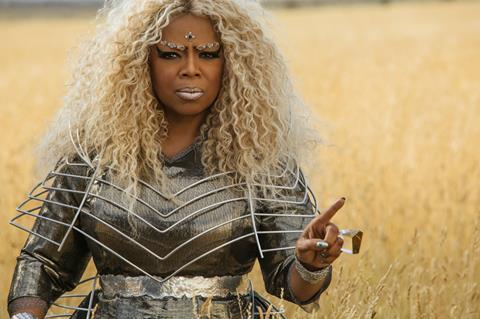 Dir: Ava DuVernay. US. 2018. 109mins
A story about the power of goodness which is bolstered by the sincerity of its optimism, A Wrinkle In Time is a fantasy to believe in. Adapting Madeleine L'Engle's acclaimed children's novel, director Ava DuVernay emphasises an emotional clarity and narrative simplicity that allows the book's sci-fi examination of friendship, family and forgiveness to resonate with almost mythic force. This Wrinkle features plenty of gorgeous costumes and eye-popping visual flair, but it slowly builds to a sustained emotional punch while capturing some of the family-film pleasures of bygone Disney live-action efforts.
Characters express their feelings with such unashamed openness that it's unexpectedly affecting
Opening March 9 in the US and two weeks later in the UK, Wrinkle should look forward to sizable business. (Ironically, the film's chief competition looks to be Disney's other recent release, Black Panther.) With a cast including Oprah Winfrey, Reese Witherspoon and Chris Pine, this all-ages entertainment might skew towards younger audiences, but good reviews and strong word-of-mouth should encourage further commercial success.
Wrinkle stars Storm Reid as Meg, a smart, sensitive girl who adores her physicist parents Alex (Pine) and Kate (Gugu Mbatha-Raw) while tolerating her nerdy, adopted younger brother Charles Wallace (Deric McCabe). After Alex goes missing for four years — and is presumed dead — Meg (now in middle school and painfully insecure) is visited by powerful otherworldly figures who inform her that he is still alive. However, Alex needs her help escaping a parallel dimension before the forces of darkness wreak havoc across the universe.
DuVernay (Selma) has said that she wanted to make a film for young people, and Wrinkle very much feels geared to children and teenagers, dramatising the battle between good and evil in clear-cut terms. And while Jennifer Lee and Jeff Stockwell's screenplay occasionally lacks sophistication — a failing that applies to some of the performances, too — that seems to be part of DuVernay's subversive strategy. Characters express their feelings with such unashamed openness that it's unexpectedly affecting, underlining the movie's message that we can't give in to hatred and that it's important to tell our loved ones how much they mean.
There's a touch of the old-fashioned about Wrinkle — despite its big-budget effects shots, this is an affectionately square story about a young woman going on a quest to save her dad and find herself. Still, DuVernay throws in her own little wrinkle: unlike live-action Disney family films of previous generations, Wrinkle boasts a richly diverse cast, including Winfrey as the regal Mrs. Which and Mindy Kaling playing the loopy Mrs. Who. Likewise, Meg's multi-racial family only strengthens L'Engle's celebration of disparate people finding strength and community with one another. Because DuVernay has crafted this tale with such faith in people's inherent decency, the bond that forms between the characters as they battle evil ends up being quite moving.
That said, Wrinkle's plotting isn't the film's strong suit: Meg's journey across the cosmos with Charles and a friendly classmate named Calvin (Levi Miller) can be a bit confusing and episodic. But DuVernay and production designer Naomi Shohan rectify the problem by dreaming up some striking, sometimes scary environments, perhaps the best of the bunch being a nightmarish 1950s suburban landscape. As is often the weakness with modern blockbusters, Wrinkle can be overwhelmed by its wall-to-wall CG fakery — which probably explains why the movie's most impressive and stirring effects shots near the end are relatively low-key.
Of the three celestial beings guiding Meg, Winfrey outclasses her costars, wearing Mrs. Which's interstellar majesty as lightly as the actress carries her own stature as a beloved icon. Witherspoon, who plays the flighty Mrs. Whatsit, is mostly a bundle of tics, while Kaling is a tad cutesy as Mrs. Who.
Some of the other A-listers fare better, including Zach Galifianakis as a kindly medium. But while Miller and McCabe are both likable young actors, Wrinkle's heart and soul are Reid and Pine. It's their rapport — and their characters' sometimes uneasy relationship — that speaks to everything that Wrinkle wants to articulate about losing someone close to us and realising what our priorities should be. Playing the ambitious, distracted Alex — eyes up to the stars but losing sight of his own daughter — Pine continues to grow into a deeply empathetic, supple actor. Meanwhile Reid, as the self-conscious but compassionate Meg, already demonstrates an emotional facility that suggests this teenage actress is poised beyond her years.
Production company: Whitaker Entertainment
Contact: Disney, www.movies.disney.com
Producers: Jim Whitaker, Catherine Hand
Executive producers: Doug Merrifield, Adam Borba
Screenplay: Jennifer Lee and Jeff Stockwell, based upon the novel by Madeleine L'Engle
Cinematography: Tobias Schliessler
Production design: Naomi Shohan
Editor: Spencer Averick
Music: Ramin Djawadi
Website: www.movies.disney.com/a-wrinkle-in-time
Main Cast: Oprah Winfrey, Reese Witherspoon, Mindy Kaling, Storm Reid, Levi Miller, Deric McCabe, Gugu Mbatha-Raw, Michael Peña, Zach Galifianakis, Chris Pine