Parts of Costa-Gavras's film about the Greek monetary crisis are "so dull, it's actually rather fascinating"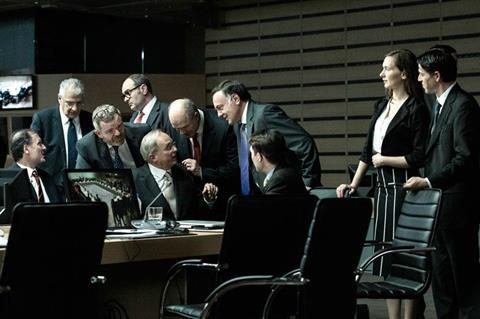 Dir/scr. Costa-Gavras. France, Greece 2019. 126 mins.
The adults may be in the room but the focus is on Yanis Varoufakis (played by Christos Loulis) in veteran French-based Greek director Costa-Gavras' first feature since the little-seen banking drama Le Capital in 2012. Based on a tell-all book by the left-wing economist charting his brief stint as Greek Finance Minister between January and July 2015, it's a flat and long-winded affair, consisting mostly of dramatised chunks of Varoufakis' not exactly self-critical account of his attempt to bargain with the EU and its financial watchdogs over the terms of Greece's debt repayments.
Varoufakis' refusal to wear a tie for the photoshoot makes for one of the dramatic highlights
The result is a film that plays out in an interminable round of suited meetings in anonymous Eurocrat rooms, where Varoufakis' refusal to wear a tie for the photoshoot makes for one of the dramatic highlights. Impassioned and yet also strangely inert, this EU stand-off drama makes few revelations and throws up few characters to engage with – including Varoufakis himself. Outside of its two co-production territories, Greece and France, it's difficult to see audiences leaping on board, despite the lingering fame of Varoufakis (currently back in parliament with a new party, and forging a transnational left alliance with Bernie Saunders) as a kind of Greek economist Robin Hood.
It's clear what the Greek finance minister wants after left-wing party Syriza is voted into office in the January 2015 snap elections and election-night archive news footage gives way to a dramatisation featuring Loulis as Varoufakis and Alexandros Bourdoumis as prime minister Alexis Tsipras. He's keen to renegotiate the crippling debt repayments imposed on the country by the Eurogroup, which Varoufakis sees as not just being the consequence of the profligacy and corruption of previous Greek governments, but also a result of Greece being made a convenient scapegoat for the €1 billion deficit racked up by French and German banks.
The Big Short provided a masterclass into how to adapt a non-fiction book about a financial crisis and its political fallout in a fresh and original way. Adults In The Room doesn't. Varoufakis' intentions are clear as he runs into the 'no compromise on debt repayments' stonewall erected by the Eurogroup in the shape of its wily president Jeroen Dijsselbloem (Daan Schurmans), the IMF head Christine Lagarde (Josiane Pinson) and the story's intransigent eminence grise, wheelchair-bound German finance minister Wolfgang Schäuble (Ulrich Tukur). But Costa Gavras's agenda is less clear-cut.
The suffering of ordinary Greeks is glimpsed only briefly in a drive-by shot of closed shops and a scene involving a delegation of out-of-work cleaning staff. Varoufakis himself wears Burberry scarves and, with a glamorous, supportive wife played gamely by a Greek-speaking Valeria Golino, meets friends in an upscale Athens restaurant where, as he pours the wine, a silent crowd of dispossessed locals assemble outside, glare in gloomy reproach, and disperse. Is that a lifestyle critique or a ghostly reminder to the finance minister not to forget his people'? We'll never know, as the chronologically structured film soon returns to its uncritical charting of Varoufakis' tussle with the Eurogroup and compromise-minded elements within his own party.
Just occasionally, the film's plodding faithfulness to its source material becomes a virtue: the discussion in a Brussels Eurogroup meeting over whether the words "adjusted" or "amended" should be used in a key agreement is so dull it's actually rather fascinating. A documentary might have explored this paradox with greater verve and rigour; what we're left with here is a kind of comedy of frustrations, scored by Alexander Desplat with a mix of tension-building chords and jaunty Zorba-like bouzouki music, and shot as efficiently as a mid-budget Euro TV pilot.
Production company: KG Productions
International sales: Elle Driver, sales@elledriver.eu
Producers: Michéle Ray-Gavras, Alexandre Gavras
Screenplay: Costa-Gavras, based on the book of the same name by Yanis Varoufakis
Production design: Spyros Laskaris, Philippe Chiffre
Editing: Costa-Gavras, Lambis Charalampidis
Cinematography: Yorgos Arvanitis
Music: Alexandre Desplat
Main cast: Christos Loulis, Ulrich Tukur, Alexandros Bourdoumis, Daan Schuurmaans, Christos Stergioglou, Josiane Pinson, Cornelius Obonya, Aurélien Recoing, Valeria Golino