Director: Kore-eda Hirokazu. Japan. 2016. 117mins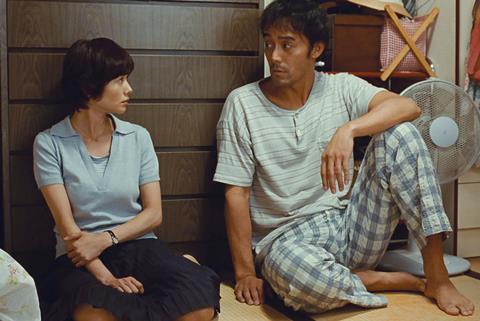 "Are you who you wanted to be?" asks the young son of former novelist and gambling addict Ryota (Abe Hiroshi). It's one of the central questions in this sweet-natured comedy about father/son relationships and the gifts and curses that are passed down through generations. Light in tone and genuinely funny, this may not feel like the most substantial work from the director who dissected similar themes with a sharper scalpel in Like Father, Like Son. However, it has definite commercial appeal and will likely connect with the audience which responded to the gentle warmth of Our Little Sister. The film should find an enthusiastic reception on the festival circuit, and, largely thanks to the formidable comedic chops of veteran actress Kiki Kirin, will generate positive word of mouth from fans of wisecracking grannies.
Like Kore-eda's 2008 family drama Still Walking, this is a film which is interested in the architecture, both emotional and physical, of the family home
Ryota is a writer who is stuck at his moment of glory – the prize-winning novel he wrote fifteen years ago. It's a success that he has been unable to recreate. Kore-eda pointedly makes sure that any moments of insight come from characters other than Ryota. At a point when his divorced wife Kyoko (Maki Yoko) is moving on with her life and into a new relationship, Ryota is anchored to the past. Kore-eda makes effective use of Abe's height. He's perpetually hunched, awkwardly, within the frame, a neat visual metaphor for his discomfort with the way his life has turned out.
Now working as a private detective while he researches a nonexistent second novel, Ryota is not above extorting money from the targets he is sent to watch. A hopeless gambling habit means that despite the illicit windfalls, he can't pay his son's child support.
Even as Ryota is struggling to stay part of his son's life, he is grappling with some unresolved issues with his own late father. Meanwhile, his mother Yoshiko (Kiki) has cheerfully bounced back following the death of her husband, binning his belongings with a pragmatism that borders on the callous. Ryota is crushed – he had been hoping that there would be something worth pawning in his father's effects but it seems that his only inheritance is his gambling habit.
Like Kore-eda's 2008 family drama Still Walking, this is a film which is interested in the architecture, both emotional and physical, of the family home. The most successful and focussed scenes are those which take place in Yoshiko's compact flat. It's a bone of contention that she is still living there and a constant reminder of Ryota's failure to make enough money to relocate her. Even when the action takes place outside of Yoshiko's home, Kore-eda fills the frame with boxes which evoke the four tight walls of the apartment.
Kore-eda makes much use of symbolic imagery. The typhoon which batters the city over a pivotal summer night echoes the storm of emotions that Ryota must negotiate. And later, having achieved some kind of closure with the memory of his father, Ryota wears his dad's shirt. It's at that point that he finally inherits something of worth.
Production companies: Fuji Television Network, Inc; Gaga corporation
International sales: Wild Bunch, sales@wildbunch.eu
Producers: Matsuzaki Kaoru, Yose Akihiko, Taguchi Hijiri
Screenplay: Hirokazu Kore-eda
Cinematography:Yamazaki Yutaka
Editor: Kore-eda Hirokazu
Production design: Mitsumatsu Keiko
Music: Hanaregumi
Main cast: Abe Hiroshi, Maki Yoko, Kiki Kirin,Yoshizawa Taiyo