Sundance opens with a remake of the Susanne Bier film directed by Bart Freundlich and starring Julianne Moore and Michelle Williams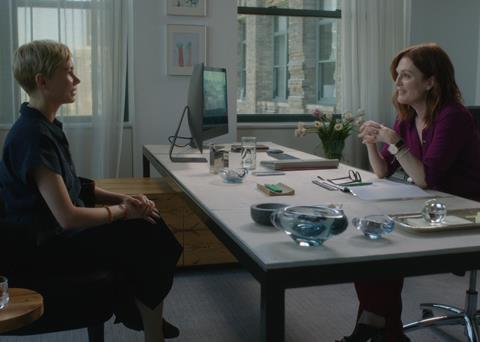 Dir: Bart Freundlich. US. 2019. 110mins
Secrets and lies are the currency of After The Wedding, a melodramatic family saga that can't find the right tonal balance between anguished tragedy and bittersweet irony. Reworking Susanne Bier's Oscar-nominated film, writer-director Bart Freundlich wants to examine the ways that money, love and fate shape our destinies. But despite a stellar cast led by Julianne Moore and Michelle Williams, After The Wedding never cuts very deeply, staying on the surface of a tale that ought to tear into the viewer's soul the way it does these tormented characters. Premiering at Sundance, After The Wedding could attract interest thanks to the involvement of Moore and Williams. (And those who fondly recall Bier's original film may be curious to see what an English-language remake looks like.) But muted reactions may curtail art-house potential.
Freundlich's generally tasteful approach only makes the convoluted story more preposterous
As the film begins, Isabel (Williams) works at an Indian orphanage which is badly underfunded. Her prayers might be answered, though, after she flies to New York to meet with Theresa (Moore), a wealthy entrepreneur who is about to sell her company for a fortune and is interested in financing Isabel's centre.
Before closing the deal, Theresa invites Isabel to the wedding of her daughter Grace (Abby Quinn) that weekend, an impromptu offer which surprises Isabel, although she nonetheless accepts. (After all, if it will help curry favour with Theresa and save the orphanage, what's the harm?) But when Isabel arrives at the lavish event, where she meets Grace and Theresa's husband Oscar (Billy Crudup), she realises she has a connection to this family that she could never have anticipated.
For those who have seen Bier's 2006 film, this remake's initial twist will not be much of a surprise. But Freundlich (The Myth Of Fingerprints) doesn't just switch the gender of some characters — he also goes his own way in terms of dissecting the bonds of family and the desire to bury awful truths in the hopes that they will never resurface. Williams and Moore would seem to be ideally suited to this material. Both actresses display a steely intelligence as it quickly becomes apparent that Theresa is toying with Isabel for reasons that aren't immediately clear. Is it simply that Theresa wants to lord her wealth and success over the needy Isabel? Or does she have another agenda? As the stakes rise, it's fleeting fun to watch the two actresses savour their characters' cutting back-and-forth exchanges.
Unfortunately, Freundlich neither maximises the narrative's juicy surprises not turns them into gripping drama. As dark secrets are revealed, resulting in the characters being forced to reassess what they thought they knew about one another, angry recriminations give way to even more bombshells. And while restraint is usually commendable, what distinguished Bier's version is her recognition of the story's inherently overheated elements. By comparison, Freundlich is too timid to explore those soapier tendencies. Between Mychael Danna's flowery score and the film's overall mournful tone, this remake has an unearned gravitas meant to suggest great dramatic heights. Alas, Freundlich's generally tasteful approach only makes the convoluted story more preposterous.
While Moore leans into Theresa's cruel, controlling side, Williams is intentionally withholding, a strategy her character has learned in order to project an image of nurturing stability — an image, the audience will learn, that's something of a facade. Crudup is appropriately enigmatic as an accomplished artist who, like many in After The Wedding, remains bedevilled by the mistakes of his youth. His character may be a little too insular, but Quinn (previously seen in the indie comedy Landline) is affecting as the emotional new bride whose seemingly happy future is about to be torpedoed by actions that were taken many years ago. The past won't let these characters go — just as Bier's more potent original haunts this far less satisfying remake.
Production company: Joel B. Michaels Productions
US sales: Endeavor Content, cgelb@endeavorcontent.com; and Cornerstone Films, jm@cornerstonefilm.com
International sales: Cornerstone Films, jm@cornerstonefilm.com
Producers: Joel B. Michaels, Julianne Moore, Bart Freundlich, Silvio Muraglia, Harry Finkel
Screenplay: Bart Freundlich, based on the screenplay for the Danish film of the same name written by Susanne Bier and Anders Thomas Jensen
Production design: Grace Yun
Editing: Joseph Krings
Cinematography: Julio Macat
Music: Mychael Danna
Main cast: Julianne Moore, Michelle Williams, Billy Crudup, Abby Quinn