Dir/scr. Kim Jee-woon. S. Korea, 2016, 140 mins.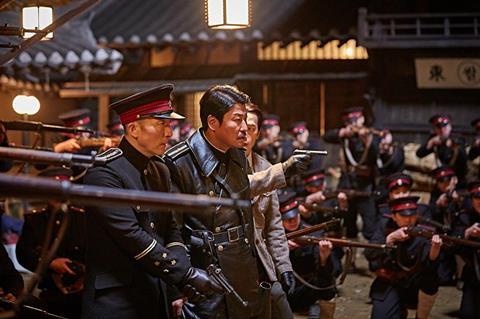 Japan's colonial rule of Korea in the 1920s has occupied two of the country's top film-makers this year – Park Chan-wook used the political oppression as a backdrop to sapphic potboiler The Handmaiden and now Kim Jee-woon has produced a classically-framed wartime espionage drama from the same era. The Age of Shadows, which premiered in Venice at a bracingly explosive 140 minutes, is a sumptuously mounted first local production from Warner Bros which has already been anointed Korea's foreign language Oscar candidate.
Jung-chool soon finds himself in an impossible situation, although drinking buckets of soju doesn't help when it comes to keeping a clear head
Local audiences should respond well to the stirring patriotic sentiment on display here, although the film's uneven first half could make it a tougher sell elsewhere. An impressive range of expertly-staged set-pieces and lavish period recreations/costume designs will help, though, as will the appearance of Song Kang-ho (The Host, Snowpiercer) in the lead role, and of course Kim Jee-woon's reputation goes before him (I Saw The Devil).
The rugged Song (The Host, Snowpiercer) shoulders most of the load, and is typically solid throughout as policeman Lee Jung-chool, a Korean who now works for his country's Japanese overlords and ends up in a battle of wits with Resistance leader Kim Woo-jin (Gong Yoo, from Train To Busan).
Kim's invigorating opening sequence sets the scene for the great cat-and-mouse chase which is to ensue when he stages a sting operation on the Korean Resistance at a private compound whose rooftops call to mind Crouching Tiger, Hidden Dragon. Japanese troops – literally - run all over the houses as Jung-chool tries to intervene to save the life of his former comrade Kim Jan-ok (Park Hee-soon), now a Resistance fighter.
Working for the Japanese is a matter of pragmatism for Jung-chool in a land where "whoever offers a hand first is a friend" (although "Koreans can choose to obey the Japanese or die," he is told). Age of Shadows is, according to the credits, "an original work of fiction based on historical facts" and is loosely based on the bombing of a Seoul police station in 1923.
Guided by Chief Higashi (Shingo Tsurumi), Jung-chool's pursuit of the fanatical Resistance members brings him into contact with their charismatic operations chief Kim Woo-jin. A complex game of double-crossing and second-guessing ensues, with Jung-chool's sense of decency being manipulated by the Resistance leader while the malevolent Japanese officer Hashimoto (Um Tae-goo) looks on. Jung-chool soon finds himself in an impossible situation, although drinking buckets of soju doesn't help when it comes to keeping a clear head.
The plot is classic wartime intrigue, and could easily be swapped for a Chinese, British or American WWII epic as the saboteurs head for Shanghai to purchase explosives from Hungarian anarchists (the film's timeframe plays out prior to the Japanese invasion of Manchuria, when Shanghai was a political melting pot). The entire mid-section of Age Of Shadows takes place on a train headed back to Seoul, with Kim's actors racing up and down the carriages, assembling and re-assembling their plans at breakneck speed, before the director hurls the film into a huge set piece at Gyeongsan railway station, followed by yet another narrative explosion.
The first half of Age of Shadows feels muddy as momentum builds; the latter stages boast a cinetic energy - cutting a violent melee to classical music (in this case Ravel's Bolero), may be a tribute to John Woo, but it's stunning nonetheless. Violence is a given, and Kim lets it rip with some look-away torture sequences and some self-surgery involving a big toe.
Throughout, the technical departments excel. Production design is both highly ambitious and enormously enjoyable, particularly on the train, while costuming revels in the opportunity to dress the handsome leads in a Bugsy Malone range of 1920s kit. Both Song Kang-ho and Gong Yoo give their characters dignity and strength. Han Ji-min doesn't fare quite so well, though, her Resistance character hints at more but ultimately comes across as decorative, a pretty face under a cloche hat.
Production companies: Grimm Pictures, Warner Bros Korea
International sales: Finecut, cineinfo@finecut.co.kr
Producers: Kim Jee-woon, Choi Jae-weon
Screenplay: Kim Jee-woon, Lee Ji-min, Park Jong-dae.
Cinematography: Kim Ji-yong. .
Production design: Cho Hwa-Sung
Editor: Yang Jin-mo.
Main cast: Song Kang-ho, Park Hee-son, Gong Yoo, Han Ji-min, Um Tae-go,