Will Smith takes centre stage in Guy Ritchie's live-action remake of Disney's classic animation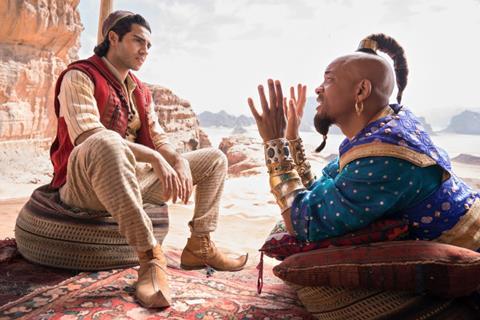 Dir: Guy Ritchie. US. 2019. 128mins
Sometimes dazzling but more often workmanlike, the live-action Aladdin accomplishes its modest goal to be a faithful, supersized re-creation of the original animated film. But for all the money and creative energy spent on this facsimile, director Guy Ritchie's tale of a thief, the princess he loves and the genie he befriends seems like a waste of this peculiar brand of cinematic magic. Will Smith does what he can to temporarily distract viewers from their memories of Robin Williams as the wish-granting supernatural being, and Alan Menken's songs remain sublime. But despite Aladdin's occasionally arresting moments, this remake's most potent element is its intentional air of déjà vu.
For a movie about a rapscallion who learns to be brave for the princess he loves, this remake risks very little
Disney will be hoping for grosses more closely aligned with those of its live-action Beauty And The Beast ($1.3 billon worldwide) than its disappointing Dumbo (currently $340 million). The enduring popularity of the 1992 original will certainly help, as will Smith's marquee value. The only question is whether Aladdin can top some of Disney's other recent remakes, including the forthcomingThe Lion King.
The film stars Mena Massoud as Aladdin, a poor thief in Agrabah. This charming young rascal, whose best friend is his loyal monkey Abu, encounters the bewitching Jasmine (Screen Star of Tomorrow 2015 Naomi Scott), not realizing she is the princess. They have an instant spark but, because he's not royalty, he can never hope to marry her. Fate intervenes, however, when he comes across a magic lamp, which contains a genie (Smith) who will grant him three wishes.
To complain that this new Aladdin mostly follows the original's storyline is to be unaware that this is precisely Disney's strategy. As with its live-action Beauty And The Beast, Ritchie's Aladdin adds a couple of new plot wrinkles and some new songs, but the idea is to transport a beloved classic into three dimensions. Innovation means less than reverent mimicry, a respectful colouring within the lines.
For his part, Ritchie gives Agrabah an eye-candy opulence, while Massoud and Scott literally flesh out their characters although, as in the animated movie, their love story is sweet without being particularly memorable. In a nod to feminism, Ritchie and co-writer John August envision Jasmine as an outspoken, poised leader, and Scott has the fire to make those changes to the character resonate.
Still, Aladdin's centrepiece personality remains the genie who, in the original, was brought to amusing life by an improvising, quick-witted Williams. The Oscar-winner's passing adds an air of melancholy to the remake, although Smith supplies his own brand of sass without worrying about copying Williams. (If the original genie was a motor-mouthed ham firing off a million celebrity impressions, Smith's gets by on deadpan attitude.) The character is so iconic that's it's probably inevitable that Smith can't fully inhabit the role — although the effects work is suitably accomplished — but he manages to be a funny, sympathetic jokester.
The film's best songs soar all over again, and booming versions of 'Friend Like Me', 'Prince Ali' and 'A Whole New World' are among Aladdin's clear highlights. While none of these new takes best the originals, they're just barely different enough that they may allow some fans to feel like they're getting alternate takes on Disney chestnuts. And give credit to choreographer Jamal Sims, who deftly fills the screen with movement and energy during a few lavish dance numbers.
Unfortunately, what was lacking in the 1992 film isn't improved here — and the remake's desire to do everything a little bigger ends up with a film that's meant to play in giant multiplexes, wowing large audiences with its scope and scale. The obvious downside is that this Aladdin lumbers during its quieter moments. Massoud is awfully appealing, but the character remains a little simplistic. And when Aladdin and Jasmine start to fall for one another, their cute rapport is undercut somewhat by the rather clichéd wrong-side-of-the-tracks romance.
Of course, some may simply enjoy the sheer bulk of entertainment that Aladdin unloads. But its regurgitation of incidents and musical sequences too frequently feels dutiful, as do the film's themes of honesty, loyalty and standing up for what's right. Sometimes, Aladdin throws a delightful curveball, like Nasim Pedrad's scene-stealing role as Jasmine's servant and pal. But for a movie about a rapscallion who learns to be brave for the princess he loves, this remake risks very little.
Production company: Rideback
Worldwide distribution: Disney
Producers: Dan Lin, Jonathan Eirich
Screenplay: John August, Guy Ritchie
Production design: Gemma Jackson
Editing: James Herbert
Cinematography: Alan Stewart
Music: Alan Menken
Main cast: Will Smith, Mena Massoud, Naomi Scott, Marwan Kenzari, Navid Negahban, Nasim Pedrad