Robert Rodriguez and co-writer James Cameron bring Yukito Kishiro's graphic novels to life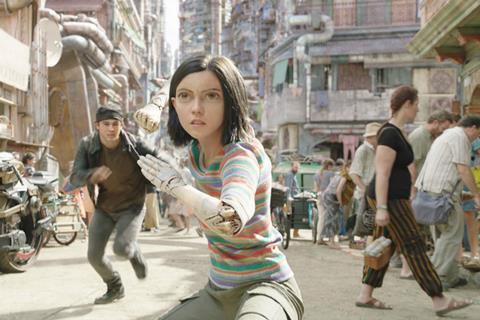 Dir: Robert Rodriguez. US. 2019. 122mins
The hero of Alita: Battle Angel is a cyborg built from spare parts who is struggling to grasp the extent of her powers. That's an apt metaphor for this ambitious but unsatisfying sci-fi/action epic, which has moments of sublime spectacle but also too many generic and convoluted parts stitched together out of other dystopian dramas. Cutting-edge performance-capture technology gives us a remarkably lifelike Alita, but although Robert Rodriguez clearly loves this pulpy genre material, that affection rarely translates into anything more than an impressive display of technical might.
Alita is at its best when it marries the director's scrappy spirit with the story's massive scope
This Fox release lands in UK theatres on February 6 before coming to the US on February 14. Alita boasts a cast full of Oscar-winners (Christoph Waltz, Jennifer Connelly and Mahershala Ali), but the bigger draw may be producer and co-writer James Cameron, who has adapted the Yukito Kishiro graphic novels for what he no doubt hopes is the first in a series of franchise instalments.
The film takes place in the 26th century, roughly 300 years after "The Fall" — a cataclysmic war that reduced most of Earth's metropolises to rubble. In Iron City, Dyson Ido (Waltz), a doctor who specializes in robot care, finds parts of a cyborg body in a scrapyard, taking the pieces home so he can reassemble it. Naming the cyborg Alita (Rosa Salazar), Ido tries to explain what's happened to the world, but she has no memory of who she was — although she begins having visions of her past that suggest she was once a ferocious warrior.
Cameron has spent two decades trying to develop this project, and what's most instantly striking about the movie is its effects. The Avatar director proved himself a pioneer in motion-capture performance, and Alita illustrates how far the technology has advanced since that film. Alita's expressive face and the character's easy integration into live-action scenes alongside the other actors are so sterling that one almost forgets that it's an effect. (And give credit to Salazar, who imbues Alita with steely toughness as the character embraces her destiny in this desolate future.)
Making his first feature since 2014's Sin City: A Dame To Kill For, Rodriguez works on a grander canvas than anything he's attempted before and Alita is at its best when it marries the director's scrappy spirit with the story's massive scope. The film comes alive during action sequences where the sweet Alita suddenly realizes that her murky past involved being a soldier. While she can't remember anything, she's instinctively retained the skill to deliver balletic kicks when she goes up against Iron City baddies such as the cyborg assassin Zapan (Ed Skrein).
These fleeting moments of adrenalized filmmaking harness what's inspiring about Alita's journey of self-discovery. But the problem is that too much of Alita involves characters explaining to our protagonist the rules of this dark dystopia. Of course, this endless exposition allows the filmmakers to do some world-building, but little about the machinations of Iron City (let alone Earth in the 26th century) is interesting.
Even worse, Alita's setting mostly recalls other post-apocalyptic landscapes, with production designer Steve Joyner and cinematographer Bill Pope struggling to find fresh ways to show us a terrifyingly bleak future. While one could argue that Kishiro's books, which were published in the 1990s, predate the dystopian-sci-fi trend, Rodriguez and his creative team have been lapped by all the films that have emerged over the last 25 years.
Salazar makes for a stirring hero, and the other actors do what they can with rote characters. Waltz plays a kindly doctor who harbours secrets about Alita's past, while Connelly gives a severe performance as an enigmatic woman who wants to take down this cyborg. And Ali mostly exudes unflappable cool as the overseer of this future's most popular game, Motorball, which calls to mind Rollerball and Ready Player One.
Screened in 3D for critics, Alita makes good use of its widescreen scale when Alita careens around corners while competing in Motorball or twirling through the air when confronting her imposing foes. (Because Iron City has outlawed guns, she has plenty of opportunities to engage in high-octane martial-arts combat.) The film has a familiar hero's-journey narrative, but Salazar's big-hearted performance finds the emotion within the clichéd storyline. Unfortunately, Rodriguez avoids a properly rousing finale by, instead, teasing us with a second chapter. Amidst this film's gloomy worldview, his belief that there will be a sequel may be Alita's one instance of optimism.
Production companies: Lightstorm Entertainment, Troublemaker Studios
Worldwide distribution: Fox
Producers: James Cameron, Jon Landau
Screenplay: James Cameron & Laeta Kalogridis, based upon the graphic novel ("Manga") series Gunnm by Yukito Kishiro
Production design: Steve Joyner
Editing: Stephen Rivkin, Ian Silverstein
Cinematography: Bill Pope
Music: Tom Holkenborg
Main cast: Rosa Salazar, Christoph Waltz, Jennifer Connelly, Mahershala Ali, Ed Skrein, Jackie Earle Haley, Keean Johnson