Mary Elizabeth Winstead shines in this story about an abrasive New York comedian who moves to LA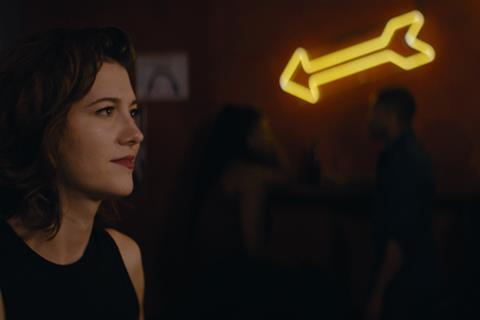 Dir: Eva Vives. US. 2018. 97mins
An electric turn from Mary Elizabeth Winstead pulses through this striking feature debut from short filmmaker Eva Vives, which effectively shines a light on issues of honesty, identity and equality through the story of a stand-up comedian transplanted from cacophonous New York to the more introspective LA. While the character's resulting journey of self-discovery may follow familiar lines, it is bracing nevertheless.
Winstead is so strong here that her co-stars can't help but pale slightly in comparison
Premiering in Tribeca's US Narrative Competition, All About Nina should travel further thanks to its of-the-moment female protagonist and Winstead's memorable performance. It should also help bring Winstead (10 Cloverfield Lane, TV's Mercy Street and Fargo) and Vives the mainstream attention they deserve.
Winstead plays the titular Nina, a stand-up comedian scratching a living in NYC. On stage, she is brilliant; blazingly feminist, graphic and forthright about everything from periods to sex and her routine has brought her to the attention of celebrated Saturday Night Live-esque LA TV institution 'Comedy Prime'.
Off stage, it's a different story. Nina throws up uncontrollably after every routine, then immediately picks up random men for no-strings sex. While she may tell herself she's in control, she clearly is not; the fact that she keeps sleeping with violent married cop Joe (Chace Crawford), even though it makes her desperately miserable, is — along with her increasing dependence on alcohol — proof of how far she is spinning out of control.
Realising she needs a change of scenery, Nina moves to LA and stays with her agent's bohemian lesbian friend Lake (Kate del Castillo). When she meets softly-spoken Rafe (Common) at a bar, it seems she may finally have found someone with whom she has a genuine connection; but, true to form, she begins to self-sabotage this burgeoning relationship.
Winstead is so strong here that her co-stars can't help but pale slightly in comparison. Yet Common is charming as Rafe, a self-assured man whose attraction to Nina makes him contemplate his own behaviour, and de Castillo is endearing as the free-spirited, mantra-spouting Lake. The spark between Nina and Rafe may be a narrative catalyst, but the friendship between the two women is equally as important.
There is also the sense that, despite the air of carefully curated artifice suggested by the LA location and Nina's on-stage persona, all of the characters are rooted in truth. That's most powerfully apparent with Nina, a modern woman who believes, rightly, that she is entitled to have — and say - it all, but whose struggle to be the master of her own fate is a familiar one. This internal battle between what she knows she deserves, the limits placed on her by others and what she is emotionally capable of informs her behaviour.
Production companies: Diablo Entertainment
International sales: CAA, nick.ogiony@caa.comNikki
Producers: Eric Fleischman, Sean Tabiban, Natalie Qasabian, Eva Vives
Screenplay: Eva Vives
Editing: Saira Haider, Susan Littenberg
Cinematography: Thomas Scott Stanton
Music: John Dragonetti
Main Cast: Mary Elizabeth Winstead, Common, Kate del Castillo, Chace Crawford, Jay Mohr, Camryn Manheim