A French rap composer sparks up a friendship with his smart fridge in this Artificial Intelligence fantasy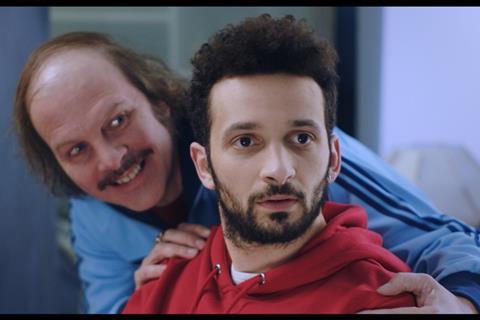 Dir/scr: Benoît Forgeard. France. 2019. 107mins
It takes a certain brand of intelligence to imagine — and to spoof — where Artificial Intelligence (AI) is headed. Come human-machine date night, undiscerning viewers may want to take their favorite algorithm to see All About Yves (Yves). But, apart from it's wish-I'd-thought-of-that English title, it's unlikely that HAL 9000 would have cracked a smile at this very broad and very French comedy about a 30-ish rap musician who forms a genuine friendship-cum-artistic-collaboration with his "smart" refrigerator-freezer.
The premise is splendid and the execution cordially over the top
The premise is splendid and the execution cordially over the top although the venture wears out its welcome before the end. If you've dreamed of smart appliances competing in the Eurovision song contest, this is just the movie for you. Beyond French and English, however, foreign distributors should seek out the cleverest sub-titlers they can find, as extensive rap lyrics are an integral component of the movie and essential to following whatever emotional punch it has to offer.
Jerem (William Lebghil, who also starred in Forgead's well-traveled 2012 short Fuck UK) works hard on his rap compositions but hasn't set the commercial music world on fire. Shapely 29-year-old statistical engineer So (Doria Tillier) enlists Jerem for a pilot program from her firm, Digital Cool. So provides a state of the art AI refrigerator that speaks to its owner in natural tones, (Possible "voices" include Donald Trump, Scarlett Johansson – in a sweet nod to Her – and, uh, Victor Hugo.) A large plasma screen adorns the upper portion of the appliance, which otherwise looks normal.
Jerem's new fridge or "fribot" is named Yves (voiced by Antoine Gouy), and will be evaluating Jerem's eating habits and automatically ordering groceries designed to optimize his health. There's nothing but room for improvement – Jerem is happy eating raw hotdogs if that's what's handy. As Jerem and Yves get to know each other, Jerem takes the appliance out on excursions, including sky diving.
It's been said that AI will have "won" over mere mankind the day an Alexa is summoned to testify in court about what it "witnessed." Samsung already has a pretty ghastly app for "refrigerdating" – seeking out dating candidates by showing what's in a registered user's fridge. And, back in 1998, high concept travel book Round Ireland with a Fridge by Tony Hawks, sold over half a million copies.
Diane Keaton having a quickie in the Orgasmatron in 1973's Sleeper was only marginally less profound than the human-machine pairing proposed here. Yves has stirrings of doubt about his own programming — is a machine capable of personal sacrifice? Nobody could have imagined the masses' co-dependence with cell phones even 20 years ago, so maybe there's less room for imagination in a world where the Internet of Things really is a thing.
Production company: Ecce Films
International sales: Le Pacte contact@le-pacte.com
Producer: Emmanuel Chaumet
Production design: Anne-Sophie Delseries
Editor: Maryline Monthieux
Cinematography: Thomas Favel
Music: Bertrand Burgalat, MiM
Main cast: William Lebghil, Doria Tillier, Philippe Katerine, Alka Balbir, Darius, Antoine Gouy