Dir: Aslı Özge. 2016, Germany/Netherlands/France, 112 mins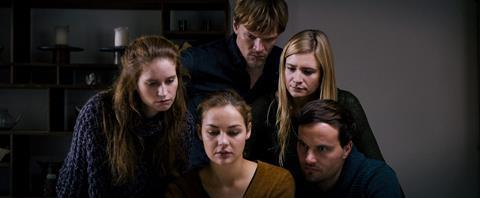 Pricking the bubble of bourgeois complacency is something that European art cinema can be counted on to do with stalwart regularity– but the operation is handled with particular grace in All of a Sudden (Auf Einmal), a first German-language feature from Turkish writer-director Aslı Özge. Ostensibly a mystery thriller – although the real enigma revolves around psychological and social motives rather than the inciting incident as such - Özge's drama unpeels the layers of its protagonist, and of his social milieu, to increasingly uncomfortable effect.
The film's power rests largely on a tantalising lead by Sebastian Hülk
Driven by unimpeachable intellectual seriousness, this distinguished piece could strike a chord in discerning art-house markets, although it could benefit from a rather less flimsy-sounding English-language title.
Özge made her mark with 2009 debut Men on the Bridge, a drama which used non-professionals to evoke Istanbul street life. Following another Turkish feature, Lifelong (2013), Özge now shifts persuasively into a different language and milieu. The concise set-up involves a young middle-class professional, Karsten (Sebastian Hülke), seen spending intimate time with a woman who's the last to stay late at his party. The next thing we know, Karsten is racing through the streets in a panic, and the woman is dead. The question that now hangs over him is why he didn't act more quickly to save her life, and whether he's therefore directly responsible for her death.
But Özge's focus now turns to the repercussions on Karsten's life. Friends in his pampered milieu distance themselves from him, and a rift forms with his girlfriend Laura (a very compelling Julia Jentsch), after it emerges that he hasn't been quite straight with the facts. Meanwhile, Karsten's moneyed father (the reliably good Hanns Zischler) wants to maintain the status quo for his family's reputation, while the bank where Karsten is an exec quickly performs a callous exercise of damage limitation.
Özge keeps us guessing about the nature of Karsten's involvement in the death of the mystery woman, who turns out to be Anna, the Russian wife of a factory worker – and it's in the climactic encounter with her husband (Gerşak) that some sharp character revelations emerge (with the film's one unexpected, faintly Lynchian touch of weirdness also occurring).
The film's power rests largely on a tantalising lead by Hülk, who makes Karsten fairly rebarbative from the start, regardless of what we actually know about the case. It's only at the end that we fully understand him, although Özge slightly undercuts her effect with a too rhetorical emphasis in the coda. Emre Erkmen's camerawork gives this essentially realist piece just the right touch of atmospheric stylisation, aided by Tim Pannen's production design and Jan Schermer's sound, with their telling use of space and silence respectively. The German town of Altena, surrounded by wooded peaks, is also employed to metaphorically rich effect.
Production companies: EEE Productions, Topkapi Films, Haut et Court
International sales: Memento Films International, sales@memento-films.com
Producers: Fabian Massah, Aslı Özge
Co-producers: Frans van Gestel, Arnold Heslenfeld, Simon Arnal, Carole Scotta, Georges Schoucair
Screenplay: Aslı Özge
Cinematography: Emre Erkmen
Production designer: Tim Pannen
Editors: Muriel Breton, Aslı Özge
Main cast: Sebastian Hülk, Julia Jentsch, Hanns Zischler, Sascha Alexander Gerşak, Luise Heyer