As slavery is abolished in Brazil, three women struggle to adapt to life without a housemaid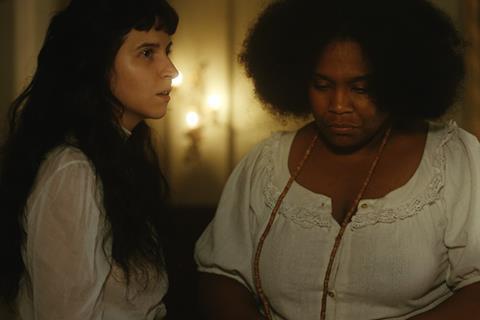 Dirs/scr: Caetano Gotardo, Marco Dutra. Brazil/France. 2020. 120mins
The legacy of Brazil's colonial past raises its ghostly head in All the Dead Ones, a stately, eccentric fiction that merges cultural-political history with outré melodrama – a potentially heady mix, but one that plays out here to stiffly academic effect. Set in Sao Paolo, ostensibly on the cusp of the 20th century, the film shows plenty of ambition and imagination delivered with considerable visual elegance, yet still ends up feeling somewhat airlessly conceptual.
There's some strong acting, not least from the imposing Tulani
All The Dead Ones is the first feature collaboration by writers and directors Caetano Gotardo and Marco Dutra, whose own films – including Gotardo's Your Bones and Your Eyes and Dutra's co-directed Good Manners – have attracted considerable attention. This new work is set in Sao Paolo in 1899 and 1900, a few years after the abolition of slavery in Brazil, with the action mostly situated in the house of Isabel (Thaia Perez), elderly wife of a coffee planter who is permanently away on the family estate. She lives with her two daughters, nun Maria (Clarissa Kiste) and disturbed Ana (Carolina Bianchi), a pallid, haunted young woman who likes to play the piano all day — when not obsessively burying miscellaneous objects in the back garden.
Soon after the death of the family's black housekeeper Josefina (Alaíde Costa), a peerless maker of coffee, Ana decides that Isabel's ill health can only be cured by traditional African rituals, to be performed by former slave Iná (Mawusi Tulani). At first Iná reluctantly agrees to do a half-baked pastiche of the ceremonies, suitable for consumption by a white Catholic household, but then decides to perform the authentic prayers of the African religion she had temporarily abandoned. Meanwhile, her young son João (Agyei Augusto) becomes a much-loved part of the household, against Iná's wishes. And outside the house, signs of the coming 20th century begin to manifest themselves.
By the time the story plays out, taking a macabre if predictable final turn, the film has increasingly veered away from its period starting point towards deliberately jarring modernity, with signs of today (glimpses of cars) gradually creeping in, until we get to see an entire panorama of Sao Paolo's tower blocks. But this stark incongruity doesn't quite shake up the stiffness of the drama, which has the interior-bound feel of the talky chamber pieces made in the 80s and 90s by Manoel de Oliveira – whose long-term muse Leonor Silveira has a featured supporting role.
There's some strong acting, not least from the imposing Tulani, and Bianchi makes a powerful mark — even if she ends up pushing Ana's wild-eyed wraith-like manner to the very edge of the Gothic. The film is handsomely shot by Hélène Louvart, who scored a signal Brazilian triumph on Karim Aïnouz's recent super-vivid Invisible Life, and she brings the colours and textures of fabrics and other surfaces alive, especially in striking close-ups. A diverse musical mix, from the 19th-century repertoire to very non-period Afro-Brazilian jazz, accompanies the action in unpredictable fashion.
There are also trace elements of the horror cinema that is a previous Dutra trademark, used here to metaphorical effect: this film's ghosts are not the dead slaves that Ana claims to see, but the walking (and somewhat deranged) dead who are Brazil's white colonialists. Given the Bolsonaro regime's hostile attitude to national art cinema and to exposure of black Brazilian culture, All the Dead Ones comes across as an example of cinema at serious risk, and a project you really want to root for with more enthusiasm than this somewhat rarefied piece finally justifies.
Production companies: Dezenove Som e Imagens, Good Fortune Films
International sales: Indie Sales sales@indiesales.eu
Producers: Sara Silveira, Maria Ionescu, Clément Duboin, Florence Cohen
Cinematography: Hélène Louvart
Editors: Juliana Rojas, Caetano Gotardo, Marco Dutra
Production design: Juliana Lobo
Music: Salloma Salomão, Gui Braz
Main cast: Mawusi Tulani, Clarissa Kiste, Carolina Bianchi, Thaia Perez, Leonor Silveira