The real-life kidnapping of oil tycoon J. Paul Getty's grandson is at the centre of Ridley Scott's exploration of greed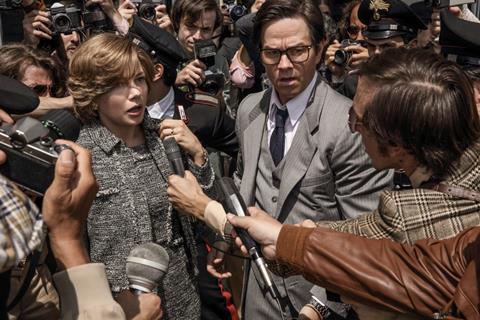 Dir: Ridley Scott. US. 2017. 132mins
The muddled but icily engaging All The Money In The World is a thriller packed with ideas which director Ridley Scott only sporadically delineates with the same vividness as he does his stylish compositions. And yet, this true-life tale of the kidnapping of oil tycoon J. Paul Getty's grandson maintains its hold, bluntly outlining how the desperate clamour for wealth poisons all those caught up in its frenzy.
Scott drapes the proceedings in a gloomy opulence that suggests both the extent of Getty's riches and the emptiness of his empire.
Opening in the US on December 25 and the UK on January 5 2018, this Sony offering will garner media attention for Scott's decision to recast the disgraced Kevin Spacey in the role of Getty, reshooting his scenes with Christopher Plummer little more than a month before release. The presence of Michelle Williams, who puts in a steely performance as a mother hell-bent on rescuing her boy, and co-star Mark Wahlberg should help box office, although All The Money doesn't look to be a major holiday player in a crowded marketplace.
Set mostly in 1973, the film follows as divorced Gail Harris (Williams) discovers to her horror that her teenage son John Paul Getty III (Charlie Plummer) has been captured in Rome by kidnappers demanding $17 million. Frantic, Gail appeals to her aloof billionaire father-in-law J. Paul Getty (Christopher Plummer) who refuses to pay the ransom, instead instructing his trusted lieutenant Fletcher Chace (Wahlberg), a former government operative, to assist Gail in tracking down the perpetrators.
Utilizing cinematographer Dariusz Wolski's grey-slate images and polished camera moves, Scott drapes the proceedings in a gloomy opulence that suggests both the extent of Getty's riches and the emptiness of his empire. All The Money contrasts that bleak extravagance with Gail's relatively meagre means and the gritty circumstances that her son — known as Paul — faces as he contends with kidnappers (including a sympathetic Roman Duris) who threaten physical harm if his family doesn't pay.
Though the film's underlying themes are fairly obvious, they're gripping enough to power the terse, sometimes sluggish story. Gail doesn't have much money — she refused any alimony when she divorced Getty's son so that she could retain custody of her children — but Paul's abduction puts her at the mercy of rival factions each driven by greed. On one side, the kidnappers want millions, seeing this boy as their meal ticket. On the other, Getty insists he can't afford the pay-out; simply because he doesn't want to risk diminishing his mountainous fortune.
In most films of this ilk, the double-crosses, near-escapes and tense phone negotiations would fortify the drama, but here they're merely the window dressing as Scott examines money's corrosive impact on people; Gail is just about the only person who's chiefly worried about Paul's safety. Amidst the bloodless machinations and occasionally perfunctory plotting, Williams portrays a mother who learned long ago that she has to rely on herself in a family ruled by Getty's devotion to wealth and power. It's a performance without flourishes or psychological depth, but the Oscar-nominated actress makes us feel Gail's urgency and appreciate her knack for quick thinking.
Less successful is Wahlberg as Getty's shadowy consigliere, whose loyalty is tested once he starts commiserating with Gail's plight. Wahlberg lacks the gravitas to effectively communicate Chace's moral shift, especially when the character has to deliver a final reel on-the-nose monologue.
Most of the attention, though, will be focused on Christopher Plummer, who stepped in to play Getty after the film was completed. Watching All The Money, it's impossible not to wonder how Spacey would have been in the role — not to mention marvel at how Scott was able to reshoot so many scenes so quickly — but the older Plummer provides the right amount of lion-in-winter majesty to a character who's been warped and isolated by his avarice.
Just recently turned 88, Plummer projects the curdled regalness of a tycoon who views human lives as nothing more than transactions and monetary calculations. Gail is fighting for her son's life, but it's not always clear who's the film's greatest villain — the kidnappers or Getty himself.
Production companies: TriStar Pictures, Imperative Entertainment, Scott Free, RedRum Films
International sales: STX International, www.stxentertainment.com/talent/international
Producers: Dan Friedkin, Bradley Thomas, Quentin Curtis, Chris Clark, Ridley Scott, Mark Huffam, Kevin J. Walsh
Screenplay: David Scarpa, based on the book by John Pearson
Cinematography: Dariusz Wolski
Production design: Arthur Max
Editor: Claire Simpson
Music: Daniel Pemberton
Website: www.allthemoney-movie.com
Main Cast: Michelle Williams, Christopher Plummer, Mark Wahlberg, Roman Duris, Timothy Hutton, Charlie Plummer