A holidaymaker finds a magical octopus in Ian Lagarde's intriguing debut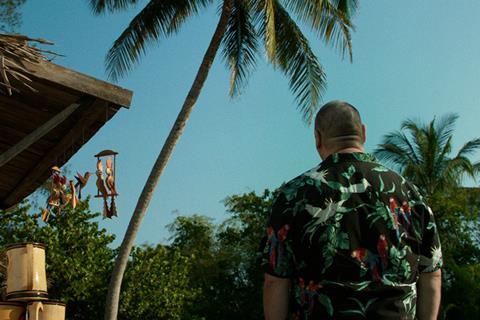 Dir/scr: Ian Lagarde. Canada. 2017. 84 mins
The voracious appetite of an inscrutable loner staying at a Caribbean all-inclusive holiday resort is mysteriously linked to the collapse of society in this intriguing, wryly-grotesque debut from Montreal-based DoP-turned-director Ian Lagarde. Implacable man-mountain Mike (French actor Ludovic Berthillot) immediately stands out from the crowd on his arrival at the The Hotel Palacio, a destination which sells itself with the tagline, "here dreams become reality". With its talking octopus, matter-of-fact magic realism and layers of symbolism, this is, however, a film with a defiantly elastic definition of 'reality'.
While Lagarde's message is elusive, his talent for crafting arresting and macabre visual imagery is undeniable.
Darkly comic at times, this is a distinctive and disconcerting first feature which leaves itself open to several alternative readings. It screens at IFFR following its premier in the Discovery strand of TIFF 2017. Further festival berths seem likely; this is a film which is tailor made for strands highlighting unconventional new voices in cinema. It will, however, likely prove to be too challenging an undertaking for all but the most adventurous distributors.
Lagarde, who served as the cinematographer on Sabali (2015) and Vic + Flo Saw A Bear (2013), shot the film in Cuba, although the location of the story itself is unspecified. The Spanish-speaking hotel staff rehearse their French greetings and their welcoming smiles, in advance of the arrival of the latest bus load of tourists. Granite-faced Mike is the last to disembark and be greeted by mustachioed manager Valentino (Sylvio Arriola). From the beginning, the immense man in his duvet-sized holiday shirt exerts an uneasy fascination over the hotel staff and some of the guests.
Unnerving sound design disengages us from the prosaic daily routine of Mike's vacation – whispered voices and mirthless laughs which seem to last just a little too long heighten the sense of weirdness. But the picture takes a turn into more bizarre territory when, having missed the airport shuttle, Mike decides to stay on at the hotel. Shortly afterwards, he rescues a beached octopus which thanks him, in Spanish, and confers upon him a gaze that will captivate and a mind which will discover purpose.
Along with a renewed appetite – he lays waste to the buffet each day, as the other guests look on in awe – Mike discovers a spiritual gift. He coaxes an anorexic girl into eating; cures the head injury of a coconut picker and enjoys the sexual opportunities that his new magnetism affords.
The octopus assures Mike that their destinies are now linked, but it seems that the hotel is equally tied to Mike's well-being. A diabetic who has run out of medicine, as Mike's condition starts to deteriorate so does that of the increasingly down-at-heel resort. A film of mould covers everything; the buffet is depleted and decaying, graffiti is daubed over the hotel shuttle bus.
The film's meaning is deliberately opaque. The 'change of management' of which the hotel staff talk in hushed tones could refer to a military coup. Equally Mike, with his insatiable appetite and oblivious sense of entitlement, could represent the forces of consumerism which plunder poorer countries. Or it could just be about a plus-sized gentleman who is given magical powers by a cephalopod. While Lagarde's message is elusive, his talent for crafting arresting and macabre visual imagery is undeniable.
Production company: Voyelle Films
International sales: Stray Dogs sales@stray-dogs.com
Producers: Gabrielle Tougas-Frechette, Menaic Raoul
Cinematography: Ian Lagarde, John Londono
Editor: Mathieu Grondin
Main cast: Ludovic Berthillot, Sylvio Arriola, Yaite Ruiz, David La Haye, Alexander Guerrero, Richard Jutras