Portugese Critics Week debut summons a gentle spirit in its tale of tradition and modernity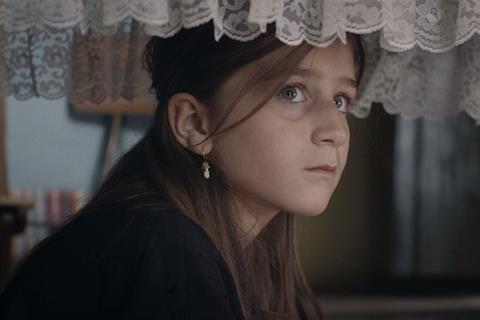 Dir: Cristele Alves Meira. Country: Portugal/France/Belgium. 2022. 88mins.
At first, Alma Viva seems to be a simple story about tradition and modernity set in a remote Portuguese mountain village. It's seen through the eyes of Salome, a pre-adolescent girl who is torn between two worlds – the magic-laced folk culture of her beloved grandmother's home, and the unsentimental materialism that has led so many in this poor Tras Os Montes region of Portugal to emigrate to France, where Salome herself grew up. Gradually, though, French/Portuguese director Cristele Alves Meira's debut feature turns into a kind of ghost story, one centring on a spirit possession.
While magic, or the threat of it, brings a kind of power, resentments brew and boil with or without its help
Though it's just a little short on real dramatic heft, this is still a title that distributors with an eye for engaging European indie content might want to have a look at. Alma Viva is a small, delicate but engaging work, careful to keep its supernatural remit firmly grounded in observational realism: this is a homespun peasant magic made up of potions, chants and curses, often fuelled by long-simmering grudges and feuds. It feels as though the same drive for naturalism inspired the director to cast her own daughter, Lua Michel, in the lead role of Salome: the young actress puts in a beguiling, unselfconscious performance as a child poised between an archaic and a contemporary world, who ends by building a bridge between them.
Like many bilingual and bi-cultural kids, Salomé is clearly used to spending her summers back in the village where her mother, uncles and aunts grew up. Both sensitive and feisty, she can be fierce when crossed, but she dotes on her non-conformist grandmother Avo (Ester Catalao). The latter's reputation as a village sorceress has more than a little to do with the fact that she has slept with at least one of her neighbour's husbands. Young Salome is used to helping Avo out during her cottage spirit-medium sessions where she invokes Saint George to help her communicate with the spirits of the restless village dead. So when her grandmother suddenly passes away, it's not such a stretch for a distraught Salome to try her hand at raising the dead.
In a way – though it's understated – Salome's journey from hosting grandma's spirit to gently rejecting it represents both the good and the bad of our fascination with the folk culture we all left behind somewhere. Alma Viva does not mine this seam for genre effect in the same way as, say, Midsommar or much of Ben Wheatley's work. For Alves Meira and her fellow writer Laurent Lunetta, you can't separate a curse from its petty origins in a never-forgotten humiliation, and you can't separate the fact that women are generally the vectors of this chicken-gibbet sorcery from their social disempowerment in rural Portugal.
While magic, or the threat of it, brings a kind of power, resentments will brew and boil with or without its help – like the fight that breaks out between Salome's mother Aida (Jaqueline Corado) and aunt Fatima over Avo's meagre inheritance. Back in the day, village tensions revolved around access to water, land ownership and stolen goats or husbands; today, they're about those who emigrate and come back (like Salome's uncle Joaqim) in their fancy cars with their fancy French wives. And meanwhile, nature takes its course, helped along by human neglect, in the devastating forest fire that provides Alma Viva with its dramatic finale. Meanwhile Rui Pocas' sensitive available-light camerawork and Amine Bouhafa's folk-infused string and harmonica soundtrack – some of it played diegetically by a small band of musicians who appear in different corners of the village – seal a neat package.
Production companies: Fluxus Films, Midas Filmes, Entre Chien et Loup
International sales: Kinology, contact@kinology.eu
Producers: Gaelle Mareschi, Pedro Borges, Sebastien Delloye
Screenplay: Cristele Alves Meira, Laurent Lunetta
Production design: Rafael Mathias Monteiro
Editing: Pierre Deschamps
Cinematography: Rui Pocas
Music: Amine Bouhafa
Main cast: Lua Michel, Ana Padrao, Jacqueline Corado, Catherine Salee, Duarte Pina, Ester Catalao, Sonia Martins, Martha Quina, Arthur Brigas