Dir: Ewan McGregor. US. 2016. 108 mins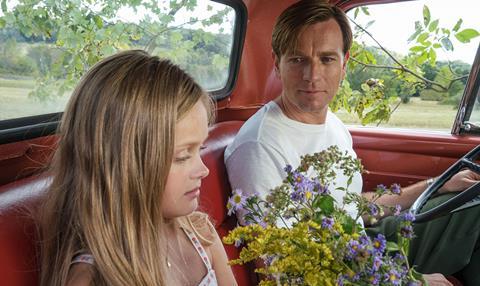 Bob Dylan's musical warning to the parents of the counterculture – "Your sons and your daughters are beyond your command" – haunts the protagonist of American Pastoral, a wildly uneven adaptation that can't hope to capture the breadth of Philip Roth's majestic 1997 novel of generational divide. And yet, Ewan McGregor's directorial debut eventually finds its own emotional core, zeroing in on the tragedy that befalls a seemingly perfect life once a man's wilful daughter torpedoes it.
McGregor is unafraid to plumb the kinky depths of the story's tortured father-daughter bond
This Lionsgate release opens in the US on October 21, boasting a cast that includes McGregor, Jennifer Connelly and Dakota Fanning. Mixed reviews may stall awards talk, but the material's pedigree and its family-drama trappings should attract upscale viewers.
Spanning roughly 20 years, American Pastoral stars McGregor as Seymour "Swede" Levov, a strapping high-school athlete who goes on to become a successful businessman and the husband to the former Miss New Jersey, the ravishing Dawn (Connelly). His enviable life hits its first snag, though, when his rebellious teen daughter Merry (Fanning) begins acting out in protest of the Vietnam War, her exploits turning deadly when she kills a man during a bombing of a post office, forcing her to go underground.
Among other themes, Roth's Pulitzer Prize-winning novel examines how the promise of a stable, prosperous postwar America came to clash with the next generation's desire for social upheaval. McGregor and screenwriter John Romano can only scratch the book's ambitious surface, the adaptation condensing and simplifying Roth's grand trajectory for the sake of a two-hour film. As a consequence, American Pastoral often feels like a familiar portrait of the 1960s' political divisiveness, McGregor unable to weave the rich insights that Roth had time to dissect on the page. (It doesn't help that the actor-director takes short cuts to encapsulate the era, becoming the umpteenth filmmaker to throw Buffalo Springfield's "For What It's Worth" onto the soundtrack to lazily suggest the decade's spirit of revolution.)
Equally troublesome, McGregor (despite his still-boyish handsomeness) can't conjure up Swede's almost preternatural, golden-god-like vitality, a failing that makes the character's later fall from grace not as steep a collapse as it should be.Nonetheless, American Pastoral is sufficiently moving when it digs into Swede's troubled relationship with his beloved only child, whom he perceives as the culmination of his blessed existence. The movie shortchanges the depth of that relationship, which diminishes the tragedy somewhat, but as Fanning begins to emerge as American Pastoral's central character, the story's poignancy takes hold
As in the book, Merry is an incredibly bright woman who, for inexplicable reasons that tear her father apart, decides to become a radical, taking her combative views to increasing extremes. Fanning never tries to make Merry understandable or even sympathetic, and it's a testament to the performance that she honours this intentionally irrational character's militancy with such steeliness that our heart breaks for Swede while pondering the mystery of how such an adored daughter could have turned out so unlike her parents.
Admittedly, this tension risks reducing American Pastoral to just another awards-season drama about dysfunctional families. But McGregor is unafraid to plumb the kinky depths of this tortured father-daughter bond, making room for a bravura turn from Valorie Curry as Merry's liaison once she goes into hiding. Curry is hypnotic, seductively stringing Swede along, knowing full well that she has all the power over this concerned parent who just wants to see his little girl again. As for Connelly, her portrayal of an ostensibly perfect wife bears a resemblance to her similarly barbed performance in Little Children, but she makes Dawn's surprising coping mechanism for her daughter's unfathomably violent act just as sad as her husband's.
Production companies: Lionsgate, Lakeshore Entertainment
International sales: Lakeshore Entertainment, info@lakeshoreentertainment.com
US distributor: Lionsgate, www.lionsgate.com/movies
Producers: Tom Rosenberg, Gary Lucchesi, Andre Lamal
Executive producers: Eric Reid, Terry A. McKay
Screenplay: John Romano, based on the novel by Philip Roth
Cinematography: Martin Ruhe
Production design: Daniel B. Clancy
Editor: Melissa Kent
Music: Alexandre Desplat
Main Cast: Ewan McGregor, Jennifer Connelly, Dakota Fanning, Peter Riegert, Rupert Evans, Uzo Aduba, Molly Parker, Valorie Curry, Hannah Nordberg, Julia Silverman, Mark Hildreth, Samantha Mathis, David Strathairn