Iggy Pop gets on a roll with Joshua Homme as they make the album 'Post Pop Depression'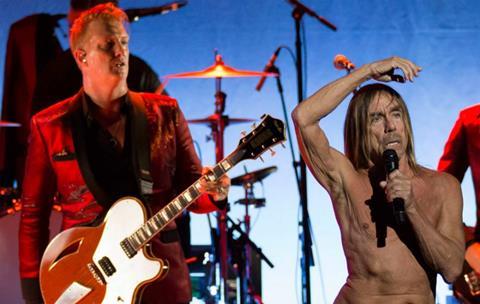 Dirs: Andreas Neumann, Joshua Homme. UK/US/France/Germany. 2017. 82mins.
Hot on the heels of Gimme Danger (2016), American Valhalla offers a further valentine to Iggy Pop, documenting every aspect of his recent collaboration with Joshua Homme on the Grammy-nominated, valedictory album Post Pop Depression. It is a polished, official version of events travelling from basic concepts to triumphant final concert and that will be sufficient for many fans. Moments of honesty and self-reflection from Iggy push the material beyond the promotional or commemorative towards the insightful.
Iggy Pop is like a grizzled, old prizefighter determined to prove that he still has a few rounds left in him
The basis of Post Pop Depression was Iggy's decision to journey out of his comfort zone and try to create a one-off album that would make him proud. It could be his last album. Reaching out to Joshua Homme from Queens Of The Stone Age, he was looking for someone who would challenge and inspire him.
Interviewed separately and together, the two men reveal a mutual appreciation and a shared sense that they were working in a way that encouraged creativity and kept the commercial side of the music business at arm's length. Homme brought together his Queens Of The Stone Age bandmate Dean Fertita and Arctic Monkeys drummer Matt Helders as part of a project they secretly worked on together at the Rancho De La Luna in California's Joshua Tree.
Behind-the-scenes footage captures the shaping of lyrics, the layering of music and the sense of craft and soul-bearing that went into album tracks like Break Into Your Heart, Sunday and American Valhalla. Homme seemed able to push Iggy towards reflecting on mortality, sex and success in lyrics that reflected his iconoclasm and defiance.
Homme kept a journal throughout the process and reads extensive excerpts reflecting his excitement and sense of responsibility towards what was always intended as a unique experiment. His musings tend towards the poetic and the pretentious whilst Iggy just speaks his mind and lets it all hang out. "There are some of my recordings that I could have done better if I wasn't so drunk or stoned," he cheerfully admits.
Celebrity chef Anthony Bourdain lobs a few questions at both men, the extensive, evocative black and white photographs taken by Matt Helders are featured throughout and everything underlines that this was a special, unique moment in the lives of all those who participated.
The proof of the whole thing is in the performance and the film soars during some great concert footage culminating in an unforgettable night at London's Royal Albert Hall. Performances of Lust For Life, Passenger and the new material all confirm Iggy Pop's status as a thrilling, committed live performer.
Homme describes Post Pop Depression as "the coolest thing I've ever been allowed to be part of" and there is an element of self-congratulation and self-mythologising that is easy to forgive because Iggy Pop is so engaging. Telling tales of old friend David Bowie or diving headlong into an adoring crowd, he is like a grizzled, old prizefighter determined to prove that he still has a few rounds left in him and American Valhalla pays due homage to his seemingly indestructible spirit.
Production company/international sales: Eagle Rock Films peter.worsley@eagle-rock.com
Producers: Andreas Neumann, Joshua Homme
Executive producers: Geoff Kempin, Terry Shand, Kristen Welsh
Screenplay: Josh Crowley
Cinematography: Andreas Neumann
Editor: Tim Woolcott
Featuring: Iggy Pop, Joshua Homme, Matt Helders, Dean Fertita.