An intense and personal debut from Colombian filmmaker Simon Mesa Soto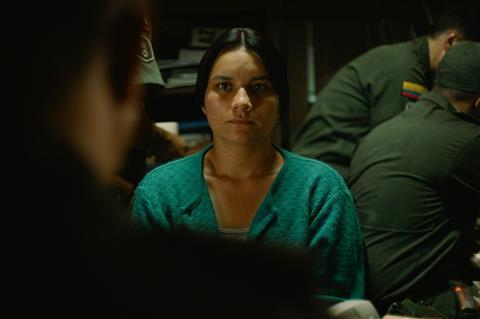 Dir/scr: Simón Mesa Soto. Colombia/Sweden/Germany/Qatar. 2021. 95 mins
A single mother has just two fraught days to claim back her 18 year-old son from the frontline of Colombia's civil conflict after he is picked up and forcibly conscripted into the military. Driven by a magnetic performance from non-professional actress Sandra Melissa Torres in the eponymous central role, this is a lean picture which hones in on a co-dependent mother-son bond but, in doing so, brings into focus the toxicity of a culture permeated by power plays and corruption.
An accomplished picture….with an intensity born of simmering stillness
This is a debut feature with a deeply personal resonance from Simón Mesa Soto, who returns to Cannes having screened two short films in the festival's official selection; one of which, Leidi (2014), won the Palme d'Or for best short film. It's an accomplished picture, which has something of the single-minded intense focus of the Dardennes brothers' Rosetta; albeit an intensity born of simmering stillness rather than Rosetta's restless, propulsive movement. Further festival interest seems likely following on from the film's premiere in Critics Week. And while the picture's intimate scope – the camera rarely tears itself away from Torres' guarded face – might make it a tough sell in a crowded arthouse theatrical market, a limited release by a specialist distributor or a streaming platform could connect the film to an audience beyond the festival circuit.
The backdrop is Medellin in the late 1990s. The film opens on the face of Elias (Diego Alejandro Tobón), an 18 year-old who still seems closer to the sulky recalcitrance of childhood than the assurance of adulthood. Off camera, a man's voice interrogates him: "Have you ever wanted to kill?" "Do you love your mother?" The permitted answers to each question are always, sometimes, rarely, never. Elias hesitates, chewing over his feelings for his mother, before lying. "Always."
Although we barely see them together, it becomes clear that the relationship between Amparo and her son is a complicated one. She cherishes him and indulges him – although her eight year-old daughter sleeps alone, Elias, plagued by night terrors, shares his mother's bed. But she also harbours a mounting impatience with her spoiled and directionless son, who has failed to finish school or to find work.
Her own mother, a hectoring presence who wastes no opportunity to point out Amparo's failings, lays the blame for Elias' current plight firmly at her feet. And when Amparo discovers that her missing son has been picked up without a military ID (which shows that he has either served time in the army or is exempted), she knows that she is his only chance to avoid deployment to a conflict zone.
The film, like Torres' central performance, is tightly controlled and understated. It's a decision which brings an additional power to the moments in which the depth of anguish is revealed: Amparo's sudden and desperate tears in one scene, or the single instance of music use in a film which is otherwise soundtracked by the sounds of a city rife with unrest. The film's use of colour is particularly evocative. Initially, a warm amber hue runs through the film like a motif. But as Amparo's desperation deepens on every encounter with an unscrupulous man with the power to help her son, at a cost, so does the colour palette, with the amber darkening to a scalding, furious red.
Production company: Ocultimo
International sales: The Match Factory info@matchfactory.de
Producers: Juan Sarmiento G., Simón Mesa Soto
Cinematography: Juan Sarmiento G.
Editor: Ricardo Saraiva
Production design: Marcela Gomez Montoya
Music: Benedikt Schiefer
Main cast: Sandra Melissa Torres, Diego Alejandro Tobón, Luciana Gallego, John Jairo Montoya