The third instalment of this profitable franchise sees Gerard Butler return as the president's weary bodyguard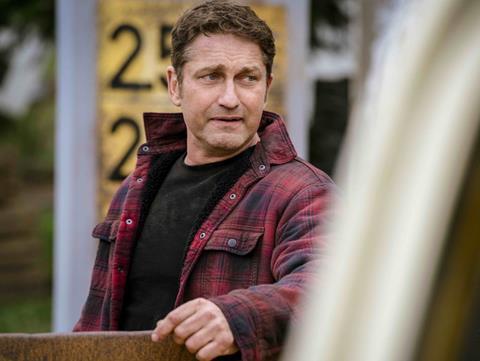 Dir: Ric Roman Waugh. US. 2019. 121mins.
Gerard Butler continues to burnish his brand of square-jawed, derivative heroism in Angel Has Fallen, the third instalment in the pedestrian trilogy of actioners about a grizzled Secret Service agent who won't let anyone lay a hand on the American president. Noticeably livelier than Olympus Has Fallen and London Has Fallen, this sequel boasts some muscular sequences, nifty blockbuster-on-a-budget suspense and a moderately clever twist that finds Butler on the run after being accused of masterminding an assassination plot. But as usual with this series, the storytelling and character arcs tend toward the ludicrous, doling out clichés and macho posturing with an untroubled air.
Butler's blue-collar ordinariness is his distinguishing characteristic
Set for release on August 21 in the UK and two days later in the US, Angel will hope to top the grosses of 2013's Olympus ($170 million worldwide) and 2016's London ($206 million), both of which were released in March. There's no direct action competition until mid-September's Rambo: Last Blood, so expect solid grosses for this late-summer offering.
Once again, Butler plays Mike Banning, assigned to protect President Trumbull (Morgan Freeman). Because of the intense battles he survived in the previous two films, though, he is slowed down by concussions and migraines, which might make him receptive to accepting the president's offer to become the director of the Secret Service, although Banning fears the monotony of a desk job.
Those problems must quickly be set aside, however, once a coordinated attack wipes out more than a dozen Secret Service agents and leaves the President in a coma. Banning's quick thinking saves Trumbull from death, but when he is framed for the assassination attempt, he has to evade capture while determining who orchestrated these killings.
Butler, who also serves as producer, benefits greatly from the arrival of Snitch's Ric Roman Waugh in the director's chair: This former stuntman imbues Angel with a bare-knuckled urgency that complements the movie's no-nonsense approach. There is far less widespread carnage in this film than in the earlier instalments, shifting gears to deliver a stripped-down, Fugitive-style picture which is more about the interpersonal character dynamics.
Banning will reunite with an old military buddy, the aging Wade Jennings (Danny Huston), and also seek out his estranged father, Clay (Nick Nolte), who walked out on his family and now lives off the grid. But when Angel tries to say something weighty about the spiritual toll that combat takes on soldiers, these brief pauses for gravitas prove to be mostly ham-fisted.
During the action set pieces, Waugh makes good use of silence in order to crank up the tension, focusing on relatively realistic sequences that rarely go too far over-the-top. His car chases and shootouts have a rugged economy to them — no one will confuse Angel with the inspired pyrotechnics of a Mission: Impossible, but there's nevertheless an enjoyable, brutal precision to the action that should appeal to hardcore genre fans.
But those propulsive diversions can only distract so long from a story that's terribly silly. The ease with which Banning is immediately assumed to be the turncoat is preposterous, and it's fairly simple to guess precisely who is actually behind the assassination attempt. The wooden dialogue elicits a few unintentional chuckles, and Angel's three credited screenwriters never really surprise us with the twists and turns. Then again, the film's familiarity might be viewed by some as a strength: once again, audiences can savour a tale of one solitary man wrongly accused who, through his cunning and valour, will bring the evildoers to justice.
Three films in, Butler is entirely comfortable as this cookie-cutter action hero, never really challenging himself but also not striving to make the character seem more magnificent than he is. In truth, Banning's blue-collar ordinariness is his distinguishing characteristic, and he's surrounded by performances that are equally unfussy. Freeman is suitably enjoyable in his approximately millionth role as a sage authority figure, while Huston and others stay out of the way as supporting players. After the sorry spectacle and blatant xenophobia of London Has Fallen, it's almost a relief that Angel is merely a competent, second-rate action vehicle. This trilogy's ambitions have never been particularly high, but at least this third chapter's fleeting junk-food pleasures aren't undermined by base pandering.
International sales: Millennium Films, info@millennium-media.net
Producers: Gerard Butler, Alan Siegel, Matt O'Toole, John Thompson, Les Weldon, Yariv Lerner
Screenplay: Robert Mark Kamen and Matt Cook & Ric Roman Waugh, story by Creighton Rothenberger & Katrin Benedikt, based on characters created by Creighton Rothenberger & Katrin Benedikt
Production design: Russell De Rozario
Editing: Gabriel Fleming
Cinematography: Jules O'Loughlin
Music: David Buckley
Main cast: Gerard Butler, Morgan Freeman, Jada Pinkett Smith, Lance Reddick, Tim Blake Nelson, Piper Perabo, Nick Nolte, Danny Huston