Dir/scr. David Michod, Australia, 2009, 112 minutes.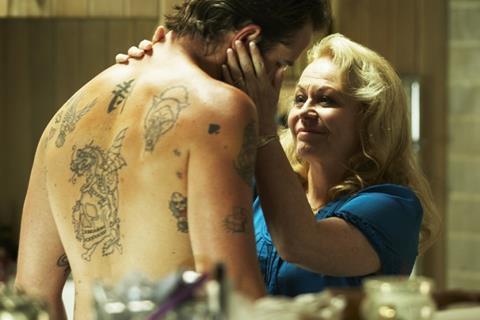 Australian director David Michod makes an exciting and assured feature debut with Animal Kingdom, a wrenching Melbourne-set gangster saga about a teenager coming of age in a crime family.
Michod's accomplished film should rally critics in the US and other English-speaking territories, pushing it beyond the arthouse public. In the unlikely event that Animal Kingdom fails to crack the US market, Michod (whose short films have played at many festivals) has a persuasive calling card for work in Hollywood. Asian territories should also respond well to this gritty family saga.
Animal Kingdom's young hero is teenage Joshua "J" Cody. After his mother overdoses on heroin, J moves in with his grandmother, Smurf (Jacki Weaver), who kisses her sons and grandson on the lips and runs the clan. His three uncles – one of whom, Pope (Ben Mendelsohn) is on the lam – are at war with an equally violent and ruthless police force. The bodies pile up.
When J has had enough, he negotiates with Sergeant Leckie (Guy Pearce), a seen-it-all detective who guides the youth through the depths of police corruption.
Michod's lean script enlivens the underbelly of graceful Melbourne thanks to a flawless ensemble cast, drawing more on Hong Kong dramas than on Scorsese's mob movies. Newcomer Flecheville begins as a monosyllabic teen and grows up fast as distrust builds between him and Pope, played with a chilling sinister depravity by Ben Mendelsohn. As Smurf, veteran Jacki Weaver is memorable as the brutal crime mother watching over her brood who makes her hardened sons look soft.
Superb cinematography and production design capture Melbourne at its drabbest. The city's tourism officials may not be proud of what the Animal Kingdom shows, but they will certainly recognise their town.
To sign up for Screen's weekly Reviews Newsletter with all the week's new releases, international openings and full festival reviews delivered free to your mailbox every Friday, please click HERE
Production companies
Screen Australia
Porchlight Films
International sales
E1 Entertainment
+1 416 646 6447
Producer
Liz Watts
Cinematography
Adam Arkapaw
Editor
Luke Doolan
Production design
Jo Ford
Main cast
Guy Pearce
Ben Mendelsohn
Joel Edgerton
Luke Ford
Jacki Weaver
James Frecheville
Sullivan Stapleton