Eye-opening doc about the growing threat of online deepfake pornography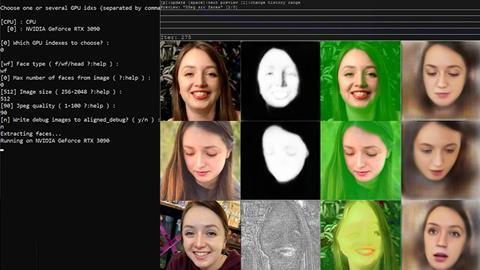 Dirs: Sophie Compton, Reuben Hamlyn. UK/US. 2023. 80mins
In 2020, 23-year-old American engineering college student Taylor was appalled to discover she was a target of deepfake pornography; images of her face had been digitally grafted onto another woman's body in adult videos. This hard-hitting documentary follows Taylor's journey not only to find out who was behind the videos and bring them to justice, but also to manage the impact it has had on her life, her mental health and, potentially, her future prospects. Taking a sensitive, respectful but necessarily frank approach to this challenging subject, Another Body makes a compelling call to action.
90 percent of deepfake content is non-consensual pornography featuring women
The issue of deepfakes is gaining in momentum, with the White House having recently published the initial blueprint of a landmark report on gendered online harassment and a class action lawsuit against Pornhub about to come to trial. Another Body should certainly strike a chord with audiences when it debuts in SXSW's documentary feature competition, and the personal story at its heart, together with its own clever use of eye-opening deepfake technology, could attract the attention of distributors, although a streaming or broadcast platform seems the most likely destination. With online safety training lagging behind technology, there's also a sense that the film could be used as an awareness tool for the over-18s and, in particular, parents and guardians.
Deepfake technology is evolving at an exponential pace; from adverts starring long-dead film stars to the now-ubiquitous viral face-changing videos, we've all seen what it can do — and how slick and realistic it is becoming. But, as is the case with everything in the online sphere, there's a far darker side. Although the news media concentrates on deepfake's potential political impact, particularly the way it could influence elections, one of the stark statistics on display here is that 90 percent of deepfake content is non-consensual pornography featuring women.
One of these is Taylor who, early on, reveals that she is not using her real name — or, indeed, her real face. Taylor and her fellow victims are concerned about the negative impact of speaking out and so, in a move that not only conceals their identities but also demonstrates this convincing technology, filmmakers Sophie Compton and Reuben Hamlyn use 'faceveils'; the image of consenting actresses grafted onto their subjects. It's unsettlingly realistic.
Critically, the notion of consent is at the forefront of this documentary. Compton and Hamlyn take care with their subjects — who they connected with after coming across Taylor's deepfakes online — and ensure these women are never re-victimised by the sharing of their stories. The faceveils remain firmly in place throughout on-camera interviews and the video diaries Taylor uses to document her attempts to find the person responsible for this violation. All explicit video footage and imagery has been recreated using actors, with key characters appearing as avatars and locations as digital renderings. Yet there's never any doubt that the crimes taking place in this anonymous online world, in which anyone can hide behind a VPN or an unregulated chat forum, have very real world consequences.
Compton and Hamlyn have been researching deepfakes since they first starting appearing on sites like Reddit in 2017, and are determined to sound the alarm about how it is being weaponised — particularly against women. (They also run the #MyImageMyChoice campaign.) They make the point that it's not just the famous who should be concerned, although the market for deepfake celebrity porn is large. With the technology becoming more accessible, and online tutorials more commonplace, any woman in the world with a social media profile is at risk. (Deepfake content creators refer to their female subjects as "targets".)
Unfortunately, and as so often happens with online safeguarding, government and regulatory bodies are struggling to keep up; the absence of any specific laws in this area is something discussed by activist Adam Dodge, and the response of the police to Taylor's case would be laughable if it wasn't so distressing. Indeed, perhaps the most upsetting thing about Taylor's experience is that, having seemingly found the person behind the videos, she has no legal route to justice. The laws as they stand mean he hasn't done anything illegal, and that the websites that host this content, and the forums and social platforms that support it, are absolved of any responsibility. For now, it's left to the victims themselves to take a stand, and to the rest of us to support their clamour for real change at the highest levels.
Production companies: Willa Productions
International sales: 30 West info@30west.com
Producers: Elizabeth Woodward, Sophie Compton, Reuben Hamlyn
Written by: Sophie Compton, Reuben Hamlyn, Isabel Freeman
Cinematography: Nausheen Dadabhoy
Editing: Isabel Freeman, Rabab Haj Yahya
Music: Holland Andrews