Dir: Wang Quan'an. China. 2010. 93mins.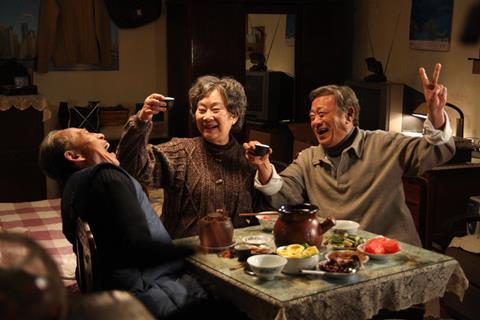 An original choice to open Berlin on its 60th anniversary, this modest family melodrama turns out to be a thin – if kindly – bittersweet autumnal romance. Whatever political intentions may have been buried in Apart Together's script, which follows a Kuomintang solder's attempted reunion with the woman he left behind in Shanghai forty years previously, there is little trace of them left onscreen.
KMT soldier Liu Yangsheng (Ling Feng), retreated with the Nationalists to Taiwan – temporarily, they thought – as the Communists marched across China, leaving his pregnant lover, Yu-e, behind in Shanghai. Now, as played by Ling Feng, comes back to his native city to find her (Lisa Lu).
It turns out that after he left, she married another man, Lu Shenmin (Xu Caigen), who willingly adopted her baby, and is now a grandmother, surrounded by an affectionate family. They all welcome the visitor, not realising that he intends to ask Yu-e to leave everything behind and join him in Taiwan. But she turns out to be willing to make the jump, saying the passion went out of her life when he left.
Lu, when told about it, agrees to let her go in an amazing act of kindness which in other films would have generated satirical hints (could he have had enough of her?) but here is taken at face value. Her children, however, are less accommodating, whether because they fear losing face or because they are dissatisfied with the financial arrangements Liu proposes in order to placate them.
But the major obstacle is Chinese bureaucracy: it seems that Lu and Yu-e never took out an official marriage licence, so how can they divorce if they have never been legally married?
The plot moves easily from one classic cliché to the next, at a leisurely pace that belies the 93-minute running time. Carefully avoiding the political arena, Apart Together is awash with nostalgia from both the Taiwanese and mainland perspective, coupled with a sense of loss over warm old Shanghai which has been replaced with a cold new skyline. Though the subject almost begs for it, no attempt has been made to turn Apart Together into a travelogue – to the point where a tourist bus trip across Shanghai is shot entirely inside the bus.
Setting the story in early spring allows DoP Lutz Reitemeier to bathe the images in an unflattering grey, murky light, as if to underline the impending gloom of old age. The entire picture consists mostly of intimate shots of the family and its guests, often sitting at a table covered with Chinese delicacies.
The principals' combined age is an impressive 230 years. Lisa Lu, 82, is a legend of the glory days of Shanghai's cinema. Here she plays a woman who expects, after a lifetime devoted to her family, to be granted the last years of her life to live as she pleases. 72-year-old Ling Feng gets a chance to display his singing gifts towards the end, but Xu Caigen, 76, turns in a boisterous performance, stealing scenes from both of them.
To sign up for Screen's weekly Reviews Newsletter with all the week's new releases, international openings and full festival reviews delivered free to your mailbox every Friday, please click HERE
Production company
Lightshades Film Production
Producers
Wang Quan'an
Wang Le
Du Daning
Wang Zhangliang
Ouwen
Ruan Yusheng
International sales
Celluloid Dreams
(33) 1 49 70 03 70
Screenplay
Wang Quan'an
Na Jin
Cinematography
Lutz Reitemeier
Production design
Yu Baiyang
He Xufeng
Editor
Wu Yuxiang
Music
Na Peng
Maincast
Lisa Lu
Ling Feng
Xu Caigen
Monica Mo
Ma Xiaoqing
Jin Na
Baiyang
Xue Guoping