A grieving woman is given the opportunity to rewrite history in this time bending drama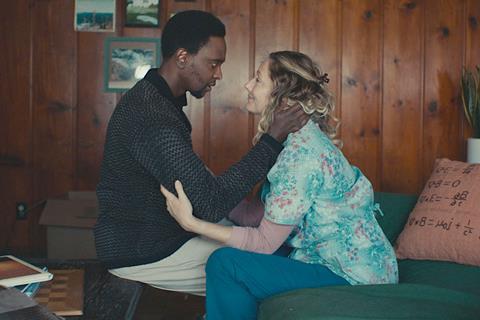 Dir/scr: Jared Moshe. US. 2023. 103mins
If you could go back in time, what would you change? And would you make the same decision if you fully understood the consequences of your actions? For his third film (following Westerns Dead Man's Burden in 2012 and 2017's The Ballad Of Lefty Brown), writer/director Jared Moshe channels these theoretical moral conundrums into a modest, tightly-paced drama about one grieving woman who is given the chance to undo her husband's death. Moshe is not the first filmmaker to grapple with theories surrounding the manipulation of the fabric of time but his intimate approach, coupled with strong performances, make this an intelligent homespun take on a familiar subject.
Moshe's real-world screenplay focuses less on the science and more on its messy human impact
There is something endearingly lo-fi about Aporia, right from opening scenes. This complex science fiction narrative is effectively filtered through personal experience; there are no gleaming labs, no men in white coats, just a desperate family in the grungy, unfamiliar outer reaches of LA (the film shot in the El Sereno neighbourhood); something that is likely to help with onward momentum following its Fantasia premiere and US release on August 11.
Sophie (Judie Greer) is eight months into the loss of her beloved husband, Mal (Eli Gathegi), at the hands of a drunk driver. She is barely coping, and their 11-year-old daughter, Riley (Faithe Herman) is also struggling; flunking out of school, Riley can barely look at her mother, let alone speak to her. Early sequences, which contrast warm-toned flashbacks of the family together with Sophie's cold new reality underscore the strength of their relationship and securely anchor the film's fantastical elements in fundamental human emotions.
Mal had been a scientist while his best friend, immigrant Jabir (Payman Maadi), was a physicist in his (unspecified) home country who is now reduced to driving Ubers for a living. Jabir has invented a machine that can send a particle into a very specific part of space-time, effectively creating a burst of energy that behaves like a bullet — something, he tells Sophie, that could be used to kill the drunk driver, Darby Brinkley (Adam O'Byrne), before he gets behind the wheel, and so reverse Mal's death. But, he counsels, there can be no undoing what has been done. Driven by grief, and desperate to regain control of her life, Sophie's choice seems easy.
While this may be a high-concept premise, Moshe's real-world screenplay focuses less on the science (save for some close-ups of the clunky machine, constructed from a hodge podge of scrap metal in Jabir's spare room, and his layman's explanation to Sophie) and more on its messy human impact. With the experiment a success, the trio contemplate using the machine to reset other tragedies; a terrorist attack, a school shooting. It seems the right thing to do; the lives of 20-plus young victims are, they reason, worth more than the gunman they kill before he has a chance to pull the trigger. And for Jabir, who built the machine to save the family he lost a decade previously — something he now cannot do, as it would mean he never invents the device to save Mal — his work simply has to take on a new purpose.
But with every intervention, unconnected and seemingly tiny changes ripple through the fabric of time — a disorienting butterfly effect translated into the changed placement of home furniture, or an alteration to Sophie's shift patterns as a nurse — and their memories of what is now an obsolete timeline mean they are increasingly out of step with the reshaped world around them. Although they initially believe these adjustments are worth making, their eventual attempts to set things right sets off a cataclysmic chain of events.
As indicated by the film's title, Aporia, which means a logical impasse or contradiction (or, as a rhetorical device, the expression of doubt), the tension lies not in these individuals testing the limits of science, but what they are themselves prepared to accept in the name of doing the right thing. Greer is excellent as a woman running the gamut of grief and relief to guilt and fear, her initial euphoria over her husband's return, and her determination not to lose him again, at odds with her growing unease about playing God.
Production companies: Well Go USA Entertainment, Armian Pictures
Contact: Well Go USA wellgousa.com
Producers: Neda Armian, T Justin Ross
Cinematography: Nicholas Bupp
Production design: Kati Simon, Ariel Vida
Editing: Marshall Granger
Music: H. Scott Salinas
Main cast: Judy Greer, Eli Gathegi, Payman Maadi, Faithe Herman, Adam O'Byrne