Restrained drama set in the upper echelons of Japanese society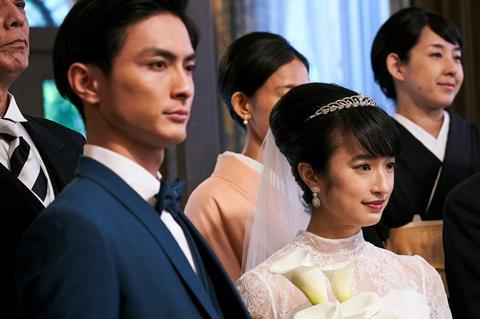 Dir/scr: Sode Yukiko. Japan. 2021. 124 mins
Two young women from dramatically different backgrounds negotiate Tokyo's rigid social order in this elegantly restrained examination of the invisible barriers of the class system. The link between their lives is a man, but it is the women who are the focus of the story; their arcs and their eventual independence which give the film its understated magnetism. While it might not be breaking new ground, Aristocrats gives an intriguing glimpse into the stifling, rarefied world of girls raised to be the wives of powerful men.
Marriage here is little more than a display cabinet for a trophy wife
The third feature from Sode Yukiko (Mime-Mime, Good Stripes), Aristocrats is adapted from a novel by Mariko Yamauchi. The film is as coolly demure in its approach as its blue-blooded milieu, a fact which could see it struggle to connect with audiences beyond the festival circuit. But the froideur and precision with which Sode navigates the world of Tokyo high society adds a layer of pristine authenticity to the picture.
What's notable about the film, and what sets the director apart from other female-focused Japanese filmmakers such as Naomi Kawase, is that Sode is rigorously unsentimental in her handling of the characters. Hanako (Kadowaki Mugi), the youngest daughter of a wealthy doctor, arrives at a family New Year celebration minus her fiance. "We broke up today," she whispers, almost rigid with mortification. Her family regards her with dispassionate disappointment rather than sympathy, and proceed to discuss her as if she's a piece of stock which needs to be off-loaded before the price drops too far.
There's little sympathy to be found elsewhere either – her friends, almost all of whom have made good marriages already – smile politely but recoil slightly, as though Hanako's failure to land a husband might somehow impact on their own social status. The only one who doesn't seem to write her off as a failure is Itsuko (Shizuka Ishibashi), who is single and pursuing a career as a professional musician. Stoically, Hanako agrees to an arranged union and embarks on a series of increasingly dispiriting meetings with potential husbands. Then she meets Koichiro (Kora Kengo), the scion of a family with political influence and considerable wealth.
The film is neatly divided into a chapter structure. The first explores Hanako's quandary, while the second introduces us to Miki (model and actress Mizuhara Kiko). A slightly cluttered timeline dips in and out of her life, but we learn that she is from a modest background in a small town, and that her place at an elite university was hard won. Family financial pressures mean that she is unable to complete her degree and has to work, instead, as a hostess. It's through this lowly job that Miki reconnects with Koichiro, whom she knew, from a distance, as one of the in-crowd at her university.
A chance encounter with Itsuko reveals the fact that Koichiro is engaged to Hanako but involved with Miki. The women meet, through a meeting brokered by a third. And it's hard to imagine a more polite confrontation between rivals. It's an encounter which speaks volumes about the accepted status of each woman both in society and within a relationship. Angular framing, full of glass and hard lines, adds to the sense that marriage here is little more than a display cabinet for a trophy wife.
Production company: Tokyo Theatres, Bandai Namco Arts Inc.
International Sales: ColorBird Inc. info@colorbird.co.jp
Producers: Toshikazu Nishigaya, Nishikawa Asako, Aya Miyamoto
Editing: Hori Zensuke
Cinematography: Sasaki Yasuyuki
Music: Watanabe Takuma
Main cast: Kadowaki Mugi, Mizuhara Kiko, Kora Kengo, Shizuka Ishibashi