A shrewdly observed documentary which offers a mosaic of images and impressions of Chinese citizens' pursuit of wealth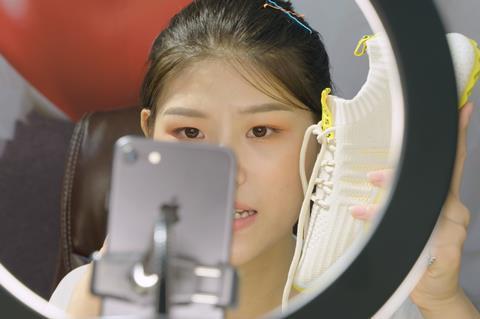 Dir: Jessica Kingdon. China. 2021. 99 mins.
Has the alluring American Dream of yore mutated into a 21st century Chinese variation? Jessica Kingdon's shrewdly observed documentary Ascension provides plenty of persuasive evidence as it captures vignettes of a country fuelled by aspiration and beguiled by the pursuit of wealth. The chance to glimpse behind the curtain of an unfamiliar China is just one of the attractions of a thoughtful, eye-opening film that should attract festival interest following its Tribeca world premiere.
Kingdon confidently allows the images to tell a fascinating, universal story of inequality and class division
New York-based Chinese-American filmmaker Kingdon's shorts include Commodity City (2017) set in Yiwu, China's largest small-commodities market. Her feature debut expands that scope, beginning at a bustling labour market in Shenzhen that has the fever-pitch feel of a modern gold-rush town. Workers are enticed with offers of air-conditioned dormitories, the availability of seated work and the promise of free wifi. Rates of pay are between $2 and $3 an hour. The requirements are precise — no tattoos, no criminal record, nobody over 1.75 metres tall and a maximum age of 38. "Don't come if you're even just one day older", they are warned.
Kingdon takes her title from a 1912 poem by her great-grandfather Zheng Ze that states, "I ascend and look far into my heart only to find that everywhere is already razed". Kingdon explores the "paradox of progress" as she shapes her mosaic of images and impressions into a journey through Chinese society, travelling from the poor huddled masses to the privileged elites.
The filmmaker adopts the stance of an unobtrusive observer, following workers into factories and capturing the repetitive, mind-numbing drudgery of assembly-line labour. People seem little more than cogs in the vast machinery of the economy. Studs are attached to jeans, plastic bottled water is labelled, phone products are compiled and forests of artificial Christmas trees are loaded into lorries at a factory in Yiwu.
There is something distinctly Orwellian about this stage of the film as we witness obedient, regimented workers taught to believe that their glory is intrinsically linked to the prosperity of the company. We see posters proclaiming "Work Hard And All Wishes Come True" or "Be Civilized. Set Good Examples". Kingdon finds humour in the fragments of overheard conversations and the incongruity of some of the products handled, including rubbery sex dolls that tremble and gleam like jelly.
Kingdon's camera seems to share the viewer's astonishment at the sheer scale of everything, from the massive building sites to the multitudes of workers on one factory floor. She has an eye for the quirky and sometimes strange beauty of things. An overhead drone shot of a vast bicycle graveyard at Chengdu looks like warring armies in Lord Of The Rings. Dan Deacon's score, highlighting cello and violin, provides a sensitive accompaniment to the changing moods.
The focus on the middle-class depicts people seeking to monetise their personal brand, earn a living as livestream salespeople and learn the ways of business etiquette. The rules surrounding bowing, hugging and smiling produce moments that would not seem out of place in Yorgos Lanthimos' The Lobster.
Finally, the rise of the super-wealthy creates demand for epicurean delights, personal protection and household staff. One of the first questions asked at Chengdu's International Butler Academy is: "Has anyone seen Downton Abbey?" Golf ranges, luxury hotels and lavish meals all speak of the affluent in search of their pleasures and aware that they have barely scratched the surface of conspicuous consumption. They are perhaps merely more polished cogs in the same machine.
Never appearing to judge any situation, Kingdon confidently allows the images to tell a fascinating, universal story of inequality and class division, revealing a country that feels more like a capitalist society than anyone's idea of a Communist state.
Production companies: Mouth Numbing Spicy Crab, Visit Films, XTR
International sales: Visit Films, info@visitfilms.com
Producers: Kira Simon-Kennedy, Jessica Kingdon, Nathan Truesdell
Cinematography: Jessica Kingdon, Nathan Truesdell
Editing: Jessica Kingdon
Music: Dan Deacon