A detective attempts to solve a decade-old crime in this twisting muder mystery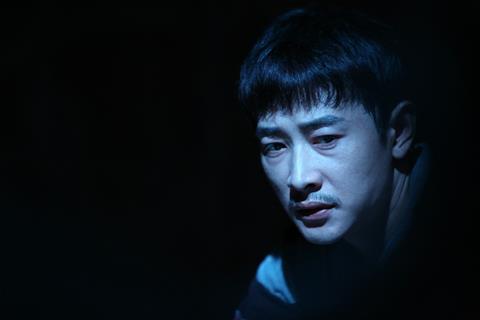 Dir. Xiaofeng Li. China. 2017. 114mins.
A dead body is found in a movie theatre at the start of Ash, and the rest of this elegant thriller traces the circumstances that led to that grisly discovery. In his second feature, director Xiaofeng Li delivers a coldly riveting study of morality, revenge, guilt and class that's less a whodunit and more an exploration of the human frailties that drive some to murder. Knowing as little as possible going into Ash is highly recommended — all the better for Li's twists and chronological loop-de-loops to register their full impact.
The sound design and score emphasize stray rhythms to keep viewers as tense as the characters
Ash premieres at the Busan International Film Festival, where Li's 2014 feature debut Nezha also had its unveiling. The film includes stars Luo Jin and Nie Yuan, and its accessible murder-mystery narrative may help it attract attention overseas.
Indicative of the off-kilter plot, Li introduces us to Chen Weikun (Nie Yuan), a cop investigating the slaying of Ma Xudong (Yang Yiwei); the expectation is that this policeman will be the film's central figure. Instead, we flash-forward 10 years into the future: Ma's killing was never solved, and now the action revolves around Xu Feng (Xin Peng), who has just returned home to Sicheng after being away for mysterious reasons, and Wang Dong (Luo Jin), a celebrated doctor known for his philanthropic work. Moving back and forth between eras, the film studies these two men, as well as Xu's abusive stepfather Ma and Du Guojin (Huang Jue), a romantic rival for the woman (Jiang Peiyao) whom Wang loves.
It would be poor form to reveal exactly how these characters are connected to Ma's killing, but let it be said that another crucial murder occurs during Ash — and that the two killings are linked in unexpected ways. Thankfully, Li has no patience for overly clever coincidences or half-hearted attempts at convoluted dramatic ironies. Instead, he utilizes the film's three time periods — the past, the "present" (when the murders occur), and 10 years in the future — to reveal how heinous crimes tear communities and individuals apart, even if the perpetrators are convinced they're justified in their actions. The shuffling between eras isn't meant to be tricky but, rather, to condense time, suggesting that these very different characters are inexorably fused together by their shared destiny.
As Wang, Luo Jin projects a quiet nobility suitable for a sweet, sensitive doctor who early on was pegged for greatness. But as Ash moves along, we see how Wang's promise has slowly given way to a sense of entitlement, and the actor captures every nuance of the character's fall from grace. By contrast, Xin Peng plays a modest man without Wang's societal privileges, and the movie illustrates how much harder Xu's life has been as a result.
This ensemble may be bonded by these grisly crimes, but Li is wise enough to recognize that factors like economics and luck — who finds love and who doesn't — can drive wedges between people, confining them to their individual fates.
Working again with cinematographer Joewi Verhoeven, Li favours dynamic widescreen compositions that take the viewer everywhere from pulsating nightclubs to an otherworldly cemetery to the eerie silence of a still lake. The sound design and score emphasize stray rhythms — a heartbeat, a menacing hum — to keep viewers as tense as the characters.
Although Ash is more of an existential murder mystery than a crackling detective story, Chen's occasional appearance in the narrative reminds us that a reckoning is coming for the guilty parties. With utter stoicism, Nie Yuan serves as an understated but persistent moral force in this godless universe — he's determined to apprehend the culprits, even if it takes him a decade.
Production companies: Shenzhen GTS Investment Management Ltd, Alibaba Pictures, Gohigh Financial Holding Group, Luojin (Shanghai) Film and Television Culture Studio, Shanghai Dashui Cultural Development Co. Ltd, Beijing BHBD Cultural Communication Co. Ltd
International sales: REDiance, joyboffin@gmail.com
Producers: Ma Yuanyuan, Li Haihua, Xia Xinlei, Feng Rui
Executive producers: Chen Yiyi, Wang Donghui
Screenplay: Xiaofeng Li, Xu Zhanxiong, Shen Yi, Wang Mu
Cinematography: Joewi Verhoeven
Production design: Wang Zhiqing, Hao Yongfeng
Editors: Liu Yueyue, Teng Yun
Music: Simon Fisher Turner
Main Cast: Luo Jin, Nie Yuan, Xin Peng, Jiang Peiyao, Huang Jue