Disturbing Netflix doc about the the sport of gymnastics and how it treats the young girls who fall in love with it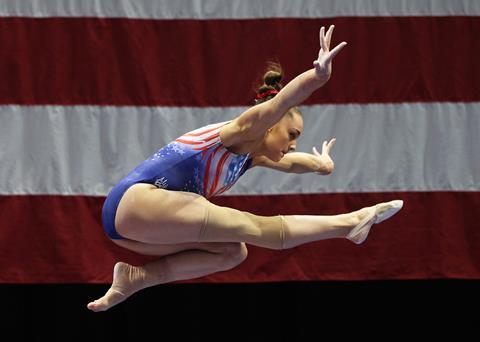 Dirs. Bonni Cohen, Jon Shenk. US. 2020. 104 mins.
There's something especially dark and shaming at the heart of Athlete A, Bonnie Cohen and Jon Shenk's vividly disturbing account of the pederast Dr Larry Nassar and USA Gymnastics (USAG). Publicity materials talk of this being an ultimately inspiring documentary, and there's certainly much to admire in both the film and the brave, devastated women who came forward to send him to prison. Essentially, though, there's scant positive takeaway from this story: the physical abuse and mental torture of starved pre-pubescent and pubescent girls has carried on at USAG as last month's expulsion of coach Maggie Haney made clear. Athlete A is a devastating challenge to how a civilised society can call this win-at-all-costs Soviet-styled model a 'sport' - because those girls never had a sporting chance.
At times 'Athlete A' plays out like a horror film
So many elite sports have been disgraced, viewers might imagine themselves to be immune by now. But dope cheat cyclists and conniving athletes are at least adults: from the very beginning of Athlete A, Cohen and Shenk (Audrie & Daisy and An Inconvenient Sequel) visually confront the audience with the clear physical evidence that their documentary is about abused children and they never let that image fade away. Cohen and Shenk are as tenacious as any of the survivors, the prosecutors or the crusading journalists they document, delivering a queasy story of a sport that stinks. Set for wide play through Netflix, Athlete A could easily crop up in year-end awards discussion: if it hasn't got the neat ending that many would like, it's because the story sadly isn't over. (It follows on from 2019's HBO doc At the Heart of Gold: Inside the USA Gymnastics Scandal, directed by Erin Lee Carrd. More may follow).
At times Athlete A plays out like a horror film. Introductory titles warn that "this contains graphic descriptions of sexual abuse involving minors which may be disturbing for some viewers". When these are coupled with footage of broken young bodies competing in abject fear of their coaches, it's not just disturbing for some – it should be distressing for all. One survivor describes 30-35 hours of training per week, with broken toes, a fractured back, unable to walk on the carpet. "Every time I had an injury it wasn't believed". Enter the friendly doctor Larry Nassar, 29 years as USAG's unpaid national team doctor, a Michigan State University physician and the founder of an organisation for autistic children.
Romanian coaches Bela and Martha Karolyi, who set the standard of Olympic perfection back home with the child athlete Nadia Comaneci at the Montreal Olympics in 1976 would bully (Bela) and hit (Martha) elite gymnasts at their no-access-for-parents Texan training camp for the US team. But Nassar positioned himself as their friend. He'd laugh and joke and smuggle sweets in while repeatedly, brazenly molesting them: over 250 women eventually came forward. "I looked forward to treatment because Larry was the only nice adult I can remember being part of USAG staff," says one shattered former Olympic medallist.
As far back as 1995, Joan Ryan exposed the sordid world of gymnastics in her book, Little Girls in Pretty Boxes, so the brutality which enabled the sexual molestation has been known for a long time (where "the line between tough coaching and child abuse gets blurred"). USAG and Michigan were also alerted about the smiling paedophile Dr Nassar. But they didn't take action. Were they desperate and misguided, focused only on their image and sponsorship? Athlete A is an indictment of an organisation which aped the Soviet Bloc techniques to win gold medals in a Cold War through the broken limbs of children – gymnastics has only been a sport for little girls since Comaneci rose to fame.
A framework involving the story of plaintiff 'Athlete A', later revealed as Maggie Nichols, gives hope for a sport that can be beautiful and even more so, she demonstrates, when performed by a woman, as it once used to be. The investigative journalism conducted by The Indianapolis Star is a bravura case for why we need a fierce free press. The pearl-chokered DA who took on the fight against Nassar and the investigating officer who brought the case to her are shown to be righteous defenders of the oppressed. And the women, the girls, who fell in love with gymnastics, come together in an unexpected and cathartic way. Watching it right now, though, in such a troubled time, is to hope that Athlete A may form part of a broader movement. After all, who wants to be part of a world where, as one former gymnast puts it, "we sacrifice our young [in order] to win."
Production company: Actual Films
International distribution: Netflix
Producers: Julie Parker Benello, Serin Marshall, Jen Sey
Cinematography: Jon Shenk
Editing: Don Bernier
Music: Jeff Beal
Featuring: Maggie Nichols, Rachel Denhollander, Jessica Howard, Jamie Dantzcher, Andrea Munford, Angela Povilaitis, Marisa Kwietkowski, Mark Alesia, Tim Evans