Intense debut from French/Senegalese director Mati Diop strikes an intriguing note in Competition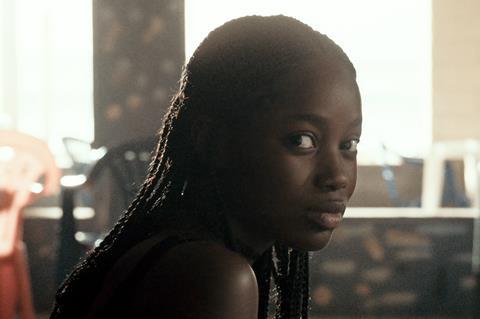 Dir. Mati Diop. France/Senegal/Belgium. 2019. 104 mins
Pushed into the limelight as the first black female director ever to compete for the Palme D'Or, the French-Senegalese helmer Mati Diop will garner ever further international attention on the basis of Atlantics (Atlantique). Her debut feature is an intense romance notable for the craft of the filmmaking and Diop's original approach to complex issues of love, loss and the forces for change that can rise from the ashes of tragedy.
A distinctive, involving drama
The niece of Touki Bouki director Djibril Diop Mambéty, Diop acted in Claire Denis's 35 Shots Of Rhum and has made a number of short films. Inspired by her 2009 short documentary also called Atlantique, Atlantics is often framed as a study in contrasts along a journey from oppression to liberation.
In Dakar, a vast building dominates the landscape, bursting from the desert haze like a movie special-effect. Muejiza Tower is a symbol of thriving modernity, built on the sweat and toil of local construction workers like Souleiman (Ibrahima Traore) who have not been paid for over three months. Bosses dismiss the injustice of the situation and the burden placed on the families who depend on them.
Ada (Mama Sane) considers Souleiman to be the love of her life, although she must marry Omar (Babacar Sylla) in just ten days. Diop uses extreme close-ups to convey the affection between Ada and Suleiman. Her intimate focus captures the tender gestures and loving glances that make us believe in them as a devoted couple.There is a generosity of spirit in the film that means Omar is not a true villain, just someone that Ada cannot bear to marry. Their encounters are devoid of affection, marked only by awkwardness, resentment and distance. The contrast could not be plainer. Omar is a rich, jet set businessman who showers her with gifts including an ornate wedding bed that looks like something from a Kardashian photo shoot. If Ada were content to be a biddable material girl, she could have a very comfortable life with Omar.
Ada then learns that Souleiman has left without a word of farewell. He has set sail with his fellow workers in a pirogue seeking a better life in Spain. It is assumed that all the men have drowned at sea. The marriage proceeds and a heartbroken Ada faces a bleak future. Yet a succession of inexplicable events start to suggest that Souleiman may somehow have returned. Young inspector Issa (Amadou Mbow) is assigned to investigate.
As Diop steers the story towards the supernatural, she never loses sight of the social and political realities of life in Senegal. A form of ghostly vengeance may have been unleashed but it is addressing tangible injustices. Ada is still at the mercy of a society that judges a woman's actions and limits her freedom. In one sequence, Omar's family demand a "virginity test" to discover if she is still worthy of their son. She doesn't have the luxury of escape. Greedy businessmen and conniving police officers seem to consider themselves above the law. Somebody has to do something.
Diop is well served by her cast, with Mama Sane creating an Ada that is full of spirit. There is also a steely resolve in the character that means she can never be considered a victim. Ibrahima Traore has a modest screen time in which to make the handsome Souleiman's presence felt but he conveys elements of the anguish and frustration of the man. Amid Mbow suggests a decency within the police inspector confronting forces that are well beyond his control.
Diop captures the dusty bustle of life on the streets of Dakar and the way traditional and modern constantly rub shoulders. She also finds space for more contemplative moments in images that underline the elemental power of the wind and sea. Constantly intriguing, Atlantics successfully blends its disparate elements of love story, ghost story and female empowerment into a distinctive, involving drama.
Production companies: Les Films Du Bal, Cinekap, Frakas Productions
International sales: MK2 Films fionnuala.jamison@mk2.com
Producers: Judith Lou Levy, Eve Robin
Cinematography: Claire Mathon
Screenplay: Mati Diop, Olivier Demangel
Production designers: Toma Baqueni, Oumar Sell
Editor: Ael Dallier Vega
Music: Fatima Al Qadiri
Main cast: Mama Sane, Amadou Mbow, Ibrahima Traore