A Finnish misfit and an Iranian refugee find each other in Lapland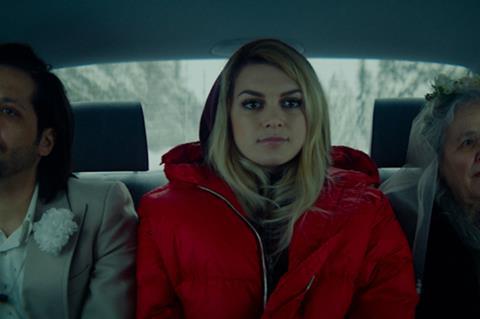 Dir/scr: Miia Tervo. Finaland. 2019. 106mins
Despite her name, Finnish twentysomething Aurora (Mimosa Williamo) is not so much a force of nature as a natural disaster. With her mother dead and her father an alcoholic, she spends her days working in a nail salon — a bottle of beer never far from her side — and her nights partying her way to oblivion. By turns spiky, funny and desperately sad, Aurora is the tempestuous core around which this intriguing feature debut from Mila Tervo rotates; powerful and singular enough to overcome the romantic comedy trappings of the narrative.
This dark corner of Lapland may be globally famous as the home of Santa Claus, but here it can also be unbearably claustrophobic and insular.
While Aurora may follow a familiar template — two unhappy people who find comfort and completion in each other — that kinetic central performance and Tervo's expert use of her Finnish locale make the film feel fresh. With a debut in Goteborg and a North American premiere in SxSW already under its belt, Aurora should command further festival interest and connect with local audiences. A large proportion of dialogue is in English (a shared language between locals and immigrants) and that may help its international prospects.
We first meet Aurora in the middle of the night, sneaking out, half naked, from a lover's apartment, after which it becomes clear that, aside from the sating of sexual needs, she believes human connection is to be avoided at all costs. With her father in rehab, and their meagre home in the process of being repossessed, Aurora lives her life through a dizzying spiral of drink, drugs and clubs. Ending one such night at the local kebab shop, she meets Darien (Amir Escandari), an Iranian asylum seeker hoping to make a new life for himself and his young daughter.
This first interaction ends not with an immediate spark but with Darien making a marriage (of convenience) proposal, Aurora responding with a rape joke, and then disappearing off into the night. Chasing after her out of desperation, rather than attraction, Darien convinces her to help him find a woman he can marry to stay in the country — in return for a substantial cash sum — and so begins a tentative friendship of sorts.
While there is undeniable slow-burn chemistry between them, they resist it; Aurora because of her unspoken need to keep herself isolated, Darien because of her wild behaviour. "You are a typhoon. A hurricane. Chaos and trouble," he tells her after one drunken binge. Despite their protests, however, there's never any doubt as to how this story will end, and it's to Tervo's credit that she keeps the journey interesting.
That's largely down to some colourful characterisation and, in particular, the film's protagonist. Aurora is vivid, fallible flesh and blood. As much as we are invited to laugh or cheer at her antics — and her feminist outlook provides many applause-worthy moments, including a sequence in which she yells about equality from a strip club stage — her deep sadness is never far from the surface. Equally, Darien is fleshed out well beyond the role of bemused outsider and, while his predicament results in genuine humour — his rude introductions to the Finnish tradition of sauna, his near marriage to an octogenarian lesbian — his fear and longing are palpable.
Through her two central characters, Tervo also explores a keen sense of place. While this dark corner of Lapland may be globally famous as the home of Santa Claus, here, cast in conflicting shadows and neons by cinematographer Arsen Sarkisiants, it can be unbearably claustrophobic and insular. A repeating visual motif of Aurora stalking across the snow, her red coat and flowing blonde hair stark against the muted landscape, emphasises her sense of confinement. For Darien, this small, frozen region represents stability, opportunity and the possibility, finally, of home. That Aurora shares this desire to belong is clear to everyone but her.
Production company: Dionysos Film
International sales; LevelK tine.klint@levelk.dk
Producer: Max Malka
Cinematography: Arsen Sarkisiants
Editor: Antti Reikko
Production design: Kari Kankaanpaa
Music: Laura Naukkarinen, Jaakko Laitinen, Vaara Raha
Main cast: Mimosa Williamo, Amir Escandari,