The remarkable life of Armenian genocide survivor Aurora Mardiganian is turned into a gripping animation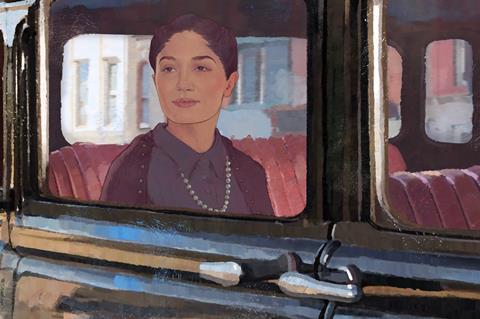 Dir: Inna Sahakyan. Armenia/Germany/Lithuania. 2022. 96 mins.
The story of Aurora Mardiganian is a remarkable one. A survivor of the Armenian genocide of 1915, she saw her family slaughtered, she was kidnapped by bandits and sold into a Turkish harem before escaping, first to St. Petersburg, itself in the throes of violent political upheaval, then to America. She was still a teenager when her story, serialised in a newspaper, caught the attention of Hollywood and she found herself the star of Auction Of Souls, a 1919 silent film based on her experiences, which became a sensation. The animated documentary Aurora's Sunrise combines some of the remaining fragments of Auction Of Souls, which was long feared to be lost, with archive footage of interviews with Aurora in later life, excerpts from her autobiography and the participation of the Zoryan Institute, which has collated oral histories of 20th century events which have slipped from the collective consciousness.
Her memories are brutal in their detail
It's the first animated film from documentary director Inna Sahakyan, whose previous work includes The Last Tightrope Dancer In Armenia (2010) and Mel (2022), a portrait of a celebrated Armenian weightlifter who came out as transgender. Aurora's Sunrise is notable not so much for its use of animation, which is effective but not especially creative or technically groundbreaking, but for the dramatic sweep of Aurora's incredible tale. It should be a title of considerable interest for documentary specialist events and for festivals focused on human rights-themed projects.
Her childhood, in an Armenian community in Eastern Anatolia, was, she recalled, an idyllic one. Aurora was the second-oldest daughter of a large and well-respected family. The film takes two details from this early period of a life hitherto untouched by violence and hate, using them as recurring symbolic motifs. One is an amateur play, titled The Three Goats, that the children and their mother would perform; the other is the vividly coloured silkworm cocoons which her father had perfected a method of dyeing.
Aurora's father, who refused to flee the family home when he was warned that the Turkish forces were targeting the Christian Armenians as undesirables and infidels, was the first to die, along with her second brother (the oldest had already left to live in America). The surviving members of the family were forced to embark on a "death march" into exile, across inhospitable terrain and subject to the cruel whims of the Turkish soldiers. Soon, just Aurora is left alive.
Her memories of the time are brutal in their detail. She talks of corpses, baked black by the unrelenting sun; of children shot or ripped from their mothers and thrown into a river; of methods of execution so inhumane that, when it came to the film version of the events, they were deemed too horrifying for American audiences and replaced by crucifixions instead. The animation which accompanies these shocking images, recounted through a combination of archive interviews and narration taken from Aurora's book, can be unnecessarily literal at times.
Aurora's saga only became more curious once she arrived in America. The reporter who brought her story to the world insisted on taking on Aurora's legal guardianship. He then proceeded to work her into the ground on an endless tour promoting the film, before sending her to a convent when the stress of reliving her trauma on a daily basis became too much. Remarkably, it subsequently transpired that the tour continued without her, and impersonators were hired to take her place. Aurora, seen in the film as a spirited elderly woman, is essentially a survivor twice over — firstly from the Armenian genocide, and secondly from the Hollywood publicity machine.
Production companies: Bars Media, Gebruder Beetz Filmproduktion, Artbox Laisvalaikio Klubas
International sales: Bars Media, info@barsmedia.am
Producers: Vardan Hovhannisyan, Christian Beetz, Juste Michailinaite
Screenplay: Inna Sahakyan, Peter Liakhov, Kerstin Meyer-Beetz
Editing: Ruben Ghazaryan
Music: Christine Aufderhaar
Main voice cast: Arpi Petrossian