James Cameron takes a return trip to Pandora in his long-awaited fantasy sequel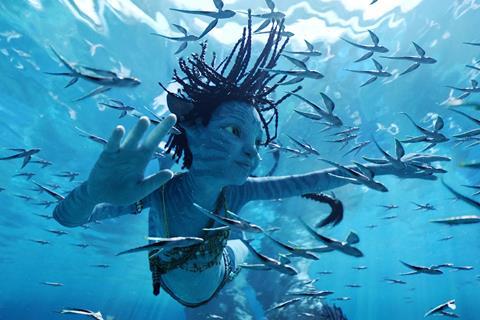 Dir: James Cameron US. 2022. 192mins
Thirteen years after introducing audiences to Pandora, James Cameron takes us on a return trip in Avatar: The Way Of Water; an extraordinary visual spectacle that can't compare on the narrative side — although, to be fair, that's a mighty high bar. Utterly ravishing in its immersion in that far-off moon's exotic lands and vivid colours, the much-anticipated sequel boasts motion-capture performances and cutting-edge special effects far superior to the typical blockbuster. But, in dramatising a Na'vi family's struggles to outrun a squadron of bloodthirsty soldiers, Cameron's sprawling epic sometimes loses focus, resulting in a stunning picture that's more compelling as a visceral experience than an emotionally nuanced tale.
More compelling as a visceral experience than an emotionally nuanced tale
Disney releases The Way Of Water in the UK and US on December 16, hoping to come close to Avatar's colossal haul that, including re-releases, stands at $2.7 billion worldwide. Original stars Zoe Saldana, Sam Worthington and Sigourney Weaver are joined by Cameron's Titanic lead Kate Winslet, but the film itself is the main draw — with viewers curious to discover if the Oscar-winning showman has surpassed himself.
More than 10 years have passed since the events of Avatar, and in that time Jake (Worthington) and his wife Neytiri (Saldana) have raised a family, including sons Neteyam (Jamie Flatters) and Lo'ak (Britain Dalton), and adopted daughter Kiri (Weaver), whose mother is the late Dr. Grace Augustine (also Weaver). To Jake's shock, the human race has returned to Pandora, led by Quaritch (Stephen Lang), a ruthless Marine whom he killed at the end of Avatar. But now reborn in an avatar body, Quaritch is determined to get revenge, forcing Jake and his family to seek sanctuary with the Metkayina, a Na'vi tribe who live in harmony with water.
Where Avatar was a paean to the forests, The Way Of Water pays tribute to the oceans, and the Na'vi once again represent a more ecologically-conscious civilisation that respects the natural world — unlike the colonising invaders from Earth, who only covet Pandora's natural resources. But Cameron, who co-wrote the screenplay, is just as concerned with Jake's maturation, exploring how this former Marine has embraced Na'vi customs and fatherhood. Seeing himself as the protector of his family, Jake will be challenged by Quaritch and his heavily-armed troops, who will kill anything in their way to get to him.
The expert mo-cap technology that transforms these actors into the lithe, towering Na'vi warrior is utterly seamless in its execution, the effect even more impressive than in Avatar, and the characters' movements during action sequences and nuanced expressions during more intimate dramatic moments are impeccable. The Way Of Water was screened for critics in 3D, featuring varying higher frame rates (HFR) between scenes — and, sometimes, within them. And while the approach can sometimes prove distracting, the film is far more persuasive than Ang Lee's recent experiments in the form. Whether zipping across underwater realms or flying high in the air, The Way Of Water dazzles, each new environment is filled with eye-catching wonders.
Avatar was criticised for its simplistic Dances With Wolves-esque story of an ordinary man who rejects his warlike society after coming into contact with a nobler civilisation, but the 2009 film had a primal power that, in tandem with the jaw-dropping mo-cap, proved captivating. Unfortunately, the sequel doesn't have as potent a narrative through-line, with Jake's children (who are central to the plot) not quite as interesting as he and his wife. (Saldana, so riveting in Avatar, has less to do this time, although Neytiri does get to show off her combat prowess in the propulsive finale.) The brotherly feud between Neteyam and Lo'ak — both young Na'vi trying to win their father's approval — is fairly standard, and likewise the Earthlings' devious plans for Pandora aren't all that intriguing.
Indicative of the script's limitations, the cast is uneven, but Weaver is especially endearing as Kiri, who never knew her birth mother but radiates a winning sweetness. Winslet, playing Ronal, the pregnant wife of wise Metkayina chief Tonowari (Cliff Curtis), never gets a chance to stand out among the large ensemble. The most dynamic portrayal probably belongs to Lang, whose Quaritch is so relentless in his pursuit of Jake that he becomes a force of nature.
But even he is overshadowed by the actual nature on display — or, rather, the engrossing facsimile Cameron and his digital wizards create on Pandora, which is populated by gigantic whales and other imaginative sea creatures, every frame teaming with so much wildlife that multiple viewings will probably be necessary to absorb all the visual information. The Way Of Water's resplendent presentation couldn't be more breathtaking — the drama unfolding inside that world isn't always as masterfully rendered.
Production company: Lightstorm Entertainment, 20th Century Studios
Worldwide distribution: Disney
Producers: James Cameron, Jon Landau
Screenplay: James Cameron, Rick Jaffa, Amanda Silver, story by James Cameron, Rick Jaffa, Amanda Silver, Josh Friedman, Shane Salerno
Cinematography: Russell Carpenter
Production design: Dylan Cole, Ben Procter
Editing: Stephen Rivkin, David Brenner, John Refoua, James Cameron
Music: Simon Franglen
Main cast: Sam Worthington, Zoe Saldana, Sigourney Weaver, Stephen Lang, Cliff Curtis, Joel David Moore, CCH Pounder, Edie Falco, Jemaine Clement, Giovanni Ribisi, Kate Winslet