Dir/scr: SS Rajamouli. India. 159 mins.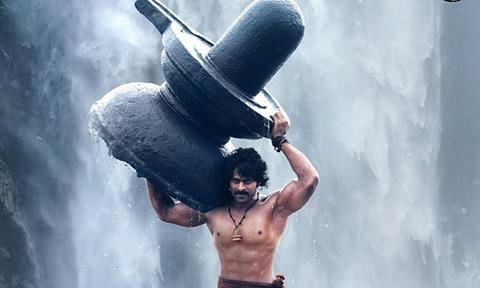 There's rarely a dull moment in Baahubali: The Beginning, part one of a gung-ho, crowd-pleasing Telugu-language epic that has been shattering box-office records throughout India. Familiar aspects of populist Indian cinema are fused with elaborate visual effects more commonly associated with a Hollywood-financed blockbuster.
The film's current domestic success almost makes international revenues irrelevant but the sheer scale and grandeur of the storytelling could be enough to attract a wider, mainstream international crowd. Audiences might be disconcerted by a tone that veers between the sincerity of Exodus: Gods And Kings and the cheesiness of The Scorpion King and there's more than one musical production number that could be sacrificed for a more streamlined international cut being prepared by editor Vincent Tabaillon.
A proven hit maker ­– Warrior (Magadheera) and Fly (Eega) both grossed more than $16m (Rs1bn) ­– writer/director SS Rajamouli has created a sweeping, breathless, gloriously overblown adventure yarn filled with marketable ingredients, from rip-roaring battle scenes to exotic landscapes, big-hearted romance to cliff-hanging suspense.
Claimed as India's most expensive production with a budget of $40 million, the handsome-looking Baahubali betrays a range of influences, from battle scenes that raise the ghost of Akira Kurosawa to storytelling in the tradition of The Mahabharata and massed armies that swim across the screen like a re-run of The Lord Of The Rings. It's quite a show; Cecil B De Mille would surely have approved.
The original story begins with a nod to the tale of Moses as a child is rescued from a raging river. Shivudu (Prabhas) grows to maturity with the strength of Samson and the agility of Tarzan, determined to reach a kingdom at the top of a steep, slippery mountain pummelled by ferocious waterfalls. When he finally does, he finds himself drawn to feisty warrior princess Avanthika (Tamannaah Bhatia) and discovers that his destiny is to rescue the princess Devasena (Anushka Shetty), who has been held captive for the past 25 years.
At the halfway point, the film moves into flashback mode to reveal the events of half a century earlier when civil war and dynastic conflicts led to Bhalladeva (Rana Daggubati) becoming King of Mahishmati. Gradually, we learn of Shivudu's true identity before the film really embraces its Lord Of The Rings heritage for a vast battle that occupies the final third of the film.
Filmed on locations in Kurnool, Kerala and Ramoji Film City in Hyderabad, the film is a visual feast, featuring a mountain plummet to escape an oncoming avalanche, a wrestling bout between a man and an extremely large bull, the erection of a giant golden statue and an inferno created from burning bales of hay. Rajamouli never lets the energy or pace flag in a film that manages to feel reasonably brisk considering its running time in excess of two-and-a-half hours.
It's also a film that worships its star Prabhas, who savours his role as the musclebound, indestructible hero of the title. Captured in admiring close-ups and slow-motion appraisals, Prabhas rips his shirt off, throws himself into gravity-defying flights through the air, sings his heart out and flicks his sodden locks seductively from side to side in finest beefcake style. It might be hard to take seriously for more sophisticated tastes but Prabhas emerges as the kind of star who could give the young Schwarzenegger or Dwayne Johnson a run for their money.
Other performances veer towards the melodramatic: there are a fair number of wide-eyed and flared-nostril moments but Satyaraj creates a more complex character in Kattappa, a royal bodyguard whose loyalty never falters despite his personal sympathies resting far from the side of his master.
The broad brushstrokes storytelling and the director's over-fondness for slow-motion sequences are among the film's failings but this is still a rousing, easily accessible epic. The promise of Baahubali: The Conclusion in 2016 is one that audiences will relish.
Production Company: Arka Mediaworks
Producers: Shobu Yarlagadda, Prasad Devineni
International sales: Arka Mediaworks, info@arkamediaworks.com
Screenplay: SS Rajamouli, Vijayendra Prasad (story)
Cinematography: Senthil Kumar
Production design: Sabu Cyril
Editor: Venkateswara Rao Kotagiri
Music: MM Keeravani
Main cast: Prabhas, Rana Daggubati, Anushka Shetty, Tamannaah Bhatia, Satyaraj