An idiosyncratic tribute to the great Brazilian director Hector Babenco by his wife, Barbara Paz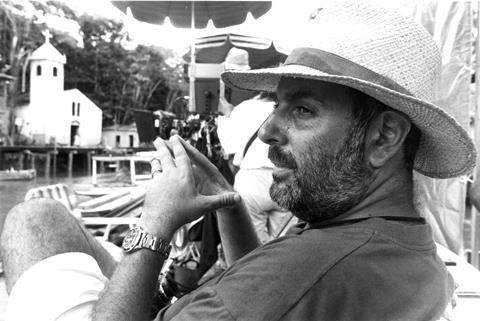 Dir: Bárbara Paz. Brazil 2019. 75 minutes
The 50th film in 60 years submitted by Brazil for the Oscar now known as Best International Feature Film, Babenco: Tell Me When I Die seems unlikely to become the giant nation's belated first-ever winner. This impressionistic documentary, an hallucinatory/valedictory love letter to Hector Babenco — the socially-conscious, highly political Argentinian-Brazilian director best known for Pixote (1980), Kiss Of The Spider Woman (1985) and Ironweed (1987) — is the feature-length directorial debut of his third and last wife, Bárbara Paz.
A mournful mosaic in miniature
The film (whose poetic Portuguese subtitle Alguém tem que ouvir o coração e dizer: parou translates as "someone must listen to the heart and say: it has stopped") toured the festival circuit for over a year prior to its selection by Brazil (it was named best cinema-related documentary in the "classics" section at Venice when it premiered and Best Documentary prize in Mumbai, amongst others). Further recognition from AMPAS seems a remote longshot, given Brazil's history in this section. Babenco himself was responsible for two of the country's Oscar submissions: in 1980/81 street-kid classic Pixote was seemingly coasting towards victory only to be disqualified over a minor technicality (chief beneficiary: the USSR's quickly-forgotten Moscow Does Not Believe In Tears.) And 23 years later prison epic Carandiru failed to make the final five.
Yet Babenco became the first Latin American director to be nominated for Best Director in 1985 for Kiss Of The Spider Woman, launching the international phase of his intriguingly varied career. Three decades later he would bow out with the generally well-received My Hindu Friend starring Willem Dafoe (credited here as associate producer) in a thinly-veiled portrait of the director, alongside Paz in a prominent supporting role. Tell Me When I Die shows signs of having originated as a "making of" My Hindu Friend, which was released domestically in March 2016. That July, Babenco — who for decades suffered intermittently from cancer — was hospitalised with sinusitus; the following day he succumbed to a heart attack.
In candid interviews excerpted here, the older Babenco was (understandably) much preoccupied with thoughts of mortality. Prone to philosophical ruminations and musings about his successes, failures and legacy ("the feeling grows that the great work hasn't been achieved"), he refers to the documentary as obituary-style "movie about my death." And such considerations suffuse Tell Me When I Die — even the title bears memento mori echoes — to an almost morbid degree.
It's a tender, intimate affair, empathetic fruit of close contact between an affectionate couple. A frail but spirited Babenco is shown collaborating with Paz on her filming, advising on focus and camera-operating matters. After his sudden demise, she turned to other sources of assistance: while the opening titles identify only Paz and Cao Guimarães as editors, the end credits add another seven names to the list (plus two "editorial consultants.") This revelation will probably come as little surprise to viewers who have been bemused or even bewildered by the picture's jumbled, choppy and diffuse structure.
Paz and her co-writer Maria Camaro eschew a conventional biographical treatment of Babenco's fascinating, eventful life and history-making career. Instead they and their editing colleagues opt for a more free-association, reverie-type approach, in which episodes from Babenco's own past are juxtaposed with short sequences from nine of his films — converted from their original formats to fit Paz's monochrome widescreen visuals, sometimes via unsatisfactory medium-definition video transfers.
Artifice, reality and dreams blur and overlap, without quite managing to find satisfactory focus or narrative momentum. Evidently crafted with affection and warmth, Babenco — Tell Me When I Die is a mournful mosaic in miniature (a full eighth of the brief running-time is taken up by the lengthy opening and closing titles.) The results just about pass muster as an elliptical "taster" of Babenco's personality and oeuvre, while never threatening to unearth any fresh or startling insights.
Production company: HB Filmes
International sales: Taskovski Films, London (sales@taskovskifilms.com)
Producers: Myra Babenco, Bárbara Paz
Screenplay: Maria Camargo, Bárbara Paz
Cinematography: David A. Barkan, Andre Brandao, Stefan Ciupek, Carolina Costa, Bárbara Paz
Editing: Felipe Bibian, Joaquim Castro, Eduardo Escorel, Juliana Guanais, Cao Guimarães, Vitor Mafra, Marilia Moraes, Felipe Nepomuceno, Bárbara Paz