Noémie Merlant plays an instamum whose idealised life with husband Kit Harington starts to fall apart in Bess Wohl's feature debut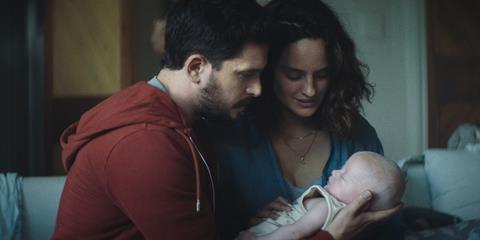 Dir/scr: Bess Wohl. USA. 2022. 93mins
The Instagram-tooled life of Jo (Noémie Merlant), a French lifestyle influencer with an artisanal butcher (Kit Harington) for a husband and a chic renovated house in upstate New York, is not ready for the arrival of a baby. Having mined her enviably chic pregnancy for content, Jo has to admit that life with a newborn is not achieving the degree of perfection that she usually strives for in all things. What's more, she finds herself increasingly convinced that sinister forces are at work. Something aims to hurt Baby Ruby. Or is it Ruby herself who is the threat? Inspired by her own postpartum experiences, Bess Wohl's tight little drama starts very strongly but then rather unravels along with her central character's mental state. New motherhood can be a very dark place indeed, both figuratively and, and in this case literally – the film's lighting scheme goes beyond moodily murky and ends up being frustratingly indistinct.
A hall-of-mirrors unreality, distorted by post-partum psychosis, in which nothing is quite what it seems
An actor-turned-writer, Wohl is best known as a playwright, with notable works including 'Make Believe', 'Small Mouth Sounds' and the Tony award-nominated 'Grand Horizons'. She also wrote the screenplay for Irreplaceable You, which was directed by Stephanie Laing and starred Gugu Mbatha-Raw. Her feature directorial debut is smartly scripted but perhaps lacks the visual impact to fully tap into Jo's mounting terrors. Straddling the ground between psychological drama and horror, it's a film which could find a home at further festivals, perhaps in midnight movie strands, or on genre streaming platforms.
Merlant, in an entirely English language role, is impressive. The way that Josephine weighs the word "perfect", a slight pause on either side of it to emphasise its importance, tells us a great deal about her as a person. She is a self-confessed control freak, supremely confident in her own judgement. "I can do this perfectly," she says, breezily waving away a best-selling parenting manual. She is, after all, the woman whose cheese souffle "broke the internet". What possible challenges could a small baby pose to someone who has mastered that most temperamental of all baked savouries?
But, as Jo soon discovers, the first few months with a tiny screaming despot governing every moment, waking or otherwise, are not something that can be micromanaged and controlled. And what starts as a general sense of disquiet – Ruby seems angry, disappointed even, Jo tries to explain to her doctor – snowballs into a hall-of-mirrors unreality, distorted by post-partum psychosis, in which nothing is quite what it seems.
Because we view the story entirely through Jo's eyes, a perspective which is increasingly unreliable, we know that there is a mounting threat, but it is unclear what that threat actually is. Is there a cult of unflappable new mothers in Jo's neighbourhood who have a sinister method of keeping their lives in check? Is Jo's husband Spencer in league with them? Is it baby Ruby herself who is the malevolent force? All of which probably evokes the terrifying experience of postpartum psychosis, but which, along with cinematography, leaves the audience fumbling in the dark.
Production companies: page fifty-four pictures, Point Productions
International sales: FilmNation Entertainment
Producers: Alex Saks, Lauren Beveridge, Brett Beveridge, Jeffrey Penman
Cinematography: Juan Pablo Ramirez
Production design: Dahlia Galler
Editing: Jin Lee, Arielle Sherman, JC Bond
Main cast: Noémie Merlant, Kit Harington, Meredith Hagner, Jayne Atkinson