A man tries to return home after a boyhood tragedy in which he was complicit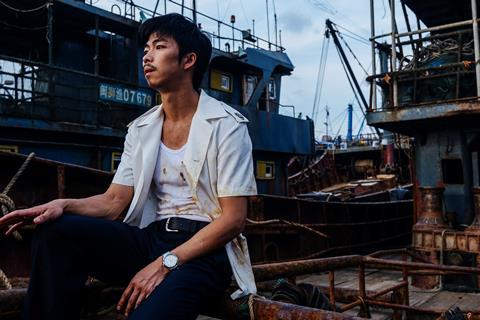 Dir. Li Xiaofeng. China. 2020. 119 mins
Song Hao is an 18 year-old high school student with a promising future when one accidental incident changes the course of his life. A man's life is lost. And Song Hao leaves town to live with his guilt, only returning for the funeral of his mother fifteen years later. Against the odds, he enters into a relationship, and forges tentative bonds with his father. But deep down, he knows that he must confront and acknowledge the past. This evocatively stormy crime drama paints a bleak future for a man who has the misfortune to be decent and moral, when all around him are snakes.
striking visual impact
This is the third feature from director Li Xiaofeng, following Nezha and Ash, both of which screened extensively in Asian film festivals. Back To The Wharf premiered at the Shanghai Film Festival and opened theatrically in mainland China at the beginning of November. It's a solid picture which should be of interest to festival programmers looking to showcase rising talent from China, but the film's uneasy tone of morose melodrama might hamper its trajectory.
What's not in question is the striking visual impact of the picture. Set in a coastal port city, the film is saturated in sadness and perpetual rain. The key early scene – the incident which changes the course of Song Hao's life – plays out against a lashing typhoon. And as a distraught teenage Song Hao battles on his spindly bicycle against the tearing winds, it's hard not to see this onslaught of the elements as a metaphor for the struggle that lies ahead.
And what lies ahead for Song Hao is a perpetual penance. He downgrades his expectations for the future and takes an unskilled job in a stone masonry factory. And fifteen years later (played as an adult by Yu Zhang), he has taken on the same impassive chill as the granite with which he works.
Returning to the city where he grew up for the first time since the fateful accident, the first face he encounters is a friendly one. Pan Xiaoshuang (Jia Song), a former schoolmate, is a single woman in her thirties who expresses an interest in getting to know Song Hao better. Her forthright approach (she gets drunk, commandeers the karaoke machine and then demands, rather forcefully, to know whether he likes her or not) manages to cut through the protective shell that Song has built around himself. On a whim, he proposes; soon they are expecting their first child together.
But any life with Xiaoshuang must also contend with the darker parts of his history in his hometown. And his former friend Li Tang (Hongqi Li), now a brashly opportunistic property developer, comes to represent everything that Song Hao would prefer to move past. Li Tang knows his secret and will use it for his own benefit, blackmailing Song Hao and his father, and ultimately forcing Song Hao to be complicit in an unthinkable crime.
It's this incident, and Song Hao's involvement, which forces him to confront his past. He is determined to pay his debt. But the cost will be high for everyone in his life.
Production company: Hanna Pictures
International sales: Rediance info@rediancefilms.com
Producers: Dun He, Bo Huang
Screenplay: Li Xiaofeng, Xin Yu
Cinematographer: Piao Songri
Editing: Zhang Qi
Production Design: Zhong Cheng
Music: Wen Zi
Main cast: Yu Zhang, Jia Song, Yanhui Wang, Hongqi Li, Deng Enxi