Dirs: Mehmet Kurtulus, Ayse Ünal. Turkey. 2016. 86 mins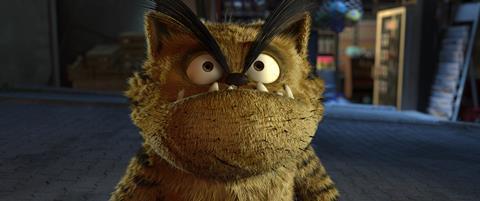 A brief scan over the history of animated felines – taking in indolent and greedy Garfield; priapic, pretentious Fritz and mouse and bird botherers Tom and Sylvester – leads to the conclusion that there are very few cartoon cats who aren't bad to the bone. However Istanbul street cat Shero, based on a character from a popular comic book series by Bülent Üstün, is in a different league. Foul-mouthed, lecherous and relentlessly violent, he makes his fellow felines look positively fluffy in comparison.
Bad Cat embraces the filth of Seth MacFarlane's Ted, but not the fun
The look of this production is polished – the 3D computer animation is considerably more sophisticated than the story, which is trying so hard to shock that it ends up chasing its tail. The familiarity of the source material in Turkey has worked in Bad Cat's favour since its February opening, but the lack of currency or a satirical subtext – there's a throwaway mention of the Arab Spring protests, but other cultural references include Coldplay and The Blues Brothers – means there may be less here to tempt wider audiences. The madcap energy and unapologetically crass humour could, however, endear it to a young festival audience which is willing to accept this singularly unattractive cat at face value. Australian sales agent Odin's Eye is handling sales on this Istanbul Film Festival/Annecy title.
Shero, who is snarlingly voiced by Uğur Yücel, is a squat, pugnacious tom cat with a prominent underbite filled with snaggled teeth. While Pixar's animators have been grafting over their computers to develop ever more hyper-realistic ways of rendering flowing fur, the team behind Bad Cat seems to have been concentrating their attention on mange. Shero is a flea bag with a terrible attitude who rules his down-at-heel neighbourhood – the streets of Istanbul given a sordid but pulsing vital energy – with an iron paw. But Shero is no benign dictator. He governs with fear, and supporting characters shed plenty of blood - and in one case an entire brain – to demonstrate how Shero earns his reputation.
The violence is not a problem per se (although this film is categorically not for kids), but the dialogue lacks the punchy wit that could mitigate this sustained assault on the senses. Bad Cat embraces the filth of Seth MacFarlane's Ted, but not the fun. In common with Ted, Shero and at least some of his fellow felines are able to converse directly with the humans they encounter.
The overstuffed plot follows Shero's adventures as he pursues supper, some liquor and a shapely angora kitty called Misskat, incurring the wrath of his owner's elderly landlady, two stray dogs and the re-animated corpse of an aggrieved pet owner in the process. Meanwhile, Shero's son has tracked him down and is hoping for a spot of father-son bonding.
The action sequences are inventively handled – there's an enjoyably demented car chase during which Shero hijacks a hapless pizza delivery motorcyclist to pursue a dustbin lorry. The Eastern-infused score, however, lets itself down in moments of excitement with an onslaught of wailing guitars.
Production company: Anima Istanbul Studios
International sales: Odin's Eye Entertainment info@odinseyeent.com
Producers: Vehbi Berksoy, Mehmet Kurtulus
Screenplay: Levent Kazak, Bülent Üstün
Cinematography: Baris Ulus
Editor: Aylin Tinel, Cigdem Yersel
Production design: Melis Seylan
Music: Serkan Celikoz, Oguz Kaplangi, Sabri Tulug Tirpan
Cast: Uğur Yücel, Ahmet Mümtaz Taylan, Demet Evgar, Cezmi Baskin, Güven Kiraç, Gökçe Özyol