An unsuccessful collaboration between director Jamie Adams and the band Biffy Clyro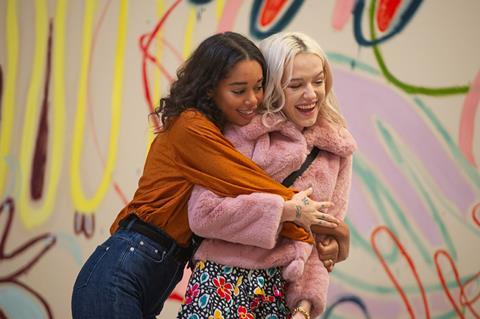 Dir. Jamie Adams. UK. 2019. 96 mins
The latest film from prolific British director Jamie Adams (Black Mountain Poets) is a meditation on grief, creativity and female friendship which plays out against a vibrant Glasgow backdrop. It was developed with the close collaboration of Simon Neil, the lead singer of Scottish band Biffy Clyro, who contributed both music and plot ideas. But it feels as though it is the music, rather than the wisp of a story, which is driving the film, through back-to-back montages and wall-to-wall punchy power guitars. Nothing else in the film – not the performances, not the themes, certainly not the rambling, diffident plotting – is strong enough to hold its own against the continual onslaught of music.
A cluttered approach which would have benefited from calmer, more measured gaze.
As such, Balance Not Symmetry could find its core demographic among die-hard fans of the band who opt to view it as an extended music video and forgive the underdeveloped and sophomoric storytelling. Local interest might draw Scottish audiences to the title, but the film may increasingly struggle to connect the further it travels from Glasgow.
American actress Laura Harrier stars as Shirley-Caitlyn Walker, a third year student at Glasgow School Of Art. The sudden death of her father takes her back to the family home in rural Scotland – she has already relocated from New York back to the country of her grief-stricken mother's (Kate Dickie) birth. Adams attempts every possible way of capturing the funeral and its aftermath, from swooping drone shots over windswept mourners, to extreme close ups of tears rolling down cheeks. It's a cluttered approach which would have benefited from calmer, more measured gaze.
The arrival of Hannah (Bria Vinaite) into the story is an injection of erratic energy. A fellow American student who is dabbling in video installation art, Hannah is Caitlyn's best friend. As her debut performance in The Florida Project demonstrated, Vinaite is an intriguingly wayward screen presence. Untrained and instinctive as an actress, there's a crackle of unpredictability to her reactions which brings an authenticity to her scenes in the film. Even so, she is given little of interest to do. If in doubt, seems to be the rule of thumb, chuck in another musical montage of the girls dancing with joyous abandon in their kitchen.
There is the nub of a promising idea in here, about the way the worst things in life can take an artist out of their comfort zone and result in a creative breakthrough. Art is suffering, and vice versa. But it's an idea which is difficult to execute for two reasons. Firstly, your central character runs the risk of coming across as an insufferable solipsist. Secondly, creating fictional 'art' is rife with credibility issues. With all the good will in the world, it is not clear whether Caitlyn's series of paint splattered table cloths is really the work of shattering profundity that we are encouraged to think it is.
Production company: Dignity Film Finance, Northcott Films, Two Flowers and King Pictures
International sales: AMP International info@amp-film.com
Producer: Maggie Monteith, Jamie Adams
Screenplay: Jamie Adams
Cinematography: Ryan Eddleston
Editor: Adelina Bichis
Production design: Ryan Thomas
Music: Biffy Clyro
Main cast: Laura Harrier, Bria Vinaite, Lily Newmark, Kate Dickie, Scott Miller