A Tehran factory worker is told that her husband's execution was a mistake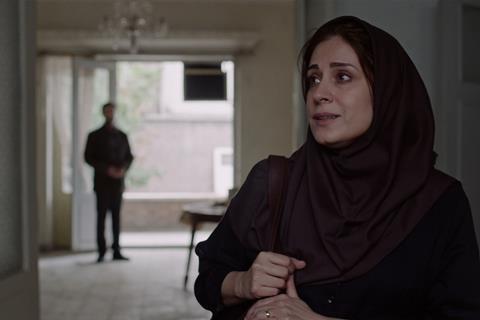 Dirs/scr. Maryam Moghaddam, Behtash Sanaeeha. Iran. 2021. 105 mins.
Struggling to get by as a single mother following her husband's execution for murder a year ago, Tehran factory worker Mina (Maryam Moghaddam) is suddenly informed that her spouse has been posthumously cleared. Ballad of a White Cow, directed and written by Moghaddam and Behtash Sanaeeha, slowly explores a soul-crushing wrong that no amount of cash, condolences or guilt-riddled compassion can ever make right. Comparisons to previous Golden Bear winners A Separation and There Is No Evil are apt, openly invited by the film's Berlinale Competition berth, and should help the latest tense examination of Iran's punitive legal system gain further festival and theatrical attention. They also fail to paint the full picture, however. Detailing a crusade for justice and atonement in tandem, this is a pensive, impassioned and moving drama on its own merits, and repeatedly packs an emotional punch.
Finely crafted and deeply compelling drama
Collaborating for the third time after 2015's Risk of Acid Rain and 2018 documentary The Invincible Diplomacy of Mr Naderi, and co-scripting here with Mehrdad Kouroshniya, Sanaeeha and Moghaddam demonstrate a particular knack for bluntly shrewd dialogue. The line "we take full responsibility and compensate you with the full price for an adult male" is instantly haunting (the sum: 270 million tomans, or $6,500). This is what Mina and her persistently pestering brother-in-law (Pourya Rahimisam) are told when they are summoned by Iranian authorities, and are supposed to be the last words on the subject. But, with sorrow, shock and horror seething across Moghaddam's quietly expressive face, Mina cannot accept that she is meant to gratefully take the payout — which is literally referred to as blood money — and soldier on.
Those funds would be helpful, but Mina wants a public apology for the senseless loss of her innocent husband's life, and for those responsible to face repercussions. She also has other worries, with her father-in-law demanding a cut and suing for custody of Mina's seven-year-old daughter Bita (Avin Purraoufi) —who is deaf, film-obsessed and thinks that her father has gone on a long trip. Behind on her rent, Mina's housing situation deteriorates as well when her landlord sees her let a man into her apartment. Said visitor, Reza (Alireza Sanifar), claims to be a friend of the deceased with a debt to repay and, helpfully, a vacant flat. A tentative friendship forms, but, in the feature's neatest (but also necessary) development, Reza is clearly weighed down by more than grief for an old pal.
Perhaps best known for Jafar Panahi's Closed Curtain, Moghaddam is a tour-de-force in Ballad of a White Cow, in a role that requires restraint and fortitude while weathering continual oppression and distress. The filmmaker has not simply given herself the showcase part, though, with first-timer Purraoufi and co-lead Sanifar navigating just-as-complex requirements. The woman who is routinely pushed aside, the child with a disability, the remorseful stranger with a festering secret: these roles are brought to the screen with texture and sensitivity, and are never treated like mere tropes.
Visually, Sanaeeha and Moghaddam (who also co-edit) and DoP Amin Jafari (3 Faces) opt for poise, patience and minimalism rather than on-the-ground naturalism and urgency. When the frame moves, whether slowly zooming in on Mina's last moments with her husband or panning abruptly during a climatic phone call, the audience is as disrupted as the characters.
Ballad Of A White Cow's story is developed gradually, too, even if Mina's troubles — with an uncaring bureaucracy, draining relatives, nosy neighbours, a housing market unwelcoming to widows, and Reza's quest for penance — are designed to feel like an onslaught. Despite the intermittent bovine and milk references, the film's painstaking pace also offers its strongest piece of symbolism: in this finely crafted and deeply compelling drama, pain and heartache don't just linger; they feel unrelenting.
Production companies: Filmsazan Javan, Caractères Productions
International sales: Totem Films, hello@totem-films.com
Producers: Gholamreza Mousavi, Etienne de Ricaud
Screenplay: Maryam Moghaddam, Behtash Sanaeeha, Mehrdad Kouroshnia
Editing: Ata Mehrad, Behtash Sanaeeha
Cinematography: Amin Jafari
Production design: Atoosa Ghalamfarsaie
Main cast: Maryam Moghaddam, Alireza Sanifar, Pourya Rahimisam, Avin Purraoufi, Farid Ghobadi, Lili Farhadpour