Dir: Can Evrenol. 2015. Turkey. 97mins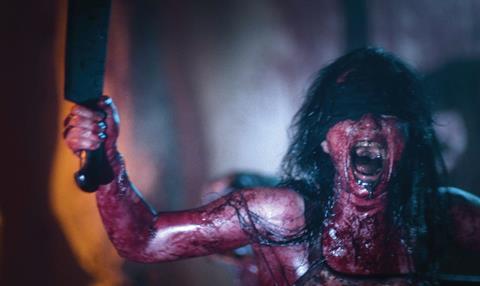 Five Turkish cops working the graveyard shift stumble into a nightmarish Satanic mass, with predictably grisly results. The debut feature from Can Evrenol is based on his 2013 short film, which shares the same enigmatic title (Baskin means raid or attack). The fact that there are four credited screenwriters suggests that the journey from short to feature might have proved challenging.
The film's striking visuals and enthusiastically gung ho approach to gore – disembowellings and eye-gougings abound – should ensure a healthy life on the festival circuit, particularly in events focused on fantasy and horror. But the lack of sympathetic characters, the disorientating dream logic of the narrative and, crucially, the absence of any real scares may hamper its prospects of finding a wider audience.
It's clear that these meat-head cops are all potential kofte
The film opens with what turns out to be the recurring dream of Arda (Gorken Kasal), one of the five policemen. He sees himself as a child, roused during the night by the sound of lovemaking from his mother's room. He leaves his bedroom to wander around the house but then realises that there is something, with a blood-stained claw of a hand, in his room.
The story shifts to a flyblown cafe where the cops on the night shift while away their break chatting about football and sexual misadventures. In a not so subtle piece of symbolism, Evrenol cuts between hothead braggart Yavuz (Muharrem Bayrak), as he picks a fight with a young waiter, and shots of some kind of unspecified animal flesh scorching on the grill. Butchery is a macabre recurring theme throughout the film, and it's clear that these meat-head cops are all potential kofte.
A colour palette of dusky grey-blue and sulphurous yellow gives some indication of the hellish netherworld that awaits them when they are sent as back up to a deserted house in an isolated neighbourhood. A plague of frogs, a couple of mysterious disappearing figures darting in front of the van, a radio failure and unexplained scratches carved into the side of the vehicle set the tone. Evrenol is rather profligate with his creepy imagery. But once the cops find the abandoned building, the inventively atmospheric production design goes into overdrive.
The interior is decorated with gallons of fake blood, flayed human skin, chains, meat hooks and lots of raffia and candles. One policeman encounters a couple of monstrous naked figures brandishing cleavers; another stumbles onto some kind of demonic gimp orgy. Finally, they find themselves restrained around an altar while devil-worshippper-in-chief The Father (non-professional actor Mehmet Cerrahoglu, whose rare medical condition gives him an unusual appearance) performs unspeakable atrocities.
On several occasions however, we find ourselves back in the cafe where rookie cop Arda and the boss, Remzi (Ergun Kuyucu), who is also Arda's guardian, talk of the supernatural and of dreams of the dead. It's possible that this is all part of a nightmare from which Arda never woke up.
The electronic score is just one of the elements that evokes supernatural horror films of the 1980s. In particular, the stylised sadism of Clive Barker's Hellraiser is a clear influence. Evrenol clearly has a knack for creating a highly unsettling mood. It would be interesting to see what he could do with sharper screenplay.
Production company: MO Film Produksiyon Ltd. Sti.
International sales: The Salt Company Ltd, James@salt-co.com
US sales agent: XYZ, Nate@xyzfilms.com
Executive producers: Muge Buyuktalas, Mike Hostench, Todd Brown
Screenplay: Can Evrenol, Ercin Sadikoglu, Cem Ozuduru, Ogulcan Eren Akay
Cinematography: Alp Korfali
Editor: Erkan Ozekan
Production design: Sila Karakaya
Main cast: Gorkem Kasal, Ergun Kuyucu, Mehmet Cerrahoglu, Sabahattin
Yakut, Mehmet Fatih Dokgoz, Muharrem Bayrak