A darkly humorous crime caper from South Korea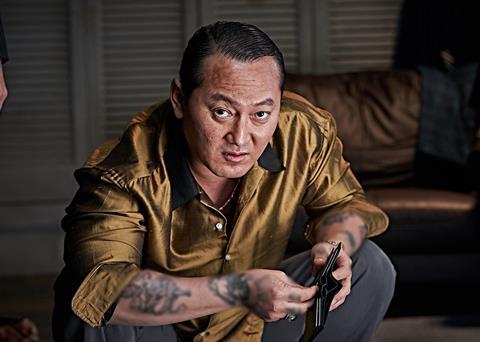 Dir. Kim Yonghoon. South Korea. 2020. 109 mins
A Louis Vuitton holdall stuffed with banknotes brings out the worst in people who are already fairly shady to begin with in this punchy crime caper set in the port city of Pyeongtaek. The cash passes through the hands of a bankrupt hotel spa clerk, a hostess with an abusive husband, a treacherous femme fatale and a ruthless gangster, but, in this looping, lurid tale, the cash windfall brings good fortune to nobody. Stridently over the top in everything from the colour scheme to the performances to the violence, the film at first appears to be a fairly routine underworld black comedy. It's not until the final act that first-time feature director Kim Yonghoon's assured handling of the convoluted structure fully reveals itself.
This tale of ordinary folks undone by greed is a lot smarter than than its occasionally crude execution would have you believe.
Following its win at Rotterdam, where it took the Jury prize in the Tiger Competition, Beasts' pulpy appeal and dark humour should ensure that it will be well received at further festivals, where it may be well suited to Midnight and genre programmes. And the high profile cast – Cannes prize-winner Jeon Doyeon is particularly notable in a deviously amoral role – should help the picture connect with theatrical audiences domestically and possibly in overseas territories, capitalising on the current Parasite-led high profile of Korean cinema.
Beasts Clawing At Straws is divided into five chapters, each announced by a title card. But, like much in the film, the chapter structure is intended to befuddle and disorientate rather than to offer much in the way of illumination. Although it is not immediately clear, the timeline non-linear. The opening sequence, which sees browbeaten hotel worker Joong-man (Bae Seong-woo) discover the bag of cash seemingly abandoned in a sauna locker, actually takes place towards the end of the story.
We are then introduced to several characters whose financial desperation could provide a link to the mysterious holdall. Customs officer Tae-Young (Jung Woosung) is in hock to the kind of money lender who smiles apologetically as his chops off fingers as a warning. Tae-Young's debt was accrued at the behest of his girlfriend, Yeon-Hee (Jeon Doyeon), who has subsequently vanished without a trace. Her belated arrival in the film, at around the halfway mark, is the point at which the scattershot story starts to gather a malevolent momentum.
Meanwhile Mi-Ran (Shin Hyun-bin) has been forced to work as a bar hostess to make ends meet after a disastrous attempt at stock market speculation. Her abusive husband ensures that her home life is no easier than her working one. A customer at the bar offers to solve at least one of her problems by killing her husband, but the plan backfires, inevitably and messily. Mi-Ran's boss at the bar, the errant Yeon-Hee, encourages her to take matters into her own hands. But Yeon-Hee, a deliciously treacherous character with the instincts of a shark (and a tattoo of one for good measure), has her own agenda.
A glockenspiel-heavy score emphasises the quirkier elements of the story and this, together with some of the broad supporting performances, can be a little off-putting. But in fact, this almost Coen-sian tale of ordinary folks undone by greed is a lot smarter than than its occasionally crude execution would have you believe.
Production company: B.A. ENTERTAINMENT
International Sales: M-Line Distribution sales@mline-distribution.com
Producer: Billy Acumen
Screenplay: Kim Yonghoon
Editing: Han Meeyeon
Cinematography: Kim Taesung
Production Design: Han Ahreum
Main cast: Jeon Doyeon, Jung Woosung, Bae Seongwoo, Shin Hyun-Bin, Youn Yuhjung, Jung Mansik, Jin Gyeong