Steve Carell and Timothée Chalamet star in the first English-language feature from Felix von Groeningen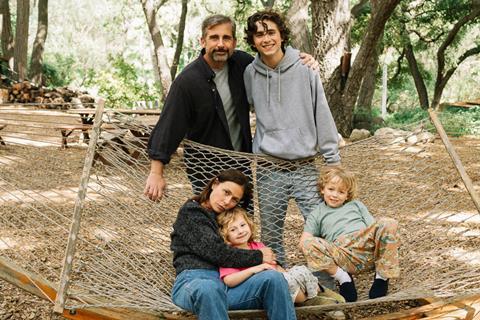 Dir. Felix van Groeningen. US. 2018. 120 mins
The trauma of an addiction which rages through a comfortable middle-class white family is painfully remembered in Beautiful Boy, with Steve Carell and Timothée Chalamet playing a loving father and his teenage son, who both wrote memoirs which are adapted here by director Felix van Groeningen (with co-writer Luke Davies). Strong, committed performances and the upsetting ring of reality anchor a highly-personal film which cycles through addiction, relapse and rehab in an episodic way, each high as inevitable as the low which follows.
Chalamet is elusively liquid in the role of a child who sabotages his life without ever really being able to express why
The film's length, coupled with the true-to-life repetition and raw pain so convincingly portrayed onscreen, may prove a deterrent to wider audiences. In an America ravaged by meth addiction, however, Beautiful Boy could hit home for many families, wherever they choose to view it. Carell provides strong ballast in a thankless – in real life and on screen – role as a father bewildered by the incremental loss of his beloved son to addiction. Chalamet is elusively liquid in the role of a child who sabotages his life without ever really being able to express why.
Van Groeningen, the Belgian director of 2012's Oscar nominated The Broken Circle Breakdown, guides this film with a rather untypically-solemn hand. The tone is resolute: any flashback to happier times serves only as a contrast to what will follow. The film kicks off with a bald statement of the family's problems before tracking back in a series of flashbacks. An expensive soundtrack derived from the family's musical preferences (from Nirvana to Neil Young, and John Lennon's title track) feels like a grim punctuation, never more on-the-nose as when Perry Como starts singing 'Sunrise, Sunset' as young Nic Sheff (Chalamet) hits the party trail again. The audience feels trapped in the same drugs cycle as his family.
Guilt drives dad David (Carell) and son Nic from the start, it seems, when, as a young child of divorced parents, Nic is sent alone on a plane to New York every summer. David has remarried the supportive and long-suffering artist Karen (Maura Tierney), and they have two much younger children. His job as a freelance journalist – a confessional article for the New York Times Magazine about Nic was the real-life start of the script that appears here – has enabled a comfortable existence in Marin County for the family. College is on the horizon for brilliant student Nic when a well-disguised fondness for experimenting with drugs kicks over into full-blown meth addiction. Years of rehab and relapse follow.
Beautiful Boy makes interesting observations. Nic's habit is introspective and self-driven: he teaches himself to inject alone from the internet. He doesn't gets a drug buddy until much later on in the piece, as his problem nears the end-game. Van Groeningen doesn't have a problem depicting the grim reality of that, or how he lies and he steals and he loses weight (although never that tumbling mane of curls), but the thorny issue of how he financed his habit is never addressed. Lost time in San Francisco and New York and repeated overdoses come and go, but the fact he turned tricks to survive seems to be a difficult subject for this vehicle for Call Me By Your Name's Chalamet ever to mention.
Equally upsetting, though, is the illustration of the strain placed on the family and the people who love Nic, in particular his bewildered father. Drugs aside, the most successful part of the film, ultimately, is a portrait of the love between a father-and-son and all the pressures, guilt, and expectations it entails, and it's here that Beautiful Boy may find its strongest resonance.
Tech credits are handsome, with van Groeningen's long-time lenser Ruben Impens relaxing into a bigger budget and a smoother studio feel. Production design by Ethan Tobman establishes a secure world for the drama to play out, in particular the glass-and-timber confines of the family's country home. Support players include Amy Ryan, but also a cameo from Timothy Hutton. Back in 1980 Hutton, the Chalamet of his day, also played the disturbed son of a middle-class family in Ordinary People, winning him an Oscar (and one for director Robert Redford). True-to-life though it may be, Beautiful Boy feels at times as if it has been assembled with the same goal in mind.
Production companies: Amazon Studios, Plan B Entertainment, Big Indie Pictures, Starbucks Entertainment
International sales: FilmNation Entertainment
Producers: Brad Pitt, Dede Gardner, Jeremy Kleiner
Screenplay: Felix van Groeningen, Luke Davies, based on separate memoirs by David and Nic Sheff
Production design: Ethan Tobman
Editing: Nico Leunen
Cinematography: Ruben Impens
Main cast: Steve Carell, Timothée Chalamet, Maura Tierney, Amy Ryan