Liz Garbus directs this engaging documentary about Jacques Cousteau, showing how his story reflects the history of the environmental movement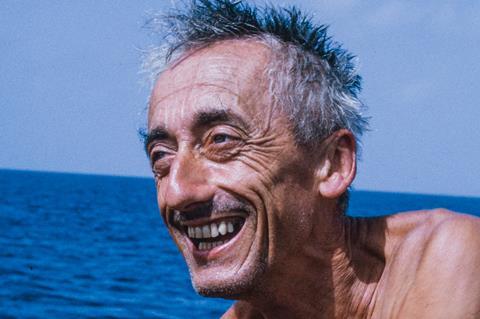 Dir: Liz Garbus. US. 2021. 93 mins

The Undersea World Of Jacques Cousteau introduced more than one generation to the wonders of the deep. Liz Garbus's focused, comprehensive documentary pays tribute to Cousteau's legacy as an explorer, inventor and filmmaker, but also charts his evolution into a passionate advocate for the environment. Cousteau's story couldn't be more timely in light of the urgency surrounding the climate crisis, and has the potential to attract mainstream audiences across the demographics.
Garbus's approach is respectful, never hagiographic and allows room for consideration of Cousteau's professional regrets and personal failings
Made in collaboration with the Cousteau Society and co-produced by Cousteau's widow Francine and children Diane and Pierre-Yves, the film could risk feeling like a whitewashed, official version of Cousteau's life. The connection provides access to an invaluable archive of visual material and comment. Yet Garbus's approach is respectful, never hagiographic and allows room for consideration of Cousteau's professional regrets and personal failings. For instance, the impact of his working life on his first wife and two older sons seems to trouble and haunt him.
Cousteau enjoyed a long and eventful life, elements of which inspired the 2016 biopic The Odyssey starring Lambert Wilson. Garbus does an expert job of shoehorning that aquatic life into a single feature. The pacing allows for a brisk progression through key events whilst maintaining the focus on Cousteau's relationship with the sea. He often talks of the harmony he experienced underwater and the feeling of being miserable when back on dry land. He describes it as like being introduced to heaven and then being forced back to earth.
A naval officer and explorer, Cousteau initially saw it as his duty to show the beauties of the sea so that others would come to know and love them. His feature The Silent World (1956) won both the Palme D'Or and an Oscar and, in the 1960s, his television series was shown around the world. He was a superstar among adventurers. His trademark red beanie, denim shirts and patrician features made him instantly recognisable, and there is plenty of material culled from chat show appearances (Dick Cavett, Michael Parkinson etc), conferences, speeches and personal appearances. He also assiduously captured his life on film and in diaries.
Becoming Cousteau is very much a film about Cousteau composed from his own images and words that are spoken by Vincent Cassel. We learn of inventions designed to further the cause of underwater exploration and witness the oceanographic voyages of the Calypso.
Much of what Cousteau achieved might be familiar, but the fresh perspective in Becoming Cousteau is the way it teases out the changes in his thinking about the sea. Early scenes show a naive innocent exploring an uncharted kingdom the way a child romps through a playground. At one stage, Cousteau proposed that mankind might colonise the deep and live in underwater communities. Over time, he begins to comprehend the damage being done to the environment and his own part in that. His pragmatic acceptance of financial support from oil companies and his role in furthering the exploitation of natural resources are among his regrets.
In later life, a conscience-stricken Cousteau provides early warnings about the dangers of climate change, the melting of Polar ice caps, rising sea levels and all the consequences that have become alarmingly familiar. Becoming Cousteau allows us to understand that in many ways his story is the story of the enviromental movement.
Production companies: Story Syndicate, ACE Content, National Geographic Documentary Films
International sales: Dogwoof sales@dogwoof.com
Producers: Liz Garbus, Dan Cogan, Mridu Chandra, Evan Hayes.
Screenplay: Mark Monroe, Pax Wasserman
Editing: Pax Wasserman
Music: Daniel Bensi, Saunder Jurriaans