Crowd-pleaser set on Canada's First Nation reserves opens Toronto's Hot Docs festival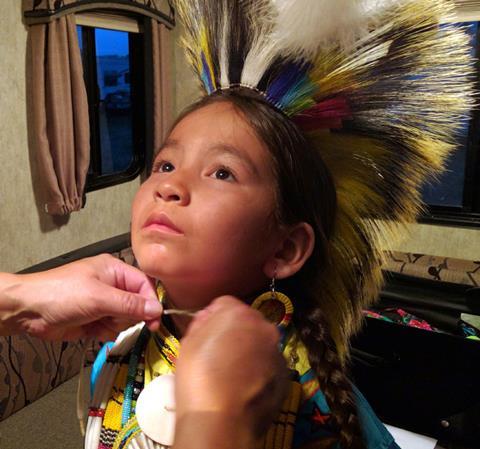 Dir/prod/scr. Lana Slezic. Canada, 2017, 78 min.
There's a whole sub-genre of film grouped around the spelling bee competition, led by the 2002 documentary Spellbound. Even global TV broadcasters have sounded out their own domestic versions of this high-stakes story – pushy parents, knock-out rounds, devastated children. Bee Nation, a slim Canadian doc which has opened the country's Hot Docs festival, uses the template to introduce the viewer to the struggling First Nation reserves of Saskatchewan, where smart but poorly-educated children step up to the microphone, egged on by parents who view a potential win as an exit strategy. A weight indeed for an eight year-old boy to shoulder, even though the heroic William Kysaysemat III has more gumption than most adults.
"Never judge a person until you've walked a mile in their moccasins"
There's not enough of a frame in Bee Nation to give this intriguing film the heft it might need to mount a theatrical challenge, but it's an engaging, nicely-shot documentary from first-time director Lana Slezic which should play well at home and in select TV markets. The socio-economic and geographic elements of her film need more spelling out for the internatonal marketplace, however. When Chief Kahkewistahaw Community School principal Evan Taypotat explains how the First Nation schools are under-funded and under-attended and how he is unable to teach even Cree to his children, the question of why becomes a troubling hole at the centre of Bee Nation.
This is not to detract from the charm of the children onscreen, or how impressively resolute their parents are: fifth grader Makayla, for example, who lives in the "ghetto of the reserve" with her parents Valance and Chantelle. While they've clearly had their own troubles, their focus now is on this first-ever First Nations provincial spelling bee and the opportunity to travel to Toronto to take part in the national finals if 10 year-old Makayla wins.
William, aged eight and in the third grade at Kahkewistahaw First Nation Reserve, is also an impossibly smart and determined child, fond of dancing in the Treaty Four annual pow-wow and wearing his "thinking earrings". Elsewhere, 14 year-old Savannah has been bullied since the death of her mother, while her friend Josie lives in outright poverty with 15 of her relatives – holes in the wall, skips in the rubbish-strewn garden, a dilapidated school bus in the driveway. Slezic delivers these shots without comment.
When these children win their heats and receive tickets to fly to Toronto, it marks the first time their families board a plane. But smart though they may be, how can small children from these circumstances compete in the big league? "Never judge a person until you've walked a mile in their moccasins," says Taypotat, but the viewer knows it's simply too much to ask. The families are determined to mount the challenge, despite the pressure on the children. Without too much background, Bee Nation delivers a strong sense of the closeness and spirit of the First Nation people in difficult circumstances.
Slezic's production is nicely mounted, a vision of a place apart. This is her first documentary and she beds in nicely with her subjects, boding well for future productions.
Production company/international sales: Indie Hunch Ltd, hello@beenationfilm.com
Cinematography: Lana Šlezic, Pawel Dwulit, Marta Iwanek
Editors: Mahi Rahgozar
Music: Casey Manierka