Dir: Deepa Mehta. Canada. 2015. 95mins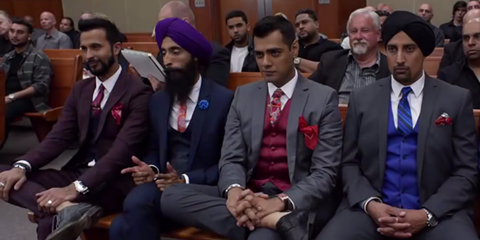 This Indo-Canadian gangster movie from Deepa Mehta is a rambunctious change of pace for a director primarily associated with serious-minded, issue-led pictures like Earth and Water. And judging by the wildly uneven handling of its scattershot narrative and casual violence, it feels that Mehta may not be entirely at ease with the genre. Launching with a festival run at Toronto and London, Beeba Boys offers little for Mehta's usual arthouse audience to connect with, while crossover interest from fans of mainstream Indian cinema is far from certain.
The film's cartoonish quality diffuses some of its violent excesses
Mehta employs plenty of hollow post-Tarantino bluster. The Beeba boys, sharply suited acolytes of Sikh underworld rising star Jeet Johar (Randeep Hooda) are introduced with on-screen titles summing up their principal characteristics – the camera whistles around what, at first glance, appears to be a Punjabi wedding to reveal The Joker, Faithful, The Groom, Lovely et al. The twist is that the Groom is dead. The 'wedding' party has been arranged by his doting mother to fulfil his life-long wish to tie the knot.
In a rather preposterous piece of scene setting, Jeet is interviewed by a reporter from television program Vancouver Now - while having his chest waxed. The interview, which is apparently broadcast live, focuses on his ambitions to start a turf war with the established main player in the Sikh gangster community, Robbie Grewal (Gulshan Grover). If this rather public declaration of guilt doesn't mark Jeet out as one of the dumbest career criminals in history, the cycle of explosive violence that follows mounts a persuasive case.
Arrested for suspected murder, Jeet finds himself on trial. In the jury is a striking blonde, Katya (Sarah Allen), whom Jeet targets with the full force of his charm. He is found not guilty, and rewards Katya with a troupe of Punjabi drummers, a private visit to her nail salon and a gift-wrapped pair of white lacy knickers. Inevitably, a relationship develops between them.
Like a good Punjabi boy, Jeet still lives at home with his mother. So Katya finds herself installed in a plush hotel suite doing a lot of waiting around for her lover to visit. To fill the time, she starts to take an interest in his work. Unfortunately, his work mainly consists of importing vast quantities of cocaine, a fair amount of which is ultimately hoovered up by Katya.
The most complex, and therefore interesting character, is double agent Nep (Ali Momen). Allied to Grewal – and in particular Grewal's daughter, Choti (Gia Sandhu) – Nep has been sent as a spy into Jeet's inner circle. It's a position that is increasingly fraught with danger as the body count rises.
Eye-catching, colour co-ordinated costumes are a nice detail, lending the film a cartoonish quality which diffuses some of the violent excess. A bouncy Bhangra-infused score gives the film its propulsive drive. And the juxtaposition of the brash crime world with the close knit, traditional family and community is an intriguing theme. However, this is rather under-explored in a film which favours cheap thrills – there are plenty of luridly inventive executions – over real insight. Dialogue is profanity-laced but lacks credibility, a fact that is accentuated by several unconvincing central performances.
Production company: Hamilton Mehta Productions
International sales: Mongrel International, international@mongrelmedia.com
Producer: David Hamilton
Screenplay: Deepa Mehta
Cinematography: Karim Hussein
Editor: Colin Monie
Production designer: Arvinder Grewal
Main cast: Radeep Hooda, Ali Momen, Sarah Allen, Waris Ahluwalia, Gia Sandhu