Aaron Sorkin's 'I Love Lucy' drama is here - although it's not quite as adorable as she was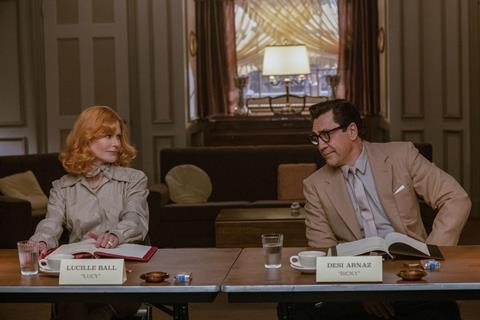 Dir: Aaron Sorkin. US 2021. 125 mins.
He loved Lucy and she loved him. But love isn't enough to base a marriage on. That's the idea running through Aaron Sorkin's Being The Ricardos. Its Lucille Ball and Desi Arnaz are people of big emotions – "either ripping each other's heads off, or ripping each other's clothes off," one colleague cracks. As pure passion can't quite keep them together, Ball tries to put off the inevitable by making them partners in business, too – and they create I Love Lucy, a historic hit.
Looks like that crazy redhead is in trouble again, and this time without a laugh track.
As much a biopic of the show as of its stars, Being The Ricardos has a few good performances, and a cleverly structured (if factually challenged) script. But star Nicole Kidman's performance is shaky, and Sorkin relies too heavily on an overbearing score to deliver the emotions. Opening theatrically on December 10, the film begins streaming on Amazon on December 21, but may not become must-see TV in the same way as the original show.
Sorkin's conceit is to have a few faux-documentary interviews with actors playing the show's writers, filling in the backstory and providing some flashbacks, while the majority of the film concentrates on a single fateful week in 1953. A possibly fatal week, too – right-wing witchhunters in Washington have just accused Lucy of having been a member of the Communist Party, while the sleaze peddlers at 'Confidential' magazine have just called Desi a sleep-around playboy. The couple's careers, and marriage, are on the line.
It's clearly going to be a rough few days, and with good reason – neither accusation is completely untrue. Looks like that crazy redhead is in trouble again, and this time without a laugh track.
The film's main problem is that most people who would be drawn to this story already knows how it turns out; I Love Lucy ended its run as the biggest hit on television, and the Ball/Arnaz marriage lasted another seven years. There were ongoing challenges, true, and an eventual divorce, but this was not a week that climaxed in catastrophe. So how can Sorkin keep the drama going?
Well, he can instruct composer Daniel Pemberton to cue the orchestra, and ladle on a score you could pour on a pancake. And he can clumsily create conflict and insert political messages that simply weren't there. Although show writers Madelyn Pugh and Bob Carroll Jr. remained life-long collaborators, Sorkin turns Carroll into a humorless thorn in Pugh's side, constantly grabbing credit and pushing her into the background. And JK Simmons' cantankerous William Frawley, of all people, is called upon to give a speech educating Lucy on Cuban culture and the true meaning of machismo.
Simmons is still terrific, as is Nina Arianda as a glammed-up version of Vivian Vance. And as Desi, Javier Bardem – who drew early criticism for being Spanish, not Cuban – is nonetheless the best thing in the film, effortlessly charming and sexy and forceful. But what is Nicole Kidman doing here? Basically everything, and anything, she and Sorkin can think of. Clearly, the two want to draw a visual contrast between the two Lucys – at home, Ball is chic and sensual, on the set, Ricardo is dressed-down and clownish. But the physical contrast is overdone, making it sometimes feel as if there are two separate actresses on screen (neither of whom looks much like Nicole Kidman). And her big emotional moments are often overdone; asked to play assertive, Kidman comes off like Joan Crawford.
The scenes snap – Sorkin has always been able to write dialogue – but too much of the film seems reverse-engineered, as if he first decided what he wanted to say and then created characters to deliver it to an army of straw men. Nothing feels organic. The show's director of photography, Karl Freund, who pioneered the lighting that made three-camera TV possible, is just a face in the crowd; poor Judy Holliday, cited repeatedly as Lucy's no-talent rival, was neither.
Give the film credit, at least, for finally giving some kudos to Desi Arnaz. On I Love Lucy, he was a broadly comic figure always warning Lucy she had "some 'splainin' to do"; in real life, he was a smart and prescient businessman who capably navigated network and corporate pressures and steered the couple's career. In fact, when the Communist charges gained steam, it was Arnaz who helped deflate them with a single, smart line: "The only red thing about Lucy is her hair, and even that is not legitimate." Sadly, Being the Ricardos feels just as fake – and no amount of 'splainin is likely to help.
Production companies: Amazon Studios, Big Indie Pictures, Escape Artists
Worldwide distribution: Amazon Studios
Producers: Todd Black, Jason Blumenthal, Steve Tisch
Screenplay: Aaron Sorkin
Production design: Jon Hutman
Editing: Alan Baumgarten
Cinematography: Jeff Cronenweth
Music: Daniel Pemberton
Main cast: Nicole Kidman, Javier Bardem, J.K. Simmons, Nina Arianda