A tender, amusing reflection on life and loss in a small New Zealand dairy farm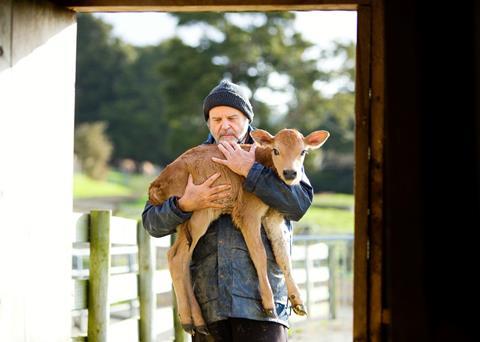 Dir/scr. Hamish Bennett. New Zealand. 2019. 96 mins.
On the rolling hills of a northern New Zealand property, third-generation farmer Ross (Marshall Napier) and his adult son Bruce (Cohen Holloway) have plenty of space to avoid their recent tragedy, and plenty of cows to tend to instead of people; one of the joys of this warm drama about loss is that sprawling rural landscapes and poignant pauses bring its protagonists together rather than push them apart. The assured full-length debut of schoolteacher and filmmaker Hamish Bennett, Bellbird finds comfort, connection and community as its taciturn central duo endeavour to overcome the loss of the wife and mother who always did all the talking for them. As they both learn that some bonds can't be broken, viewers discover the gentle joys of an understated drama with an open heart and a lithe sense of humour.
There's an unassuming, unhurried rhythm to the film's snapshot of small dairy farm life
Bellbird's lived-in feel initially emanates from two sources: writer/director Bennett grew up in the Northland area that provides his setting, enlisting locals to help with making his first feature; also, he previously spent time with the fictional Ross (then played by John Clarke) and his wife Beth (Annie Whittle) in the well-regarded 2014 short Ross & Beth. Bellbird is a leisurely embrace of a movie, drawn from intimate observations and intricate characterisations that linger with authenticity. The combination of tenderness and texture can't be underestimated — and after enthusiastic crowd responses at its world premiere in competition at the Sydney Film Festival, this deeply felt slice-of-life delight should light up further festival berths.
Aided by cinematographer Grant McKinnon's eye for evocative compositions, as well as editor Jason Pengelly's genial pace, there's an unassuming, unhurried rhythm to the film's snapshot of small dairy farm life — even when Beth dies suddenly, leaving Ross with nothing but his work, and the prospect of handing the reigns down to Bruce. Cows still need milking and inseminating, calves need birthing, and the bundles of hay aren't going to stack themselves. Indeed, as a reminder that the natural world stops for no one — not even a buoyant teacher beloved by her family, neighbours, pupils and choir group — Bellbird proves both reassuring and bittersweet.
Summoned to do his part, Bruce attempts to split his time between helping his father and working the job he's truly passionate about: sifting through and salvaging reusable refuge at the local garbage dump under the kind eye of his boss Connie (Rachel House). But as the seasons pass, Ross expects his son to make the move permanently, although the matter is hardly up for discussion. As tongue-tied as his dad, Bruce responds by opening up the farm to help from cheeky but passionate Māori teenager Marley (Kahukura Retimana), and to visits from the enthusiastic local vet Clem (Stephen Tamarapa). Talk remains scarce, including at an drolly awkward barbecue to celebrate the end of milking; however these stoic but vulnerable men find the solace they need in each other's presence.
Actions clearly speak louder than words in this sensitive, hopeful feature, a message that shapes Bellbird's thematic landscape as it unpacks the strong, silent strain of masculinity, and also describes the cast's measured yet moving performances. Gruff yet yearning in their individual ways, Napier and Holloway turn in insightful, introspective performances that couldn't better encapsulate the movie's affectionately reflective mood. And while House, newcomer Retimana and Tamarapa have livelier, more comic parts, this is a film about empathy and balance in every respect, awarding its most amusing, laugh-out-loud moment belongs to its quietest character.
Production company: Herringbone Productions
Contact: catherinef@blueskinfilms.co.nz
Producers: Orlando Stewart, Catherine Fitzgerald
Cinematography: Grant McKinnon
Editing: Jason Pengelly
Music: Karl Steven
Production design: Shayne Radford
Main cast: Marshall Napier, Annie Whittle, Cohen Holloway, Rachel House, Kahukura Retimana, Stephen Tamarapa