Julia Roberts gives one of the performances of her career in this family addiction drama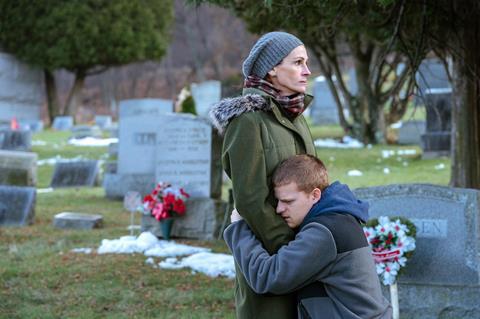 Dir. Peter Hedges. US. 2018. 103 mins
Julia Roberts blasts through this family reunion drama-turned-thriller with one of the most forceful performances of her career. And she is matched for quality and commitment by Lucas Hedges, playing her opiate-addicted son Ben who unexpectedly arrives at the family home, having signed himself out of rehab. Holly (Roberts) wants to believe with every fibre in her body and every twitching sinew in her neck that Ben is telling the truth. She almost convinces herself that he is. But when, within a matter of hours, it becomes clear that he is not quite as squeaky-clean as he made out, Holly sets out with her son to make things right.
…perceptive writing, impressive performances and a really great dog
Robert's deft flip between cosy suburban mom and dogged mother-avenger is one of the main pleasures in a film which contains plenty of gallows humour despite the bleak backdrop of the story. And the scenes she shares with Hedges are so sharply observed and satisfying that the film's energy dips slightly in the final act when the pair are separated. It's not enough to really dent the commercial prospects of a picture which will launch on the Roberts' name but delivers a well-rounded package of perceptive writing, impressive performances and a really great dog.
Director Peter Hedges has a particular affinity for stories which deal with the unpredictable beast that is the family. And within that he finds a real kinship for the black sheep: April in Pieces of April and now Ben. He is particularly interested in the subtle shift in family dynamics when the wild card member is thrown into the mix. Put this against a backdrop of an annual celebration – Thanksgiving in the case of Pieces of April, or Christmas Eve here – and you have rich potential for the kind of drama which reveals everything about a damaged family. There are parallels also with the abrasive tone of pictures like Trey Edward Shults' Krisha, or Jonathan Demme's Rachel Getting Married.
When Holly and her children pull up outside the house to see the hooded figured of Ben lurking on the stoop, it's clearly the Christmas present that she hadn't dared hope for. Her two youngest kids, from a second marriage, are giddy with the excitement of their big brother's homecoming. It's only his sister, Ivy (Kathryn Newton) who holds back, tapping out an alarm call on her phone to her stepfather Neal (Courtney B. Vance). Ben, meanwhile, has the kind of easy charm and humour which has clearly prompted people to make excuses for him throughout his life. He's so adept at putting on a show of equanimity that it's as much a shock to the audience as it is to Ben himself when he is knocked off kilter by the sight of one of his former drug stash spots in the attic.
A shopping trip to the local mall followed by church means that Ben and his family are confronted by both the causes and the collateral damage of his addiction. A scene between Holly and the now senile doctor who first prescribed her son opiates is a blistering shot of rage which punctuates the gradually mounting unease of the film. Hand held camera is increasingly agitated as the tension mounts – particularly after the family returns home to discover that their dog has been kidnapped, and Ben and his mother set out on a nightime mission to save him.
Holly now has to re-see the geography of her home town through the eyes of her addict son. Each innocuous suburb holds a secret location where he did something terrible in the service of drugs. And under the unflappable calm Holly projects to the rest of the family, we see the desperate fear that she might be about to lose him to drugs for good.
Production company: Black Bear Pictures, Color Force, 30WEST
International Sales: Sierra/Affinity info@sierra-affinity.com
Producers: Nina Jacobson, Brad Simpson ,Teddy Schwarzman, Peter Hedges
Screenplay: Peter Hedges
Production Design: Ford Wheeler
Editing: Ian Blume
Cinematography: Stuart Dryburgh
Music: Dickon Hinchliffe
Cast: Julia Roberts, Lucas Hedges, Courtney B. Vance, Kathryn Newton, David Zaldivar